FOCUS ON ACTIVEWEAR
Active Collective Returns for Second Solo Show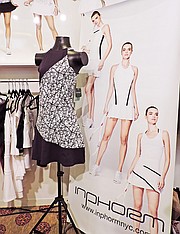 Active Collective, the activewear and athleisure show that bowed last year in Huntington Beach, Calif., returned for its second solo show with 90 exhibitors showing their collections Jan. 15–16 at the Hyatt Regency Huntington Beach Resort.
The show is organized by Executive Show Director Shannon Leggett, who also produces the Swim Collective trade show in Huntington Beach. Active Collective first launched alongside Swim Collective last January before launching as a stand-alone trade show in July.
The recent show drew buyers from upscale major retailers such as Neiman Marcus and Nordstrom, contemporary chains such as Anthropologie and Rue La La, and activewear retailers such as Carbon 38, Bandier and Swell.
Leggett said retailers came from as far across the country as Philadelphia and Miami and from around the world, including Australia, Japan, Mexico, Canada and the United Kingdom.
"So far everyone I'm seeing is exactly who I wanted to see," said Chris Myers, director of business development for XCVI Movement, the newly launched activewear collectionfrom Los Angeles–based contemporary line XCVI. Myers had showed the line in New York and Florida before showing at Active Collective. XCVI Movement features "performance fabrics in sportswear bodies," Myers said. Fabrics wick moisture away from the body, resist wrinkles, have SPF and UPF protection, and are antimicrobial. Wholesale prices range from $34 to $39. The collection is targeted at boutiques, but Myers said he'd had great reaction from golf stores and spas as well. "It's truly crossover," he said.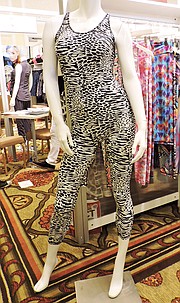 For the second season, the Beyond Yoga booth was crowded with appointments through much of the first day of the show.
"It's been so busy. We had appointments every hour," said Lindsay Crandall, sales representative for Southern California and Hawaii. "We had to set up a third station [at the booth]."
Crandall said even with the packed appointment schedule, she also met with "drop-ins" and said the turnout included West Coast stores as well as buyers from across the country, including Footlocker's Six:02 division, Anthropologie and Nordstrom.
Active Collective's concentrated mix of activewear brands makes it easy for buyers to shop the show, Crandall said.
"We're really busy because people sell through [our product] really well. We're known for the fabric and the fit. Once they buy it, they want more and they come back."
Plus, she said, the collection is made in Los Angeles and there is a quick turnaround for orders—"especially for West Coast accounts. They can get it in a couple of days."
This was also the second time Robin Chesnie and Rick Rickman were at Active Collective with their Newport Beach, Calif.–based line, SlipIns. The made-in-America collection features one-piece "SurfSkins," leggings and bodysuits made from a lightweight, SPF-blocking, fast-drying fabric that can act as an alternative to wet suits and rash guards.
The idea for the line came from Chesnie, who was looking for a full-body suit she could surf in," said Rickman. Unlike a wet suit, SlipIns' Surfskins are easy to put on and take off, Rickman said.
"This makes it a breeze," he said. "The dive community has gone nuts for this," he said.
This was the first time at Active Collective for Yoga Jeans, a 10-year-old Canadian brand, which makes jeans with four-way diagonal stretch and 92 percent shape memory.
"The unique waistband won't gap, and the four-way diagonal stretch allows you to really move and to do any movement," said company representative Nico Adonopulos. The "100 percent made in Canada" collection is well represented in department stores, better chains, and spas and hair salons in Canada and in the U.S. northeastern states, Adonopulos said, adding that the company is looking to expand its distribution to West Coast retailers.
Havok, based in Los Angeles' Venice neighborhood, is another domestically made collection that showed at Active Collective. Chief Executive Officer Jessica Widro founded the brand shortly after she had her now-2-year-old son.
"Right after I had him, I was working out and I couldn't find a cute nursing top," she said.
Havok is designed and manufactured in Southern California, and wholesale prices range from $25 to $50.
New York–based Blanc Noir has been producing a "function fashion" activewear collection for two years, but this was the company's first time at Active Collective.
The company was showing puffer vests with mesh insets for "climate-control," tops that mixed washable silk with power mesh, compression fabric leggings, and jackets loaded with details such as hidden hoods, thumbholes on the rib-knit cuffs and zippers that add extra ease to the garment.
"It's not a traditional activewear line," said Blanc Noir Vice President Burk Damsky, adding that the line was created with several core principles in mind: adaptability, comfort and range of motion.
"But we start all with a fashion perspective," he said. "It's not so much about that hour in the gym. It's about the rest of her life and providing alternatives for clothing that fits her lifestyle."
Another new–to–Active Collective collection was Valln, which launched for Fall 2015. The collection is produced in Los Angeles from LA-made fabrics and was designed to bridge a gap between core activewear and other categories.
"The idea is it's the answer to a lot of categories—athletic, lounge, casual lifestyle. It even goes with jeans," said designer Beth Gray, who added that the line sells in contemporary boutiques as well as spas, hotels and resorts. "The altheisure category is so big. The stores that have performance need this also."
This season, Active Collective also featured several tennis-focused collections, including Inphorm.
The Dallas-based company takes an updated approach to tennis with a focus on fabric innovations, said Susan Taylor, vice president for the company.
"It's so different from anything that's out there for tennis," Taylor said.
Inphorm is produced in the company's own factories in Thailand. One facility is a green factory, which features solar energy and uses discarded cooking oil to create bio-diesel.
"Everything we do is done as eco-friendly as possible," Taylor said. "It's important that we have an eco-conscious pedigree."
Taylor said she met with several companies at Active Collective, including Rue La La, Swell, Von Maur, Anthropologie and Bandier, who were specifically looking for tennis apparel.