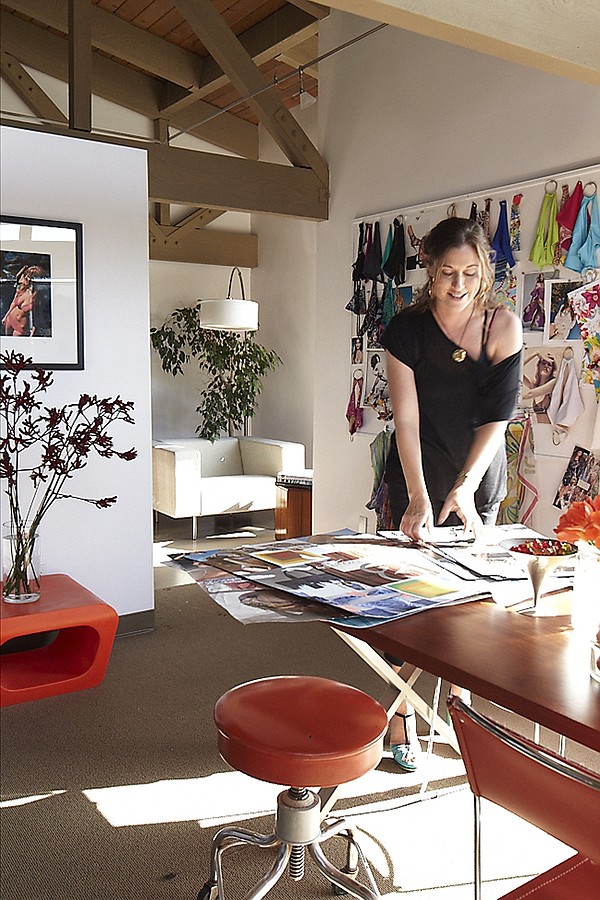 SWIM/SURF
Getting Energized With Vitamin A by Amahlia Stevens
From her compact creative studio just steps from the beach, swimwear designer Amahlia Stevens has a bird's-eye view of the Pacific Ocean.
If the sun is hot enough, she takes a break at lunch and plunges into the azure blue waters off the coast of Laguna Beach, Calif., where she gets an idea of how her swimwear line Vitamin A will perform in the rolling surf.
Stevens' day starts at 6 a.m., when she wakes and passes the first hours of the morning with her 2½-year-old blonde twins, Gemma and Ruby. "I spend the morning with them with a walk or a run. We come home and do our yoga together. Then we have our breakfast, and I go to work around 10 a.m. My design studio is about one mile from my house, so it doesn't take long to get there," she said.
At the studio, she starts the day combing through emails and answering messages. Depending on the time of year, it can be a full-on hectic workday or more laid back. During the hectic season, time is taken up with designing the collection, going to fittings, setting up appointments with fabric and trim vendors, and scheduling meetings.
When the seasonal rush dies down, it is connecting with fashion bloggers, keeping up with social media, attending public-relations events or getting together with retailers.
In the early days of the label, in 2000, life running a swimwear company was much simpler. The design studio was in Stevens' house, swimsuits were stored in the garage, and the designer herself packed suits into boxes and hauled them to the UPS store.
When Stevens launched her line, black was one of her most important colors. For her, the "Little Black Bikini" was just as important as the "Little Black Dress." That first year, her three basic colors were black, brown and nude.
Black is still high on the color spectrum, but as her swimwear line has grown, pops of color and prints have invaded the collection, which has grown beyond bikinis to one-pieces, beachwear and accessories.
Fit has always been an important element in Stevens' designs. The suits are made with flat seams that hug the body, flatter certain curves and stay on in rough waters.
But one of the most important things in growing her swimwear line was making sure her suits left a smaller environmental footprint than other swimwear lines. The collection is manufactured in Southern California and made of EcoLux, a recycled nylon fabric, which cuts down on waste. Stevens also uses Lycra Xtra Life fiber to extend the life of each suit beyond traditional spandex products.
"It took me time to be able to grow the business to where I could support developing my own recycled fabrics," Stevens said inside Vitamin A's administrative headquarters in Irvine, Calif. "I worked with factories in Canada, Italy and here in California. It took me three years to develop the fabric in Southern California. So when I produce these suits, they are knitted and dyed here, cut and sewn here, and packaged here."
The idea of sustainability and environmentally friendly manufacturing come from Stevens' days in the 1990s when she worked as a consultant at Patagonia, the eco-conscious sportswear company founded by Yvon Chouinard in Ventura, Calif.
Stevens helped develop the Water Girl swim and sportswear line for Patagonia and could see how the company was trying to be a good environmental citizen. "I got my inspiration from Yvon Chouinard and his development of microfleece made from fibers of melted-down plastic bottles, which forced the whole industry to take a new look at recycled fabric and use it," she recalled.
Stevens went on to work as a designer for Abercrombie & Fitch, pitching in to develop Hollister, an offshoot division that has grown exponentially.
But even though she was deep into sportswear design, swimwear was her passion. While keeping her hand on the sportswear side, she designed swimsuits for friends and clients of her design firm. The company's DNA was basically a simple, sophisticated and minimalist line that was architecturally inspired with a laid-back California elegance. That DNA hasn't changed, but the company has grown up.
There is now a chief executive officer, Chris Staff, the former president and chief operating officer of Authentic Fitness Corp., who came on board in 2005 and also heads up sales. He is an old hand at swimwear. Authentic Fitness made renowned swimwear labels such as Speedo USA, Anne Cole, Cole of California and Catalina.
Under his leadership, Vitamin A has grown nationally and garnered a reputation as a quality label. Price points reflect that. Bottoms retail for $58 to $115, tops go for $88 to $140 and one-piece suits sell for $174 to $275.
Today, the label is carried at prestigious department stores such as Neiman Marcus and Nordstrom as well as in 500 to 600 specialty-store doors in the United States and Canada. Online retailers such as Shopbop, Revolve and Nasty Gal also stock the line.
"I've carried Vitamin A since day one," said Diane Biggs, owner of the Diane's Beachwear chain with 21 stores. "It is one of my most favorite lines in the whole industry. I like it because of the quality and because of Amahlia and her design ability and foresight."
Biggs noted that the suits may be abbreviated but provide coverage in the right places. "Her fit is extraordinary," Biggs said.
Fetneh Blake, who owns a self-named contemporary womenswear boutique in Laguna Beach, doesn't carry swimwear at her clothing store, but Vitamin A is one of her two favorite swimwear brands. "I personally like Vitamin A," she said. "I think the suits are beautifully made. I am very particular about fabric on bathing suits. And I think her bathing suits are very flattering."
Paddling forward
Like most of the clothing world, online shopping has changed the pace at Vitamin A. Initially, Stevens designed only Spring and Summer collections for her mostly California clientele. As the brand became more national, she added Resort for the cold-climate customers headed to warm waters to escape the cold winter.
Then, when online shopping became popular, Stevens added a capsule collection every month to keep shoppers feeling there was constant freshness to the line. "Online shopping has been a huge influence in our market," Stevens admitted. "And it is a lot of work."
The new capsule collections usually consist of three new fabrications per delivery and a new item or two.
Social media has also been a huge game changer. For some time, the swimwear brand has had a presence on Facebook, Pinterest and Instagram, but in December the company hired a social-media manager, who has taken it to another level. "This year has just exploded for us," Stevens said.
Then there is the athleisure trend. Vitamin A doesn't have an athleisure line, but that might change in the future. Right now it makes cropped rash guards and bralettes that can double for yoga classes and exercising.
Most recently, Stevens did a one-time partnership with Target, which saw her designing a special Vitamin A Soleil line for the mass merchandiser. The affordable bathing-suit collection, which launched in February, had bikini tops that sold for $39.99, bottoms for $29.99 and one-pieces for $59.99. The suits were manufactured in Asia and not made of recycled nylon.
"Target reached out to us, and I was really excited about it," Stevens said, noting that Target has teamed up with other top-end labels such as Lilly Pulitzer, Missoni, Prabal Gurung, Phillip Lim, Zac Posen and Jason Wu to do collaborations. "It was a big honor to be a part of that roster of designers. We got our name out there to their 30 million customers that we would not have had an opportunity to meet."