TECHNOLOGY
Kornit Says New Vulcan Printers Can Reduce Cost Per Print by 40 Percent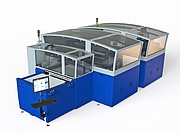 Commercial printing solutions provider Kornit Digital North American is preparing to begin shipping its Vulcan system.
The Vulcan is a digital platform that Kornit says "rivals screen printing for mid-to-long runs." Compared to Kornit's current systems, Vulcan can reduce the cost per print by up to 40 percent, according to the company. The direct-to-garment printing system can produce up to 250 garments per hour. Dark and light garments can be printed at the same speed. With 60 printheads and a recirculating ink system in a six-color-plus-white configuration, the Vulcan can reproduce photorealistic quality. The system allows for multiple print sizes and configurations up to 27.5 inches by 39.5 inches. The Vulcan uses Kornit'sNeoPigment patented printing process. The Oeko-Tex 100–certified and GOTS preapproved water-based inks work on natural fibers, synthetics and blends and allow for inline pretreatment, according to the company. After printing, the garments can be cured with a standard hot-air dryer.
"Kornit Digital works continuously on pushing out the break-even point between analog and digital production methods," said Rich Thompson, marketing director of Kornit Digital North America, in a company statement. "With drastically lowered ink consumption and unit cost, the Vulcan competes with screen-printing carousels not only for short but also for mid-to-long runs. Plus, it offers the ability to offer completely new products and services, such as high-quality, photorealistic prints and variable data printing. In essence, the Vulcan is a groundbreaking technology that every major garment decorator and screen printer should be interested in."
Kornit will be demonstrating the new system at an open house that runs July 11–29 at the company's headquarters in Mequon, Wis. The company has invited brands, garment decorators, screen printers, e-tailers and promotional-goods manufacturers to visit the open house, where the company will demonstrate its entire line of direct-to-garment printing systems. First introduced in 2015, the Vulcan will be commercially available by third quarter 2016.
Kornit Digital develops and manufactures commercial printing solutions for the apparel and textile industries. In addition to direct-to-garment printing, the company also produces roll fabric printers using a single ink set with no additional finishing processes. Founded in 2003, the company has offices in the United States, Asia Pacific and Europe. For more information, visit www.kornit.com.