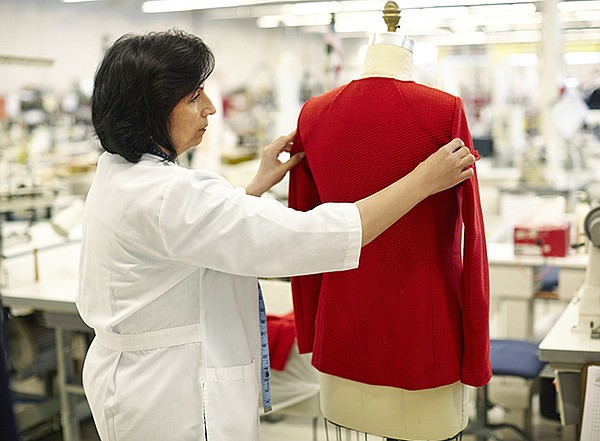 ST JOHN KNITS
St John Knits: Searching for the Magic Formula
St. John, the venerable Southern California luxury label that is a staple in many well-heeled shoppers' closets, has been on an odyssey in recent years.
It is trying to keep its core customers while expanding eveningwear and sportswear, hoping to venture to China and doing less-flashy ads with celebrities while expanding its digital media presence.
Founded in 1962 by Bob and Marie Gray, the brand for decades catered to a core older customer who liked her expensive rayon-and-wool knit suits to be stylish but comfortable and durable.
Then, starting in 2004, a succession of new chief executives arrived, overturning the apple cart to bring in a younger customer who probably wouldn't even look twice at a basic St. John suit.
A series of fancy ad campaigns ensued with movie stars and celebrity models such as Angelina Jolie, Gisele Bündchen and Kate Winslet gracing the pages of Vogue and other top fashion magazines.
The result was that revenues fluctuated and a revolving door of executives tried their hand at reinventing the label.
Now the company is under the helm of Bruce Fetter, who first arrived at St. John in 1997 and has had a number of different titles—from co–chief executive to president and chief operating officer. Fetter left a couple of times when new chief executives came on board. But 18 months ago he returned to take over the top spot.
In a departure from previous years, Fetter's arrival as the new chief executive, chief operating officer and president was not heralded in the usual press release sent out to business publications. He kind of slipped in unannounced. "It would have been a little awkward to say, 'Ta-da. Here he is again.' It is an unusual story," Fetter said inside his wood-paneled office, which looks out on a verdant lawn in a well-manicured industrial park in Irvine, Calif., where the company is headquartered.
Fetter left St. John in 2011 to do a short stint as chief operating officer at James Perse Enterprises. Then he was interim chief operating officer at Cabi—Carol Anderson by Invitation—for nearly two years.
But upon the departure in late 2014 of Geoffroy van ​​Raemdonck, who had come from Louis Vuitton and left after a little more than a year to work for Ralph Lauren in Europe, Fetter stepped in to take over where he left off.
Under his guidance, the company is rebuilding its core customer base and trying to bring new customers into the 23 stores that St. John maintains as well as entice shoppers to the luxury department stores that carry St. John, such as Neiman Marcus, Nordstrom, Saks Fifth Avenue and Bloomingdale's.
"We are very fortunate to have a dedicated and committed customer," Fetter said diplomatically. 'We are not running away from her but looking for like-minded customers who have the same lifestyle, the same level of affluence and same interests and needs. It is someone who is aware of the brand but may have a pre-conceived idea."
The new CEO isn't shy about saying that the St. John customer is probably a 40-plus woman who can afford to spend about $2,000 for a knit suit or $900 to $1,600 for a dress. "Everybody would love to have a younger customer, but realistically our customer has reached a place in her life where she is successful enough to afford beautiful things and a lifestyle that requires or desires to dress well and look well," he noted.
Gone are the slick magazine ads with well-paid celebrity models. Gone are the extensive runway shows in Orange County for loyal customers. Instead, Tiffany Anastasakis, St. John Knits' senior vice president of marketing and communications, has been organizing conversations with professional women to introduce the St. John brand.
In New York, St. John put together an event last May where Jill Kaplan, publisher of Crain's New York Business, and Kara Medoff Barnett, executive director of the American Ballet Theater, were in the St. John boutique to discuss how they got to where they were in their careers.
Recently, St. John had a Beverly Hills store gathering where Mary Ta, who specializes in interior design and furniture at her two showrooms, Minotti LA and Mass Beverly, talked to invited guests about modern design and style.
"We get to meet women who are interested in successful and interesting individuals," Fetter said. "It is us trying to cast a wider net and reach a potential new customer. … If we can capture a little information about her and her needs, we might be a match for some part of her wardrobe."
In addition to conversations, social media has become more important for the company with constant updating on Facebook as well as posts on Pinterest and Instagram. The company works with fashion bloggers too, such as Jacey Duprie of Damsel in Dior, who posted a photo of herself wearing a textural twill fringed knit jacket by St. John.
Last October, the company launched a new e-commerce site. Previously, St. John Knits relied on Nordstrom to operate its online shopping site. Before that, it was under the auspices of Neiman Marcus.
New frontiers
While maintaining its core customer, the decades-old company is trying to appeal to a fashion-forward client that has different needs. With that in mind, St. John Knits is relaunching its sport collection for Resort 2017. It has a casual feel without taking the athleisure route.
The St. John Sport collection has items such as joggers, sweaters, wide-legged pants, side-striped track pants, knit bomber jackets and stretch twill parkas that retail for $195 to $995.
"We listened to our customers carefully and what we heard loud and clear is that she has needs we had not been filling," Fetter said. "We had a successful sport collection at one time. We never stopped totally having a casual component. The world is getting more casual and we need to move with it."
Still, the company is not back in the old days when the core customer liked things more conservative. Los Angeles power attorney Gloria Allred used to wear St. John outfits for work more than 90 percent of the time. Now it is a little more than half the time, and she is looking at other big-name designers to fill some of her needs.
She complained that many of the knit suits come with skirts but not with pants, which are more practical for the woman on the go.
"It used to be a very reliable source of clothing for me," she said. "It appears they are emphasizing eveningwear and sportswear, and there is not as much for the businesswoman like myself."
Eveningwear is one of the categories that St. John Knits is hoping to expand. Currently, it makes up about 24 percent of revenues, a slight increase from nearly a decade ago when it accounted for 20 percent. The core knit suit makes up 50 percent of sales.
"For years, women have come to St. John and we haven't given her as broad an assortment [in eveningwear and special occasion dresses] as we would like," Fetter said. "We feel strongly that it is something we can do in a special way."
The push to expand eveningwear comes after St. John recently bought back its Chinese license and is hoping to expand into that country, which has the second largest economy in the world and nearly 1.4 billion people—more than four times the population of the United States.
Expansion into China will no doubt be helped by Fosun International, which took a minority stake in St. John Knits a few years ago. Vestar Capital Partners, a New York private-equity firm, continues to be the majority owner.
Fosun Chief Executive Liang Xinjin likes to buy reasonably valued companies and improve their worth by helping them do well in China. Since Fosun's investment, Fetter said the Chinese company has members on the St. John Knits board who bring considerable knowledge about the Chinese market. "It is a big opportunity for us as a brand," he noted.
Still, the United States makes up 90 percent of St. John Knits' revenues, which at one time were near $400 million. The company declined to release recent revenue numbers but said same-store sales have been up in the single-digit range the past two years.
About 70 percent of the St. John collection is manufactured in several big buildings in the Irvine industrial park with another 100,000-square-foot factory in Tijuana. With between 1,000 to 2,000 workers at its knitting, sewing and dyeing factories, St. John is the largest flat-knitting factory in the United States with some 300 knitting machines.
GSA Design, an independent sewing contractor with about 300 employees in Glendale, Calif., also picks up extra work.
Attention to detail is the hallmark of St. John Knits, which often dyes its own yarn, knits its own fabric, and cuts and sews everything as well as makes its own metallic buttons and metal hardware in Tijuana.
Marie Gray, who at the company is always referred to as Mrs. Gray, is still on the board and invited to view every new collection designed under the guidance of Greg Myler, who has been the senior vice president of design for some 10 years.
"When each collection is finished," Fetter said, "I invite her over to give me feedback. She has an amazing knowledge and adds value. When she speaks, she is always on target."