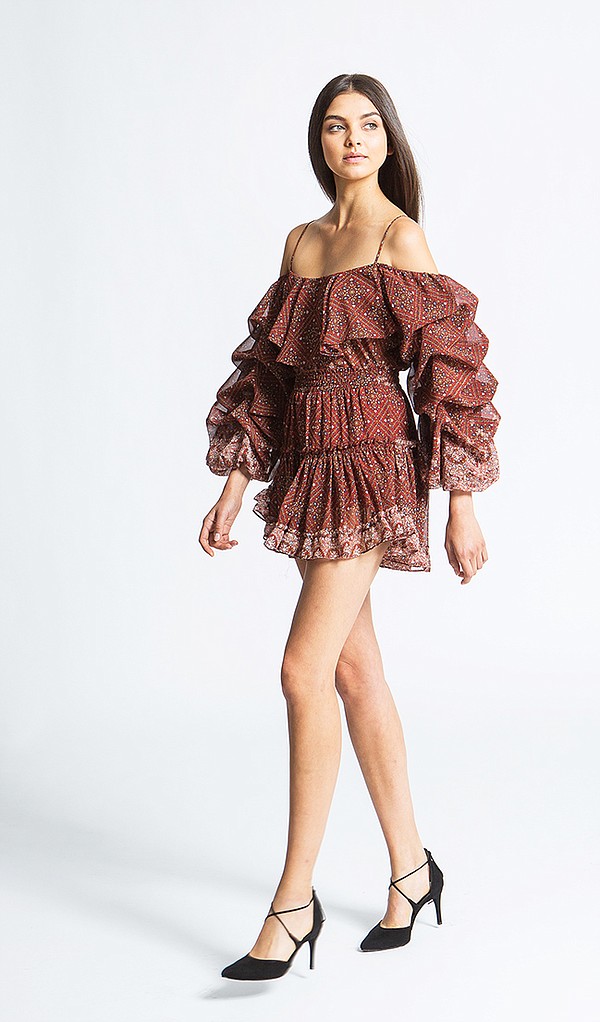 MISA LOS ANGELES
MISA Los Angeles: Bohemian Roots, Global Style
Inspired by the love of global style and travel, MISA Los Angeles is designed for the modern bohemian. Created by Shadi Askari-Farhat, founder and designer of tbagslosangeles, MISA is an extension and evolution of the brand yet has its own identity.
"Just as I would wear both brands, I hope that the woman wearing pieces from both collections can find a connection to each piece," Askari-Farhat said. "The MISA woman is very different in who she is. My foundation has always been the same; the idea to create pieces that a woman would want to wear again and feel beautiful in."
MISA, which launched for Spring 2016, is named for Askari-Farhat's daughters, Milla and Sayeh, and embodies a natural evolution of the designer's style.
"The MISA woman is a modern-day bohemian who spends her life traveling the world," the designer said. Whether it's a woman who lives the "gypset" lifestyle or aspires to it, the MISA woman tells her journey and story through her clothes.
"MISA isn't just about style—it's about a lifestyle," she added.
Askari-Farhat serendipitously launched tbagslosangeles over 15 years ago when she created her first handbag.
"I couldn't find the right handbag, so I created my own—handmade pieces from vibrant vintage fabrics and trims," she explained. "After requests from my friends to buy the unique pieces, I started designing more bags under the label, tbagslosangeles."
The designer was quickly encouraged to expand her colorful designs into a full collection of ready-to-wear.
"Flash forward 15 years later, like my own life, I have evolved as a person, a designer and as a new mother. My taste and creations have evolved into a more sophisticated palette, luxurious fabrications and feminine silhouettes," she said.
While both collections are designed under one roof, Askari-Farhat maintains a distinct look for each. Tbagslosangeles has become synonymous with vibrant yet bold and beautiful signature prints in "wrinkle-free" stretch fabrications. It includes vacation and event-inspired essentials, which are a "go-to" for any woman to wear from day to night. MISA reflects the concepts of "sea-to-city," "bohemian elegance" and "timeless chic."
"My inspiration for each collection is to keep femininity and sophistication in mind," Askari-Farhat said.
Key silhouettes in the MISA collection include dresses and skirt/blouse sets that can be paired together or worn separately. Styles are timeless and classic and appeal to a variety of age ranges.
"There is so much movement and attention to detail in the collection that make the signature feminine and effortless pieces something I really look forward to wearing every day or night. It is my hope that the women wearing MISA feel the same way," she added.
For the upcoming Fall and Holiday seasons, Askari-Farhat was inspired by the beauty of India and its rich, warm palette.
"The jewel tone colors remind me of market spices and palace gems, and I began building in the use of these colors in luscious fabrications and prints in velvet, lace and silk chiffon," the designer said. "I added in special details to really pop the collection with sparkling mirror details and reflective fabric."
For Fall/Holiday, Askari-Farhat introduced heavier fabrications and silhouettes.
"I am working on breaking the stigma that West Coast brands with an underlying bohemian philosophy have their peak seasons in warmer months and climates," she explained.
MISA ready-to-wear is wholesale priced from $80 to $130. Accessories are wholesale priced from $12 to $60.
The line is carried online at Revolve and Shopbop and at Harrods.
For more information, contact the Community Service Showroom at (213) 624-0824.