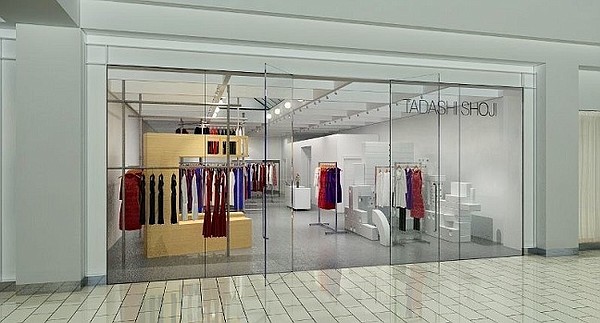 RETAIL
Tadashi Shoji Opens New Concept Store at Glendale Galleria
Los Angeles designer Tadashi Shoji likes to be creative. And he likes working with creative people.
That's why he has employed the help of a group of architecture students at Woodbury University in Burbank, Calif., to study the brand, explore the boundaries between branding and retailing and create installation concepts for his new Glendale Galleria concept store.
The students focused on installations using repurposed and off-the-shelf materials, which could be used in Shoji's expansion later this year to San Jose, Calif., and the Middle East. Shoji also collaborated with architecture firm March Studio in Santa Monica, Calif.
"Combining fashion-forward designs with out-of-the-box elements will not only enrich the customer experience but will entice them to return again and again," the Japanese-born designer said.
The new store space encompasses 2,200 square feet and offers an eclectic range of Tadashi Shoji's eveningwear collection. The June 20 opening marks the first in a series of short-term concept stores that will be used to test key target markets as part of the company's global rollout strategy.