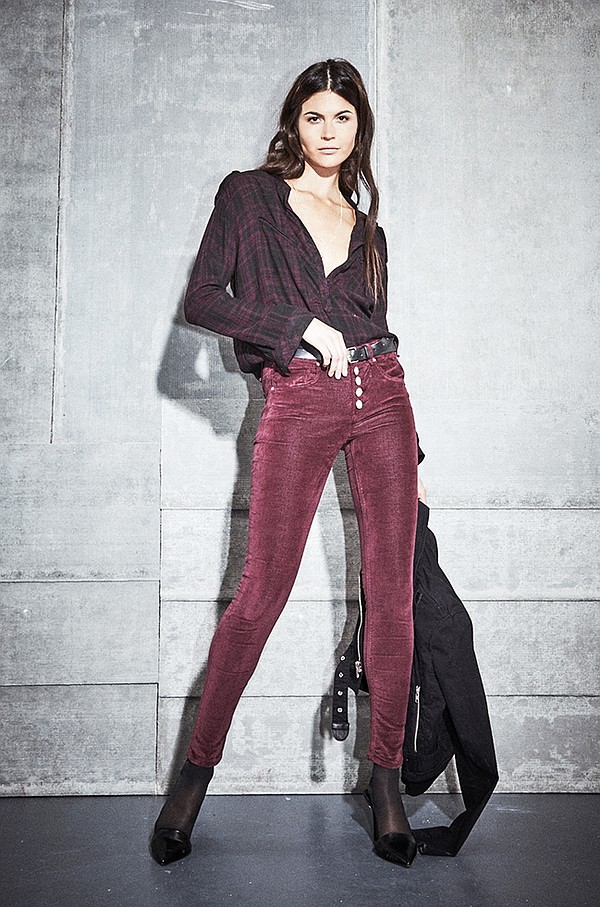 MCGUIRE DENIM
McGuire Denim Expands Into Sportswear
McGuire Denim is known for its glossy take on heritage denim, and this Fall, with a foray into sportswear, the brand is poised for growth. The denim label will launch knits with Club Monaco's "Brands We Love" in July, and its denim and new line of sportswear will be featured this fall as part of Nordstrom's "Brands on the Rise." E-commerce is also on the horizon.
McGuire Denim debuted in 2013 at Ron Herman and is now carried in 300 stores in the U.S. as well as internationally. Worn by models and celebrities including Cindy Crawford, Mila Kunis, Emily Ratajkowski and Gigi Hadid, the line is a "go to" for the chic set. Created by President and Head of Design Marianne McDonald and husband and Chief Executive Officer Coby McDonald, McGuire is born from a love for denim. Marianne McDonald landed her first job as sportswear and denim designer at Joe's Jeans after attending Otis College of Art and Design following a degree in English literature from the University of Oregon. She was later recruited as the design director for Gap 1969. But her love for denim really began while growing up in a bohemian college town in Oregon.
"I think that had a big influence on my aesthetic," McDonald said. "I have a penchant for washed-down blue jeans and feminine tops. I think you see that in the collection today too."
McDonald decided to launch McGuire after noticing a need in the market. "I felt that there was something missing in the marketplace that celebrated denim's utilitarian origins but was made with a nod to femininity," she said. "I've always loved the idea of a glossy take on heritage denim. My design team and I are inspired by the concept of clothing being able to make your life better. A bit more glamorous, a bit more fun."
To create the collection, McDonald utilizes premium denim from some of the best mills in the world, including Candiani, a family-owned Italian mill, and Isko, which is based in Turkey. Though denim fabric is sourced overseas, the designer takes a hands-on approach to producing the collection in Los Angeles.
The collection includes denim jeans, jackets and chambray shirts, and for Fall the label has added sportswear. A core silhouette is the brand's signature "Newton Skinny," which is inspired by the sexy, modern styling of Helmut Newton's iconic photos. For Fall, key looks include cropped and straight silhouettes such as the "Cropped Valetta Straight" in "Rialto," which has an uneven ripped-up hem. Shorter length flares and cropped bootcuts with taken-down hems that hit a few inches above the ankle are also fresh for the season.
Denim outerwear is key for the line, and for Spring the brand debuted its first twill army jacket, which sold out at retail. McDonald also began adding sportswear to the collection for Spring. "I think we're in a really big sportswear cycle," she explained. "Our customers were asking for designs that go with the denim. Spring this year really announced that."
Chambray tops and linen tops that pair back with jeans were well received by buyers, she added.
For Fall, vintage continues to inspire the collection. New sportswear items in the expanded collection include T-shirts, sweatshirts, bombers, Henleys and twill motorcycle jackets. Feminine styles such as the "Hideaway" shirt is made in Spanish gauze, and the "Sorbonne Ruffle" top has flirty, ruffled details.
"Our sportswear, much like our jeans, are pretty much the types of things we'd reach for when getting dressed," McDonald said. While the designer doesn't plan to enter the athleisure market, the sportswear collection was designed as it pertains to denim.
"We have expanded into sportswear because you have people that want more than just jeans," she said. "There's that appetite for things that aren't indigo and that speak to whatever their lifestyle might be."
For example, T-shirts, which will debut at Club Monaco, are designed to wear with the brand's denim washes. And buyers are now looking for blouses and tops to pair with jeans and skirts.
"I think people are into the whole look of a brand these days. … That's a major seismic shift," explained the designer, who added that nearly half of the Fall orders were non-denim. "You can craft your whole wardrobe out of McGuire if you wanted to, which is kind of fun," she said.
McGuire Denim is carried at retailers including Saks, Nordstrom, J.Crew, Ron Herman, American Rag,Henry Lehr, Club Monaco, Bloomingdale's, Shopbop.com and Revolve.com. Retail prices are $215 to $238 for jeans, $90 to $220 for tops and $322 to $495 for jackets. For more information, contact the Community Service Showroom at (213) 624-0824.