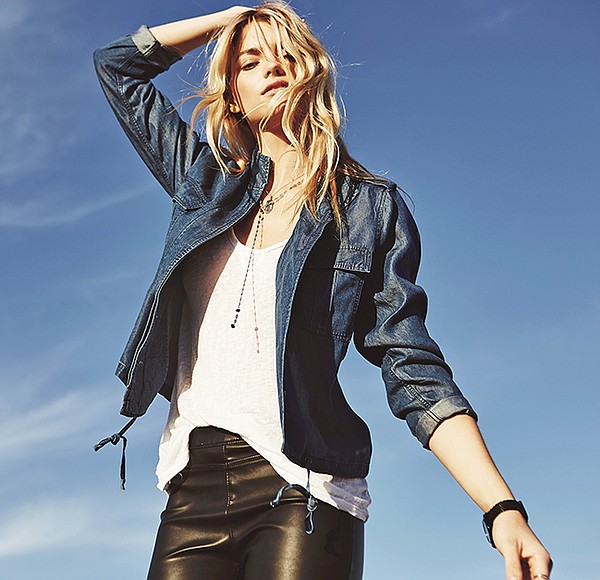 RAILS
Rails: Contemporary L.A. to Global Lifestyle Brand
Rails launched with one hat at Fred Segal in 2008 and has since grown into a global lifestyle brand. Rooted in classic silhouettes reinterpreted with a relaxed, contemporary aesthetic, the brand takes its inspiration from the laid-back lifestyle of LA. Celebrities and models such as Gigi Hadid, Beyoncé, Taylor Swift, Gisele Bündchen, Kendall Jenner and Jessica Alba have all sported the label's refined yet easy-to-wear pieces. The brand, which was
built on the concept of updating the classic shirt, has successfully evolved by applying the same concept to multiple categories.
When founder Jeff Abrams launched Rails, he observed that the contemporary shirting market was primarily utilizing stiff cotton fabrications.
"I saw an opportunity to change this, so I developed a unique Tencel/rayon blended fabric that would maintain the classic shirting heritage but that felt luxurious and draped in a sexier, more feminine way," Abrams explained. "We applied this concept to plaids, denims, solids and prints, focusing on becoming experts on both fit and feel."
Since its launch, the company has grown from a domestic, category-driven line to a global brand with a complete women's collection. It has created new categories each season, including denim, jersey and sweater knits and new shirting fabrications. Rails launched its kids' division, Little Rails, last Fall and for Spring '16, Rails introduced a men's shirting collection with plans to roll out further categories each season. The line, which wholesales for $30 to $145, is now available in more than 1,000 retail doors globally, including Intermix, Neiman Marcus, Saks Fifth Avenue, Selfridges, Liberty, Harrods, Harvey Nichols, Isetan Mitsukoshi, Rosebud, Beams and Magasin du Nord.
Abrams grew up in Los Angeles immersed in the arts and developed the concept for Rails while living in Europe.
"I wanted to blend the comfort of my Southern California lifestyle with the more refined sensibility I found abroad," Abrams said.
Upon returning from Europe, he sewed the word "Rails" onto a black hat and a simple hooded sweatshirt and approached retailers to get orders.
"I drove all over the United States, walking into stores unannounced trying to build the foundation for the Rails collection," he said.
It was a journey of trial and error, he explained, that led him through the initial stages of producing and building the brand.
"Each season I refined the creative direction and focused on creating versatile pieces in luxe fabrications that represented our relaxed yet refined lifestyle/brand ethos," he said.
At its core, the Rails collection is a contemporary LA brand, bridging the gap between style and comfort, with effortless, refined, affordable pieces.
"We have built our reputation in the shirting category but have introduced new styles to complement our core business, including a full collection of soft knit T-shirts, denims, dresses and outerwear," Abrams said. "We want our customers to come to Rails not only for shirts but for their entire outfit."
Each season the brand continues to expand. For Fall and Holiday, Rails is focusing on its classic heritage and elevating its fabrics. A cashmere wool sweater knit group will launch for Fall and silk prints will launch for Holiday. Tencel-blended bottom weights are also being introduced. While the brand is known for its shirtings, its signature has evolved to include the quality of its fabrics. "We develop each new category with our brand ethos in mind—super soft, drapey, luxe fabrications—that easily merchandise back to our core products," Abrams said.
For Fall, the Tencel denim group includes new silhouettes and treatments including rompers, ikat prints and several stripe washes. A linen rayon capsule has also been added as "buy now, wear now.'' Bestsellers within the group include military-inspired shapes in sage/camo. Rayon prints in matching sets have also been introduced as a nod to the casual pajama-outfit trend. In addition, Rails is also evolving the classic plaid shirt by offering a number of new shapes and adding details such as back pleats, epaulettes, tie fronts, and buttonback and covered plackets.
"Every season, we are growing the women's, men's and Little Rails collection to become a global lifestyle collection and brand," said Abrams, who is partnering with key retailers in each market on pop-up and shop-in-shop concepts. He also plans to open a Rails flagship/retail store in 2017.
"We'll continue to support and build our global retail network in existing markets and explore new opportunities in Europe, South America, the Middle East and Asia," he added.
For more information, call the Community Service Showroom at (213) 624-0824.