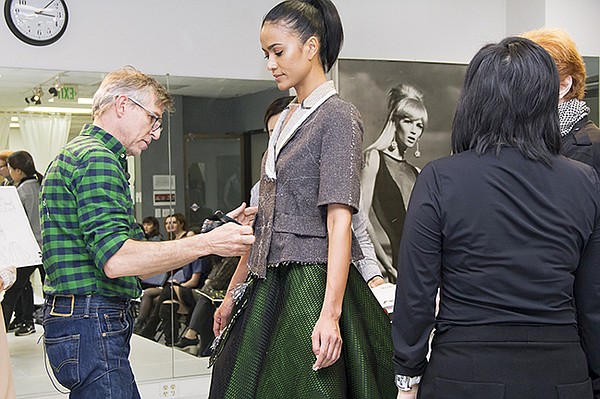 OTIS FOR MTA
Otis Fashion Design Students Create Bicycling Outfits for MTA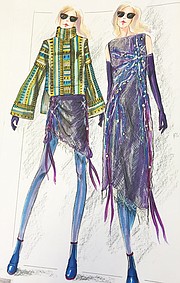 Despite more subways and light-rail train options than ever in the Los Angeles area, ridership has slipped 4 percent in nearly two years.
So last year, the board of the Metropolitan Transportation Authority—which runs the mass transportation systems in Los Angeles County with 2,300 buses and more than 80 rail stations—launched an action plan to go beyond traditional marketing schemes to attract new riders—particularly those young urban dwellers who might be more inclined to ditch their cars.
The board decided to turn to the worlds of fashion, music and social media to get the word out about the underground subway lines, the above-ground light-rail trains and the buses that can ferry you from Lynwood to Long Beach and from North Hollywood to Norwalk.
For the fashion element, the MTA, also known as Metro, turned to the senior-year fashion students studying at the Otis College of Art and Design in Los Angeles to develop stylish but functional bicycle wear that could take mass-transportation devotees from their homes to a subway or bus stop and then to work. Later there might be a night out on the town. More men ride bikes to buses and subways than women, but getting fashion-forward women onto bicycles is more challenging. Hence, the idea for fashionable bike wear.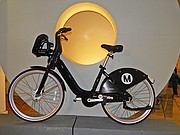 "We see this as an opportunity to attract a larger, more flexible generation to mass transit," said Lan-Chi Lam, the MTA's director of communications for Web and mobile. "There is a new rider and new demographics emerging, and we really want to tap into it."
In October, a group of MTA representatives met with Otis teachers and students at the downtown LA campus to give them an idea of what they wanted in the fashion project. The project is a run-up to Metro rolling out a new bike-share program in downtown Los Angeles this summer that will have more than 1,000 bikes and 65 stations in the system. Passengers will be able to pick up a bike at one station and drop it off at another.
To get the fashion project rolling, the MTA board gave Otis a $25,000 scholarship, part of which is to help cover the costs of fabric and trim for the project, which was launched in January in a senior-year design class mentored by renowned designer Todd Oldham.
The idea was to get away from typical bike wear sold in sporting-goods stores and add some pizazz to cycling attire. "This is about fashionable clothes for women getting on a bicycle and going to work," said Rosemary Brantley, chair of Otis' fashion design department, located in the heart of the Los Angeles Fashion District at the California Market Center.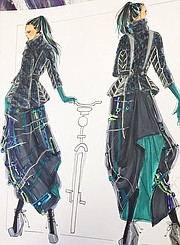 For the project, the clothes have to be made of washable fabrics that are sustainable and have reflective material to be visible at night.
"We have this idea of Carrie Bradshaw [from TV's 'Sex and the City'] on a bike. A sexy lady in great fashion but fashion that works on a bicycle," said Avital Shavit, a Metro transportation planning manager who spoke to Otis faculty and students about the project. "Designing skirts that have volume and flare is one workaround."
Students undertook the challenge, looking for inspiration in Metro maps and mass transportation symbols. They did dozens of sketches and developed fabric treatments that would make their garments stand out.
The first fitting of the Otis-designed clothes took place on March 3 when nine outfits created by students showed their take on what fashionable bike wear would be. Many of the skirts and dresses have cords that can be pulled to raise or lower the hemline.
Khanhlinh Su, a senior at Otis, used a subway map as her inspiration for her fabric treatment, which is "loud and crazy," for the jacket. It has sleeves that can be converted from long to short by undoing strips of Velcro.
She has a functional sleeveless purple dress—a color taken from the purple line in the county's subway system—that has cords that are pulled to raise or lower the hemline.
Alysha Aguilar said she tried to push the envelope for her project, which was near and dear to her because, when she first studied at Otis, she had to take two buses and the subway to get to her classes. "I got to put in my own firsthand perspective," she said.
At first she thought the project was unusual for fourth-year students. "This was a senior project, and we were being asked to do something that was more like sportswear," she said. "But when Todd came into the picture, he brought in the evening aspect of it."
Her inspiration came while she was drinking coffee and reading a newspaper where she saw a map of downtown Los Angeles. "I went with the Expo line colors of turquoise as well as the Blue line for my design, and the Silver line is represented in the reflective material sewn into the seams," she said.
She designed a jacket nipped at the waist with a tire-track pattern on the sleeves and a flowing dress that is trapezoidal in shape—small at the top and full at the bottom. Using magnets, the hem of the dress can be raised or lowered.
The final fitting for the garments will take place March 25 and then seen on the runway on May 7 at the Otis Scholarship Benefit and Fashion Show at the Beverly Hilton in Beverly Hills. Attendees will get a chance to bid on the nine bicycle outfits at the show with minimum bids starting at around $200 to $250.
Metro is planning to showcase the outfits in pop-up fashion shows at Union Station—a hub for mass transportation—sometime around May 20, when the Expo line opens its extension, which goes all the way to Santa Monica.