FASHION
Rosemary Brantley: Fashion Design Chair at Otis Stepping Down After 35 Years
When Rosemary Brantley walked up the stairs in 1980 to the newly established fashion design department at the Otis College of Art and Design, then located near Los Angeles' MacArthur Park, she found only one office with a single telephone plugged into the corner and four classrooms.
As a fashion designer for such well-known labels as Jaeger and Kasper for Joan Leslie, she had never been a teacher, knew very little about running a college fashion design department and didn't have a clue about academia.
At the suggestion she become the first chair of the newly established department, she thought "it was the most farcical thing I had ever heard."
That was some 35 years ago. After more than three dec­ades as the first and only chair of the fashion design department, Brantley is getting ready to step down on July 1 when the fashion design department moves from its present location at the California Market Center to the main campus of the Otis College of Art and Design, located in Westchester, near Los Angeles International Airport.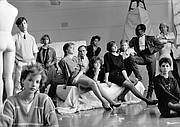 Jill Higashi Zeleznik, currently the fashion department's assistant chair, will become the acting chair while a global search starts in October to find a new chair.
Under Brantley's helm, the fashion design school has evolved into one of the most prestigious on the West Coast as well as a top fashion design school in the United States. Alumni include California womenswear designers Cynthia Vincent and Eduardo Lucero and swimwear designers Rod Beattie and Red Carter. Claire Chouinard, daughter of Patagonia founder Yvon Chouinard, graduated from the fashion program and is now working at the family company in Ventura, Calif.
Famed designers such as Bob Mackie, Isabel Toledo and Todd Oldham have routinely mentored classes. Over the years, working and teaching relationships have been established with major clothing companies such as J Brand, Quiksilver, Lucky Brand, Perry Ellis, Joie and Lane Bryant.
Fashion design students have gone on to work in New York for big fashion brands such as Michael Kors, John Varvatos, Banana Republic, Abercrombie & Fitch, Polo Ralph Lauren and DKNY.
But after more than 35 years of getting up at 4:45 a.m. to be at school by 7 a.m. and weekends often taken up with school events, Brantley said it was time to step down. She will remain the principal designer and business partner in her women's clothing label, called Staples, launched the same year Brantley took over the fashion design department.
This is a big change for the Texas native, who is known for her high-energy personality and nonstop enthusiasm for fashion and Los Angeles as a design center. "Personally I feel that I need to find out who I am besides the fashion design chair of Otis. My job has been all-encompassing. Even having weekends off is something I almost don't know what it is," she said.
But she has felt incredibly lucky to have a career where she has worked every day with creative people.
Also, a heart attack last year made her reassess her life and what she wants to do. In addition, about six months ago, her biological father, who is 90 and lives in Canton, Texas, came into her life, and she would like to spend more time with him.
"I would like to explore who I am and find out what else I am good at," she noted.
Brantley has educated hundreds of design students, who fill the school's 24 classrooms, library and fitting studio. Rod Beattie, who has had his own self-named swimwear label for years, was one of the first students to study at Otis and has mentored several classes. He graduated in 1986 when there were about 25 students in his class at the old campus before the fashion department moved in 1997 to the CMC building.
"Honestly, I remember the first day I met Rosemary in a freshman orientation in the gallery on campus," he recalled. "She was a tornado of energy. She was wearing a red dress and came walking into the gallery, and you thought, 'Who is she?'"
He found her inspirational, a great teacher and a wonderful mentor. "She is very creative, incredibly hard working and has set amazing standards," he noted.
Red Carter, who also has his own self-named swimwear label and now lives in New York, graduated in 1992. He remembers Brantley as being as gorgeous as Grace Kelly and as tough as nails.
"Before I started school there I had never stitched anything before," he said. "When I finished, I was making garments for Bob Mackie."
He learned that the fashion business can eat you up and spit you out. "This business is not for the weak-hearted," he said. "If you don't have a thick skin and you don't learn to move and shake to keep your product going, you won't make it. Rose helped me create my backbone, and it is still intact."
Bob Mackie, who has mentored classes on designing eveningwear ever since the school opened, said Brantley always brought an amazing exuberance to the school.
"She was always pushing to do better and better and bring in interesting people," he said. "She's the one who did it."
Fashion roots
Brantley started her fashion career as a model in Dallas, having grown up in Irving, Texas. The father she grew up with, Bill Brantley, was a police officer for 28 years, and her mother, Barbara, was an executive secretary who told her that if she could type, everything would be okay in her life. "And I was so terrible at typing," Brantley said.
At the age of 16, she got a job go-go dancing on a runway with 11 other girls in a juniors showroom at the Dallas Market Center to attract buyers and show off the fashions of Thermo Jack.
One day, someone asked her to take over some clothing samples to a modeling agency for an upcoming fashion show. The owner of the agency took one look at the 5-foot-9 Brantley and put her in an upcoming fashion show. Brantley soon signed on with the Kim Dawson Agency and did several fashion shows for high-end department stores such as Neiman Marcus and Sanger-Harris.
Later, she was freelancing at the fashion office of Neiman Marcus, where she rubbed shoulders with internationally known fashion designers. She did a lot of modeling for designer Stan Herman, who went on to become president of the Council of Fashion Designers of America for 15 years and one of the founders of New York Fashion Week in Bryant Park.
Brantley told Herman she wanted to be a fashion designer, and he started the wheels turning to get her into the Parsons School of Design, where he taught in New York.
Soon Brantley got a call from Ann Keagy, the longtime chair of Parsons' fashion department, saying she was accepted to the school and could start classes the following week. That sounded wonderful, but her family didn't have the funds to pay for room, board and tuition. So her father, who worked as a part-time security officer at a bank, approached the bank president about getting a loan that would enable her to get her through the first semester.
With money being scarce, Brantley worked to get scholarships, which financed the rest of her four years. When she graduated in 1973, the school named her "Designer of the Year," and she immediately nabbed a job working at Jaeger, the large, venerable British apparel manufacturer. Her task was to design a Jaeger line for the U.S. market. Every month, she shuttled between London and New York and traveled around Europe looking for inspiration for the Jaeger American Collection.
It was in London that she met her husband, Peter Christian, who was working at the original Hard Rock Café there. They eventually moved to Los Angeles, where Brantley did design work for several clients and was traveling frequently.
Then she got a call from Ann Keagy, her former mentor at Parsons School of Design. The Otis Art Institute—as the college was called then—wanted to establish a fashion design department and merge with Parsons. Keagy was against the whole idea, but the Parsons board had overruled her. She called Brantley and said she would only bless the merger if Brantley would be the fashion chair.
"Ann called and said, '"California is a very bad scene for fashion. It is all about the color turquoise and coral. No one has any taste out there,'" Brantley recalled. "But she said if the Otis fashion design department was going to go forward, she wanted me to be the chair."
Brantley visited the campus, which was located at the time across the street from MacArthur Park in a rundown neighborhood near downtown Los Angeles, and the most amazing thing happened. "I walked into that old building and it just reeked of old painting oils," she recalled. "All these things about school came back to me and the importance of what school has done for me."
She accepted the job and was soon faced with the daunting task of starting with hardly anything. When she took over, there were only three professors on staff, including herself.
"For the next three years the students referred to themselves as guinea pigs," Brantley recalled. "I said, 'Stop calling yourselves that.' But in retrospect, that is what they were."