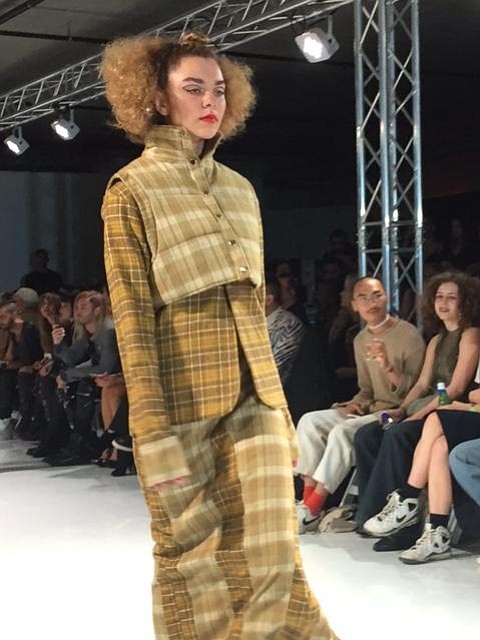 FASHION
LAFW Wraps Up at Columbia Square
The last day of LAFW, also known as LA Fashion Week, ended on a high note at the recently revamped Columbia Square building that is now the home to Neue House, a creative office space that has taken up nine floors of the complex on Sunset Boulevard in Hollywood.
This is the second season for the newly crafted LAFW or LA Fashion Week, a name trademarked by the event's organizer, Arthur Chipman. The crowd that showed up at Columbia Square was stylish for the last day of LAFW, held on Saturday evening, March 19.
On the runway were two relatively new Los Angeles labels - Phlemuns and Underlash - as well as a German label called Esther Perbrandt.
The designer behind Phlemuns is James Flemons who said his creations were vintage-inspired. He likes to take vintage togs and rework them into current-day fashions. This is the label's third season and it showed a bright ray of inspiration with puffy vests and coats and two different earth-tone plaids blended into one outfit with pops of color.
Silhouettes includes cropped pants, long and short jumpers, longer skirts and boxy dresses. The label does men's and women's clothing with similar fabrics.
Underlash is an activewear line created this year by Anika Perkins and Stephanie Jiang. The show was heavy on black leggings with geometric inserts and cropped tops paired with different athletic gear. The brand is designed to fuse fashion with fitness. It is made in Los Angeles.
The designer Esther Perbrandt hails from Berlin and started her label in 2004. She is known for her androgynous looks and deconstructed details.
The revamped Columbia Square is already garnering quite a name for itself. The day after LAFW wrapped up, former First Daughter Chelsea Clinton as well as actors Lina Dunham and America Ferrera held an event with 500 supporters being urged to vote for Hillary Clinton.