TEXTILES
Obituary: Textile Representative April Booth, 67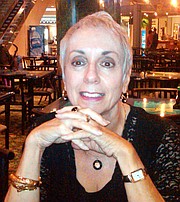 Los Angeles textile-industry veteran April Booth died on March 12 of natural causes at her home in Visalia, Calif.
The Southern California native started her career in the beauty industry, working as an assistant to Polly Bergen, the actress turned cosmetics entrepreneur, and later in the fragrance industry.
When she joined Eclat Textile Co.i n 1993, Booth had no textile experience, but she quickly rose to national sales manager, a position she held until her passing.
April always gave her time and efforts to causes she embraced, recalled Ann Davis, a friend and colleague at Eclat, as well as with the Textile Association of Los Angeles, where Davis served as longtime member and president. Booth was a TALA board member and judge for the organization's scholarship program. She also served on the board of the Fashion Industries Guild of Cedars-Sinai Medical Center and could be counted on to help organize the Fashion Industries Guild's charity sales, Davis said, recalling Booth's great energy, "whether procuring items to sell, selling on the floor, setting up or knocking down."
"April always had a kind word and usually good advice for all of us," Davis said, adding that she worked with Booth for more than 20 years. "She was a good person who loved to plan celebrations and bake for them. I think we will all remember with fondness the cakes and cookies she made for our birthdays and holidays. That aside, I will miss her laugh and the good times we had."
Another Eclat colleague, Bivian Uribe, worked with Booth for 26 years. Uribe described Booth as a mentor, role model, close friend and a part of her family.
"My nieces and nephews called her Auntie April," Uribe said. "She attended all the special occasions for my nieces and nephew—graduations, sweet 16 parties, birthdays, Thanksgiving."
In recent years, Booth moved to Northern California to be closer to her sister, Nancy Zapasnak, in Visalia but traveled to Los Angeles each week to continue to work for Eclat.
"Instead of making that commute, she lived with us a few days a week," Uribe said. "I look back and realize what a blessing it was to have her in my life."
Uribe described Booth as cheerful, fun-loving and full of life.
"Her smile could light up a room and it was infectious," she said. "She made everyone around her happy. Whether it was a funny joke, her positive attitude or her big smile, she was a delight to be around. She loved to cook and enjoyed entertaining and playing cards with us. I will miss April's smile and positive attitude. She was an incredible friend. She will be missed by a lot of people."
In addition to her sister, Booth is survived by many nieces and nephews.
A mass will be held for Booth on April 4 at 4 p.m. at St. Christopher Catholic Church, located at 629 S. Glendora Ave. in West Covina, Calif.