TECHNOLOGY
Jeanologia Software Release Aimed at Faster Laser Finishing in Production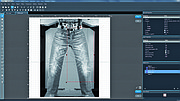 Spanish laser equipment maker Jeanologia has introduced eMark 3.0, the latest release for its laser-finishing software, created to help production designers maximize speed and creativity.
The software features new tools to enhance industrial productivity while maintaining energy efficiency, including a new turbo mode, which Jeanologia says will speed up productivity by 30 percent.
With Jeanologia's laser-finishing equipment, denim designers can reproduce the look of hand-finishing processes such as hand sanding. Using the Light Ripper tool, designers can create a range of wear patterns on jeans, including heavily worn-in looks with breaks and repairs. The Light Scraper tool creates virtual slubs that mimic the look of open-end denim and ringspun denim as well as crosshatch and slub constructions. The Light PP Spray tool re-creates the look of potassium permanganate spray.
eMark 3.0 includes a large laser design library, which is periodically updated with new designs created by the Jeanologia brainbox team.
Founded in 1993 with a mission to improve the garment-finishing industry, Jeanologia produces laser, ozone and e-flow systems that help textile designers create new design and finishing possibilities without using excess water, energy and chemicals or creating waste and harmful emissions.
For more information, visit www.jeanologia.com.