IMPORT/EXPORT
U.S. Trade Rep Hopes to Have New Free-Trade Agreement Signed, Sealed and Delivered Before Obama Leaves Office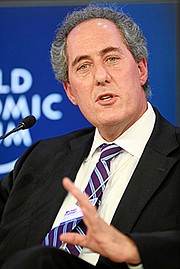 The Obama administration has been talking about the Trans-Pacific Partnership trade agreement ever since the president arrived in office in 2009.
But after more than five years of negotiations with 11 countries and a signed deal, Congress still hasn't approved the pact.
U.S. Trade Representative Michael Froman—in Los Angeles on May 2 for the Milken Institute Global Conference at the Beverly Hilton in Beverly Hills—said he hopes to have the trade pact approved by Congress sometime after the presidential elections and before President Obama leaves office in January.
"In October we finished [TPP] negotiations. In November we published it, and we signed it in February," he said. "Our goal is to have it done this year. We think there is a pathway forward to doing that as members of Congress learn of the benefits and risks of not moving forward."
That path forward is helped by the fact that Senate Majority Leader Mitch McConnell, Speaker of the House Paul Ryan and Obama are all on the same page to approve the trade deal.
Froman spoke in a one-on-one interview with Ben White, chief economic correspondent for Politico, during the annual three-day global conference, which has become a confab of investment bankers, hedge fund captains, well-placed politicians, government leaders, religious gurus and environmentalists as well as such actors as Tom Hanks and Seth Rogen and even former Lakers basketball player Kobe Bryant.
The U.S. trade representative's one-hour discussion centered around the largest free-trade agreement ever negotiated by the United States and the controversy it has churned up during a political year. The TPP encompasses the United States and 11 Pacific-Asian countries—Australia, Brunei, Canada, Chile, Japan, Malaysia, Mexico, New Zealand, Singapore, Peru and Vietnam.
Democratic presidential front-runner Hillary Clinton originally seemed to back TPP and spoke positively about the negotiations when she was the U.S. secretary of state, but once the pact was negotiated she said she couldn't support it in its current form because it didn't provide the basic safety net that American workers need to compete in the global economy.
Republican presumptive nominee Donald Trump has been adamant about trouncing the trade pact or any kind of free-trade agreements, noting as president he would slap a 45 percent tariff on Chinese-made goods, tariffs on many other imports and bring back manufacturing jobs to the United States.
Froman shied away from discussing anything that Clinton or Trump might do if they were elected president, but he did note that research has shown that launching a trade war and curtailing free trade would stifle U.S. exports, leading to job losses and a recession.
"Globalization is happening. It's like the genie. We can't put it back in the bottle, but we can use free-trade agreements to shape and open other markets and then raise standards in those countries so there is a more level playing field," he noted.
The Peterson Institute for International Economics, a nonprofit think tank in Washington, D.C., did a study and concluded that the economic benefits from the Trans-Pacific Partnership would increase annual real incomes in the United States by $131 billion and annual exports by $357 billion.
In 2015, California exported $165.4 billion of goods to the world and more than 40 percent of those went to TPP countries.
"I had a group of cattlemen who came to my office and noted that, because Australia and Japan have a free-trade agreement, we are losing $120 million a year in beef exports and that gap will only widen as time goes by," Froman said. "We have a choice of passing TPP and eliminating 18,000 taxes on U.S. exports or imposing a $700 tax on each family in the United States."
Twelve other countries—such as Colombia, Indonesia, Thailand and Taiwan—have expressed interest in joining the TPP.
Trade wall
Yet, during election-year politics, there seems to be more talk against free trade as wage stagnation and increased income equality are seen in the United States.
Froman tried to explain why this anti–free trade climate is happening. He noted that the benefits of free trade are not always immediately measurable to the average consumer. "It is not visible when your paycheck goes farther to buy clothes, food or shoes. Estimates are that free trade since World War II has added about $13,000 to the average American's family income by opening up our own market."
But the results of free trade are immediately obvious when a factory closes down and 200 workers lose their jobs. "That presents a real public-affairs challenge," Froman said.
If the United States doesn't negotiate free-trade agreements with other countries and implements higher labor and environmental rules, Froman contends, China will enter into its own free-trade agreements, whose standards for fair labor, environmental protection and intellectual-property protection may not be as vigorous as free-trade agreements with the United States.
The Asian giant has proposed a Silk Road Economic Belt with its Eurasian neighbors, calling for economic integration. China is also a party to the Regional Comprehensive Economic Partnership (RCEP), a free-trade agreement being negotiated between the 10 countries that form the Association of Southeast Asian Nations (ASEAN) and the six countries with whom they have free-trade agreements: Australia, China, India, Japan, South Korea and New Zealand. RCEP is viewed as an alternative to the TPP.
"We are not the only party out there trying to move toward greater integration," the U.S. trade representative said.
Froman also touched on the negotiations between the United States and the European Union to create a free-trade agreement called the Transatlantic Trade and Investment Partnership (TTIP). "We just finished our 13th round of negotiations, and a lot of good progress was made," Froman said.
He and his European counterpart have been meeting every two or three weeks, and negotiators are getting together constantly. "Our goal remains to get it done this year. It won't go through Congress, but we hope to reach a comprehensive agreement," he said.
However, European leaders are getting some pushback from their constituents because many countries still have high unemployment rates, Syrian immigrants are flooding into countries such as Greece, and Great Britain is voting June 23 on whether to exit the European Union.