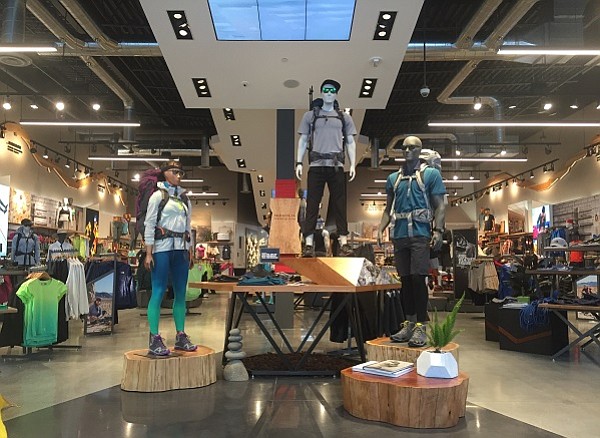 The North Face (Re) Opens in Palo Alto
Last week, The North Face celebrated the opening of its new store in Palo Alto, Calif., with a packed schedule of events for outdoor enthusiasts. The new store features "Sky Windows" that display information about The North Face global athlete team, local weather forecasts, local maps and topography and community information, as well as a giant tree that extends through the ceiling over the cash wrap.
During the opening weekend festivities, the company showcased The North Face Virtual Reality, an immersive, 360-degree, 3D video and audio experience that virtually dropped viewers into iconic outdoor landscapes, such as Moab, Yosemite and Nepal.
For those stuck in regular reality, there was a deejay, photo booth, food and local craft beer. There was also a "Community Mappy Hour" led by Outdoor Fest which included information about local runs, hikes and climbs.
"We're excited to be building our community in conjunction with The North Face in Palo Alto, the store provides an ideal space to gather and find inspiration as well as new adventure buddies," said Sarah Knapp, OutdoorFest Founder.
Plus, The North Face hosted an Outdoor Movie Night, featuring the "Valley Uprising," a documentary that tracks the history of Yosemite's climbers. There was also a group climb session at Planet Granite in Sunnyvale, Calif., with The North Face climbers Peter Croft and Matt Segal, and a Saturday morning run with The North Face athlete Dylan Bowan.
The North Face has a long history in Palo Alto, located for 24 years in the city before moving to its new location across the street in the Stanford Shopping Center. A division of VF Outdoor Inc., The North Face was founded to prepare "outdoor athletes for the rigors of their next adventure." The new store features a photo wall that commemorates 1966, the year founder Doug Tompkins founded the store as a "small ski and backpacking retail and mail order operation." Photos include company's first location was located in San Francisco's North Beach neighborhood, as well as shots from the store opening where The Grateful Dead played while members of the Hell's Angeles worked the doors.