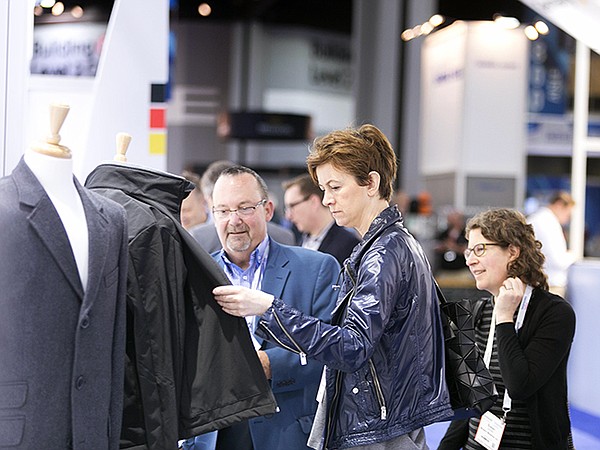 TEXPROCESS AMERICAS
Reshoring Among the Supply-Chain Trends at Texprocess Americas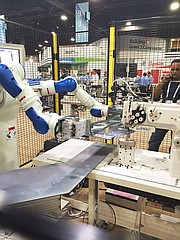 ATLANTA—One of the continuing themes at Texprocess Americas in Atlanta was Made in the USA production and re-shoring resources. It's somewhat anecdotal and not everyone is benefiting, but clearly some companies are. They include Hickory Brands, a North Carolina firm that specializes in shoelaces and braiding. Tucked away in a small booth at the end of an aisle, Hickory Brands was one of 38 firms housed in the Supply Chain USA pavilion. Hickory Brands supplies the major sporting-goods chains as well as shoe manufacturers.
"We've been busier than the previous two shows," said Richard Schaftlein, Hickory Brands' vice president. "A lot of it has to do with Made in America."
Schaftlein said U.S. firms have the advantages of proximity and efficiency. He held up a piece of braiding and said, "See this piece of braid? I am going to ship 700,000 yards of it this week. That's probably 600,000 more than I usually ship and this company used to buy it from China."
Edward Gribbin, president of apparel-industry consultancy Alvanon, is also among those bullish on re-shoring but notes that the trend doesn't mean a light switch can be flipped and empty factories will suddenly fill up with workers.
"One of the points we make is that we have lost a generation of skills in terms of sewing-machine mechanics,' Gribbin said. "There's a training aspect that needs to happen."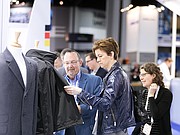 Held May 3–5 at the Georgia World Congress Center in Atlanta, Texprocess Americas is part of a co-located trio of apparel-industry trade shows that also includes Techtextil North America and JEC Americas. Together the three trade shows cover technical textiles, nonwovens, sewn products and equipment, technology, and composites. Organized by Messe Frankfurt, Texprocess Americas is held every two years. Messe Frankfurt also produces a Texprocess show in Frankfurt, Germany.
The apparel industry now has a new consultancy, or at least venerable consulting services under a new name. Will Duncan & Associates was formed about six months ago when longtime TC2 consultants Will Duncan and Douglas Adams bought the consulting business from TC2. Adams, the company's chief operating officer, said the move has been successful. He was also pleased with the level of attendance at Texprocess Americas. The new consultancy advises apparel manufacturers on how to take costs out of their businesses through lean manufacturing.
"We show them how to take lost capacity out of their operation," Adams said. "Through this process, no one is ever idle on the shop floor. Companies have been coming to us specifically here [at Texprocess] to help them reduce costs. It's a matter of changing the culture of how they have been operating."
Adams said Will Duncan & Associates typically sets up one pilot line at a factory by teaching employees of clients its process. The consultancy now has clients across the U.S. and in Mexico, Central America and South America.
Cutting technology and innovative software were on display at the stands of two regular Texprocess Americas exhibitors, Lectra and Gerber Technology. The two firms typically have some of the most active exhibits.
New Lectra North America President Jason Adams, attending Texprocess Americas for the first time, said he was amazed at the show's scope and breadth. He noted the innovative technology and automation that was on display, which he says is a reflection of trends seen in the industry.
"Technology is all around us, and we rely on it to make our lives easier and more efficient at work, at home and on the go," Adams said. "Consumers are demanding, and this is apparent with fashion and apparel, furniture and automotive manufacturers. They want customized products faster, and technology helps manufacturers deliver them faster. Many of our customers confirmed this at the show, and this is one of the factors driving their buying considerations."
Count Adams among those who are believers in the re-shoring trend. "The ability to bring manufacturing closer to the consumer has driven transport and manufacturing costs down and released more funding for capital equipment," he said. "There are benefits across the entire supply chain. Because of that, I believe we'll see more manufacturers looking at re-shoring as an option. I can even see it becoming a competitive advantage where a consumer chooses manufacturers/retailers based on proximity and how quickly they can deliver.
At the Gerber stand, visitors were shown Gerber Technology's Digital Solution, which is an end-to-end, integrated system that passes information from one process to another complete with the software to network smart machines and smart products and enable full collaboration along the way. These products are integrated to enable both the mass production and mass customization of technical textile and fabric-related products and work together to help customers go from concept to market quickly and efficiently, according to Gerber.
"Texprocess held true to its long history of being a show that gathers all the industry leaders and attracting customers who are interested in learning about cutting-edge technologies to improve workflows, efficiency and shorten their cycle times," said Bill Grindle, Gerber's chief marketing officer.
Dave Gardner, managing director of SPESA, a coproducer of Texprocess Americas, told journalists during a press briefing that the recent resurgence of textile and apparel manufacturing in the U.S. is a bona fide trend. Among the factors he cites are textile firms from India and China investing in U.S. facilities. Going hand in hand with that is technology that is allowing firms to cut costs and stay closer to their markets. Automation and robotics are key factors, he said.
American & Efird, the global sewing-thread specialist, chose the Atlanta venue to unveil its Colorlink App and a thread color-identification tool called Colorcatch Nano. Colorlink, which is A&E's first mobile app to focus on thread color, is available for both Android and Apple phones and tablets. A&E touts the app as "an end-to-end tool" to connect designers and production managers in the thread color-selection process. The app offers an array of digital color choices and provides more control over thread color selection.
Colorlink also supports Colorcatch Nano, a companion device that is an advanced, hand-held color tool that will identify color on a variety of smooth, structured or patterned surfaces.
One of the most active stands at the show was that of Henderson Sewing, which displayed several uses of robotics. Frank Henderson, the company's president, said it was one of the best events in the past decade.
"Visitors were serious and interested in what technologies were available and what they needed in their facilities to compete in the global economy," Henderson said.