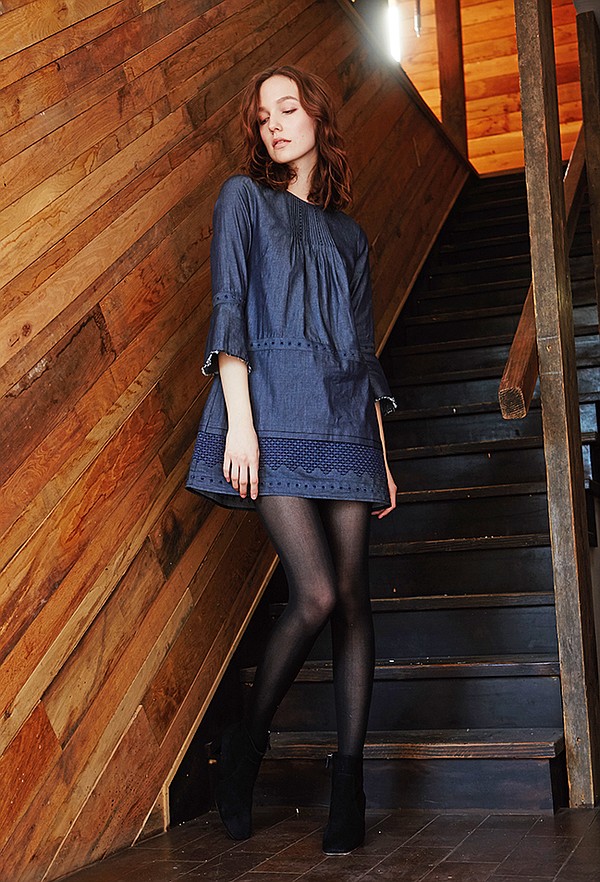 ST. ROCHE
St. Roche: L.A. Brand Mixes British Irreverence and N.Y. Chic
English designer Sue Stemp channels a touch of British irreverence and New York City chic into Los Angeles–based St. Roche to create its direction each season. Living in the natural beauty of LA's Laurel Canyon inspires the relaxed, easy element of the sustainable lifestyle brand. It's a delicate balance achieved by the astute hand of the designer, who previously created a celeb following with her namesake collection and whose background includes experience working at Tocca, Daryl K and Alexander McQueen.
St. Roche, which Stemp launched in 2014 with partner Paud Roche, speaks to the modern woman's multi-faceted lifestyle and a love of travel. Visualize relaxed shapes and easy silhouettes combined with original textile designs to create a feminine yet sophisticated global-chic aesthetic.
As a working mother, Stemp was inspired to launch the collection when she found she needed a more versatile wardrobe and discovered a need in the market for easy, yet chic, practical clothing. "The St. Roche woman is looking for unique and original clothes that are cool, relaxed and feminine yet not precious," Stemp said. "These are beautiful everyday clothes made from soft, eco-friendly natural fabrics that are an easy fit, luxurious and at a good price point, and this is what she appreciates."
For Fall '16, Stemp was influenced by the spirit of English eccentricity and nostalgic memories from the mid '90s, when she lived and worked in West London and frequented the vintage-clothing booths at Portobello Road Market. Interpreting design references and inspiration from her diverse background using traditional textile techniques is what gives the collection its unique look. References on the St. Roche mood board for Fall included antique Victorian embroideries and lace, William Morris and Liberty prints, '40s tea dresses, heritage plaids, and traditional Rajasthani textiles. To create the collection's nonchalant, feminine look, Stemp translated the mix of cultural inspirations with original print and embroidery designs and implemented Indian artisanal handcrafted techniques such as screen printing, dying, embroidery and beading.
"Hand textile techniques are so important to our brand. I love the look and the quality they have," said Stemp, who works with skilled artisans in India to produce them. "All our print and embroidery designs are designed in-house and are original; they are the starting point when I design each collection."
For Holiday/Resort '17 inspiration, Stemp looked to Kiki de Montparnasse and Lee Miller, two strong, creative, independent women who inspired Man Ray and helped define the culture of Paris in the '20s and '30s. Envision texturally rich fabrics such as a metallic dot handprint on silk, tux-inspired pants, super-soft cable knits and a predominantly black palette for Holiday and embellished tops and dresses and sporty, braided indigo Tencel pants for Pre-Spring/Resort '17.
Stemp and Roche try to use as many eco-friendly that is responsible both in terms of labor rights and the environment.
"We use GOTS-certified cotton when we can, but we also use handloomed cotton fabrics," Roche said. "The cotton used for handloomed fabric is often from smaller producers who cannot get or afford the organic certification, but its production is local and supports small-scale producers and farmers."
Additional fabrics include natural fibers such as silk or linen, Peruvian alpaca or cotton, and eco-friendly Tencel and Lenzing Viscose. Knitwear is made in Peru, and much of the production is completed in India, where Stemp and Roche work with responsible production facilities.
"We work directly with smaller factories in India, so we always know exactly in what conditions our production [takes place], and we visit the production areas of all the factories we work with," Roche said. "Our auditing of factories and production facilities is obviously an ongoing process but one that we take very seriously."
Some production and fabric sourcing is also completed in Los Angeles. Stemp said they have sourced a nice hemp and organic cotton corduroy and produced it in downtown LA, but she finds that sourcing fabrics is easier in India.
"It's a challenge to find eco-friendly fabrics to use here that are within our price point," she said. "We try and consciously use the responsible option when we can when designing and manufacturing, which, for a small company, can be difficult."
The collection, which wholesales from $53 for $173, is available at Intermix nationwide; online at Goop, Shop-bop and Le Box Blanc; and on the West Coast at boutiques such as American Rag, Elizabeth and Prince, Les Pommettes and Satine.
"The response to the line so far has been really encouraging. People love the collection because they want to wear it. Then when they realize that it's also made responsibly and at an affordable price point, that makes it extra special," Stemp said.
For more information, contact eM Productions at (213) 614-9292.