MANUFACTURING
Agave Denim and XCVI Ink Design, Manufacturing and Distribution Deal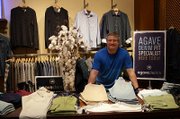 Los Angeles–based XCVI has acquired Agave, the men's and women's denim lifestyle collection founded by Jeff Shafer in 2002.
Shafer will continue on as the brand's creative director, splitting his time between Washington state and Los Angeles. XCVI will manufacture and distribute the collection. Details about the acquisition were not disclosed.
"We are delighted to welcome Agave to XCVI's distinguished portfolio," said Alon Zeltzer, XCVI's chief executive, in a statement. "With a 20-year history of authentic California design, we share a passion for brand building with an updated approach that will refine this timeless classic."
Founded in 2002, Agave produces premium-denim jeans and knit tops for both men and women. "In building the Agave brand, it has always been integral for me to manufacture the product in an ethical and sustainable way," Shafer said. "I am honored to share this vision with the entire team at XCVI."
The collection will primarily be produced in Los Angeles, with more labor-intensive pieces produced overseas, said Daniela Zeltzer, XCVI's marketing and communications director, who runs the family-owned company with her brother, Alon Zeltzer.
"In the last few years, we've been looking for the right opportunity, and when the Agave brand surfaced there were so many similarities (corporate culture, similar demographic, lifestyle) that it seemed like such a special opportunity," Daniela Zeltzer said.
Founded in 1996, XCVI creates casual contemporary pieces for women under its XCVI and XCVI Move brands as well as produces full-package design-through-production for brands such as Ralph Lauren, Guess?, Inc., Rag and Bone, True Religion, NYDJ and New Balance. XCVI produces in its own facilities in Los Angeles as well as at factory-direct partners, all of which are certified by WRAP or Bureau Veritas.