TECHNOLOGY
Technical Advice for the Retailer—from Brick-and-Mortar to Online-Only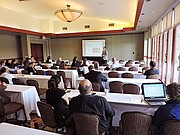 For a little perspective on retail technology, Sean Finnigan took the discussion back to the year 1400, the beginning of an international commercial-freight boom in Europe.
The introduction of faster clipper ships and railways in the 1800s meant speed-to-market—albeit 19th-century style. Finnigan ticked off more key technological developments—including the cash register, which automatically tallied the receipt, and the shopping mall, which created an "aggregate marketplace." The advent of online commerce in the 1990s brought another shift for retail, followed by the introduction of the iPad in 2010 and the beginning of mobile commerce.
"In today's environment, the customer can interact with you anytime, anywhere. It doesn't matter where you are," he said.
Finnigan, vice president of program services for Teamwork Retail, was speaking at "Take It to the Next Level: Empowering Retailers Through Technology," an all-day event on May 10 at the Old Ranch Country Club in Seal Beach, Calif., hosted by One Step Retail Solutions.
The event drew a mix of bricks-and-mortar retailers, e-tailers and companies with a combination of both. Finnigan's talk, titled "Technology's Impact on Brick & Mortar: Survive the Wave," focused on the need for both a physical and online presence in today's market.
"Today's customer sees no separation between the physical and the digital," Finnigan said, adding that the physical store remains crucial to driving sales.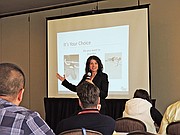 "Ninety-five percent of all retail sales are captured by retailers with a bricks-and-mortar presence," he said. "The physical store helps retailers drive online sales. Customers use the physical store before or after the transaction—hopefully not to return items, but sometimes [they do]. You do not want to exclude any channel for your customer interaction. The value of the store for customers and retailers is far greater than the sales capacity within the store."
Finnigan compared retailers to surfers, who are always looking forward to the next wave.
"Retail is no different," he said. "Every wave is different. As you ride it you're constantly adapting to the changes."
Technological changes are giving retailers more opportunities to provide customer service, but the challenge is gathering this information and getting it into the hands of the sales associates.
"What's your most valuable asset? Your customer," Finnigan said.
Retailers can learn more about the customer through their purchase history and a company's loyalty program.
"Historically, [this information] lived in different places. It's been a challenge to bring it all together," Finnigan said.
"Use technology to strengthen customer relations while making operating easier."
Finnigan advised retailers to create a central customer database that integrates the customer profile for mobile, e-commerce and in-store.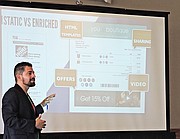 "Put management of that in the hands of your customer," he said, pointing to Uber as a good example of a company that gives the customer control over requesting a car, monitoring its arrival and knowing the cost in advance. Loyalty and rewards programs are another way to gather information while providing service.
Another key component is access to inventory information, the concept of the "endless aisle," which allows customers to seamlessly shop in-store or online, to take advantage of programs such as "reserve online, pick up in store."
"All this information needs to flow into the same order-management system so you can provide that information to the associate," Finnigan said, encouraging attendees to find strong retail partners who can adapt to technological changes in the marketplace.
"Because no single solution meets all retailers' needs, select partners that have strong integration capabilities," he said.
There are also new technological developments on the horizon, Finnigan said, such as a way to track not only who enters the store but where they spend the most time in the store.
For Tomas Diaz, chief executive officer of Orlando, Fla.–based FlexReceipts, the sales opportunity doesn't end with the purchase.
"We work with retailers of all different sizes," he said. "We understand they all are looking for a better way to interact with customers post-purchase."
Diaz's company turns an emailed receipt into a marketing opportunity. The company is currently working with 700 retailers in the U.S. and Canada. An enriched email receipt—or "smart receipt" —can allow a retailer to personalize the next offering to that specific customer by including tailored content based on what he or she has already purchased or browsed.
"More and more today the customer is expecting you to know who they are and to personalize their experience," he said.
But to do that, Diaz said, a retailer needs to have a "consistent identifier"—such as an email address or a phone number—that allows the retailer to "recognize customers across multiple touchpoints."
"Retailers are adopting e-receipts to capture email," said Diaz, adding 25 percent of consumers will agree to an email receipt. "When you have an email receipt, it makes it more likely they will give you a valid email. It helps clean your database."
An email receipt encourages loyalty and engagement, Diaz said.
"It becomes a tool you can utilize to engage customers once they leave the store," he said. "E-receipt [customers] spend 30 percent more than those who get paper receipts."
Diaz's company compiles the customer information and emails the receipt. FlexReceipts will create a customer profile that can gather multiple identifiers associated with the same customer. FlexReceipts plugs into any "point-of-sale" system, Diaz said, and it can integrate with the retailer's loyalty program or act as a "light loyalty program" for stores that don't have their own.
For her keynote address, titled "Behavior Standards and Best Practices Training for On-the-Ground Managers," Karen Barry encouraged the group to set customer service and selling standards—but warned them not to confuse standards for "attitudes."
"Don't focus on attitudes like 'have a positive attitude,'" she said. "It doesn't work because an attitude is just an opinion. You can't fix the attitude, but you can correct a salesperson's behavior."
Barry is a trainer with Lenexa, Kan.–based Friedman Group, which provides retail training and consulting.
"Friedman Group teaches the science of sales. You need to bring the art to it," she said.
It's also crucial for retailers to identify their most pressing problems. As an example, Barry said, a retailer might determine that the company's most pressing problem is customers who shop in the store and then buy online. Barry suggested retailers find a way to remind customers that they are a local business and to be a more valuable resource to the customer by providing "personalized benefits."
"Find your problem so you can find real solutions," Barry said, adding that retailers should "start small." "We're looking for progress, not perfection," she said.