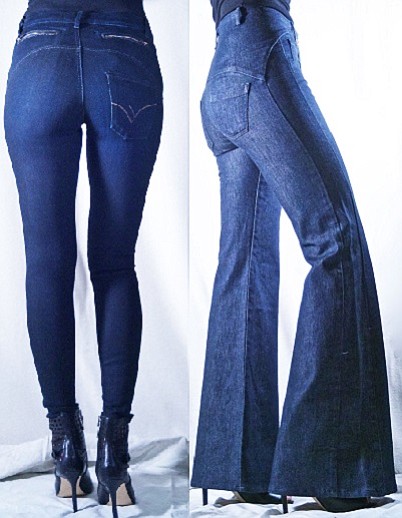 KRISTOPHER ENUKE
Kristopher Enuke: A New Take on the 5-Pocket Jean
Kristopher Enuke is launching a chic new look for denim this fall. The veteran Los Angeles designer's namesake label challenges the traditional five-pocket jean with a unique fashion and fit sensibility. Known for his work as creative director for Kasil, AG and Union and for his former line Oligo Tissew, Enuke is an innovator in the denim world.
"My past experience has always been that you continuously learn with denim. The product is always evolving," Enuke said. "What I'm trying to do is turn the tide. I think we've come to the top of [the denim] cycle and it's time for it to begin to turn again. It's time for people to look at their wardrobe and say, 'I have this jean in my wardrobe, but I think it's time for me to get something new and something more exciting.'"
The Kristopher Enuke collection appeals to the woman who is looking for personalized fit and has her own sense of style.
"There's a lot [of denim] out there, and the consumer is a lot more aware and a lot more individualistic [now]," Enuke said. To create his unique spin on indigo, the Nigerian-born designer is incorporating his native country's more than 500-year history of indigo dyeing into the brand.
"I don't think it had anything to do with me going into denim, but I've always wanted to do something that had the same energy," Enuke said. The Fall collection takes inspiration from the Tuareg tribe of the Sahara, who cover their bodies in indigo-dyed cloth. Enuke experimented with dyes in various colors to create layered effects and dip-dye treatments with a rustic, deep-indigo character. Made with luxurious Turkish and Japanese fabrics, the collection is sophisticated and polished yet has a modern, artisanal look. The brand's DNA is reflected in Enuke's refined sense of style while reflecting the strength of African craft. Minimal but deliberate design details include slanted welt pockets with decorative top stitching and back pockets with patterns of a raven and phoenix in flight.
"The styling is very exciting, and then once the styling pulls you, the fit sells you," Enuke said. "I've always been known for fit, and that's what I wanted to build around."
The goal is to help women feel confident, Enuke said.
"When they put something on, I want them to feel beautiful," he said.
Each style is named to celebrate women. Five-pocket styles include the form-fitting "Queen," a staple in the collection, and the "Princess," which has a unique wraparound yoke and waistband and a welt pocket for a rock 'n' roll edge. The "Duchess" has a similar wraparound yoke and waistband and features edgy zippers on the legs. One of the most innovative styles is the "Governess." Designed with a built-in corset, the high-waisted jean flatters, tucks and enhances in all the right places. To construct the jean, Enuke created a darted inside yoke, which acts as a corset, but the effect isn't visible on the outside of the garment. "What's important is the way it sits on your hip. It does not allow the garment to constrict you in any way, but at the same time it shows off your form," Enuke explained.
The collection, which wholesales for $99 to $145, includes denim jeans as well as skirts and trousers in twills such as gabardine and satine. It has already been picked up by Ron Robinson on Melrose Avenue in Los Angeles and in Santa Monica, Calif.; Church in Los Angeles; Gilda's in Newton Centre, Mass.; and Brooklyn Denim Co. in Brooklyn, N.Y. For more information, call (323) 816-6490 or visit www.kristopherenukejeans.com.