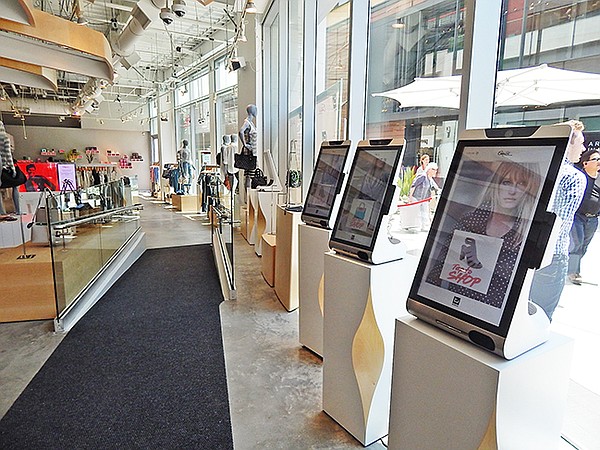 STORE OF THE FUTURE
WithMe: Meet the Store of the Future
California is the hot spot for cutting-edge technology, so why should it be any different for being at the forefront in showcasing up-and-coming retail innovations?
On May 26, WithMe took the wraps off its first permanent mall-based store, housed inside Santa Monica Place in Santa Monica, Calif., where an arsenal of high-tech gadgets is used to make shopping easier for customers and retailing more efficient.
With the WithMe mobile store app, goods can be scanned and placed in a dressing room—or, rather, a dressing room that comes to the customer. The customer's pre-selected clothes are stocked on a roll-out closet. When the customer is ready to try on clothing, a ring of wool-felt curtains descends from the ceiling to form a dressing room. Inside, interactive mirror displays allow customers to make purchases or request more items to try on without leaving the fitting room.
Imagine a digital display called the "Big Dipper," which provides information on each product as well as serves as the check-out center where you swipe your credit card and receive a receipt.
Need help? Push a button on the digital display that takes your picture and sends it to an associate carrying an iPod Touch.
Can't find what you want on the store floor? You can use the digital display to purchase merchandise stored in a warehouse and have it shipped to you the same day for $5. Two-day shipping is also available and free for purchases over $25.
Or you can go to a digital table, called a "Reactable," that will suggest items to wear with the clothing placed on the table.
On the display side, a "Pixel Wall" of digital screens moves in and out—each one independently—to create shelves and hang racks that can accommodate different merchandise. A virtual-reality lounge upstairs lets you create a dress or top that you can have emailed to you.
At nearly 8,000 square feet, the WithMe store can convert from a conglomeration of men's brands to a Harley Davidson Black Label store within 12 hours, which is what happened at a pop-up WithMe store at the Westfield Valley Fair Mall in San Jose, Calif., late last year.
"Everything can be quickly picked up and moved," said William Reid, WithMe's chief operating officer and former director of innovation for PayPal.
For now, the WithMe store is scheduled to be at Santa Monica Place for the next year. It is opening with a six-week run by Century 21 department stores, an East Coast–centric retail chain that offers discounted designer clothes in large spaces that average about 200,000 square feet.
"This is perfect for Century 21 to test the market," said Giorgio Borruso, the Los Angeles–based architect who designed the WithMe stores, which have a futuristic flair. "International brands can come and test the market too."
The store works as a showroom and a retail store while being portable. "We provide an environment where retailers can rotate in and out and move in and out of shopping centers," said Brandon Maseda, WithMe's vice president of retail innovation.
Retailers look to innovation
With e-commerce retail sites nipping at their heels, retailers have been forced to embrace technology to make shopping easier and improve sales per square foot.
Last August, designer Rebecca Minkoff unwrapped her futuristic LA flagship store on Melrose Avenue, where shoppers were introduced to several new retail concepts.
Enter the store and tap a touch screen to order a beverage and select items to be sent to a dressing room. Via a text message, shoppers are told when the dressing room is ready.
Inside the dressing room are interactive screens to request additional items or different sizes. Not sure if you want to purchase it yet? A list of all the items you've tried on will be saved and sent to your phone so you can order later online.
There are also four different lighting options to show you how an outfit would look during the day or evening or in between.
Minkoff, speaking at a tech panel in Los Angeles in April, said store staff can see which items were taken into the dressing room, which items were purchased and which were not. The information helps the company plan its inventory and future offerings.
Uri Minkoff, Rebecca's brother and chief executive of the company, noted that one-third of people using the high-tech dressing rooms are asking for additional items. Consequently, the company is selling three times more goods in its high-tech stores, which include outposts in New York and San Francisco.
"I think the role of the store of the future is going to be a combination of sales, distribution center, entertainment center and a showroom," said Adheer Bahulkar, a partner in the retail practice of A.T. Kearney, a global strategy and management consulting firm based in Chicago. "Every brand needs to figure out what the right combination is for them."
He noted that a men's store that carries tried-and-true staples for its customers who want to grab and go might not need to over invest in new technology. But others will.
Bahulkar noted that the WithMe store concept is highly customizable and a way for start-ups to dip their toes into a market without making a large investment.
WithMe has been evolving just as fast as the technology it displays. The company was founded in 2011 in Hangzhou, China, by Jonathan Jenkins asOrderWithMe to launch a business that gave small merchants the ability to buy merchandise from Chinese factories in bulk to leverage lower prices.
In 2013, the company moved to Las Vegas, where investors—including Vegas Tech Fund, SOSVentures, Base Ventures and Zappos Chief Executive Tony Hsieh—put $6 million into the enterprise. In 2014, another round of investment totaling $28 million helped the company develop its high-tech retail concept into what it is today.
WithMe's first big retail innovation display was in late 2014 when Zappos opened a 20,000-square-foot temporary store in downtown Las Vegas that employed the first WithMe concepts, which included digital kiosks for ordering and check-out.
WithMe COO William Reid said the store's various technological concepts have gone through iterations as new portable stores emerged. One of those stores was a pop-up last year for Toms Shoes and Raven + Lilly on Michigan Avenue across from the Chicago Tribune newspaper that had futuristic changing rooms with interactive mirror displays.
Last year, WithMe showcased its concept at the National Retail Federation's annual Big Show convention in New York. Several department stores and international brands were quite interested in the high-tech store. WithMe hopes to expand the concept around the world. "Now that we have the technology, it is easy to replicate," Reid said.