RETAIL
How Los Angeles Shopping Centers Are Targeting the Millennial Customer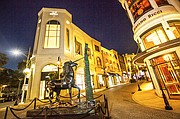 This summer, Two Rodeo Drive—the tony Beverly Hills shopping destination that looks like a faux European thoroughfare—set up an exhibit with Galerie Michael of 12 Salvador Dali sculptures that attracted hundreds of thousands of people.
During the three-month exhibit of surrealist sculptures, the shopping mecca promoted the social-media hashtag #Dali2Rodeo, generating a total reach of 4.2 million on Twitter and Instagram as art aficionados and shoppers snapped pictures of the artwork and posted them.
Consumers of all ages were attracted to the Spanish artist's sculptures, and many of them were millennials who have become the most coveted shopping demographic anyone could have.
But attracting millennials—as well as drawing in other age groups—is all about creating an experience, said Bill Wiley, the CBRE director who manages Two Rodeo Drive. "You have to make it more fun than sitting at home buying online," he said. "This way, with the exhibit, they were able to feel it, take pictures of it and post it."
As online shopping has become more attractive to tech-savvy millennials, born between 1980 and 2000, shopping centers are ramping up their efforts to get those consumers off their couches and away from their computers to venture into the mall.
During the first quarter of this year, total online shopping made up 7.8 percent of all retail purchases, according to the Department of Commerce, but more than half of the U.S. population—or 190 million consumers—will shop online this year, according to Forrester, a research and advisory firm that analyzes the online world.
A telling survey by United Parcel Service showed that 63 percent of millennials purchase goods on their smartphones compared to 41 percent of gen Xers, born between the mid-1960s and the late 1970s, and 19 percent of baby boomers, born between 1946 and 1964.
Emotional rescue
Shopping centers know they have to work hard to keep customers coming. Many are blowing up their staid and boxy structures to create open-air spaces filled with shaded patios, lush gardens and bubbling fountains.
Jeff Fromm, who coauthored the book "Marketing to Millennials," said appealing to the millennial crowd means you have to be innovative and create an emotional connection.
Being innovative means heading to the social-media world, where many millennials, who now number 80 million in the United States, hang out. Recently Macerich, which owns more than 50 shopping centers in the United States, including Santa Monica Place in Santa Monica, Calif., and the Westside Pavilion in Los Angeles, partnered with PopSugar, the online site that features lifestyle content targeted toward women 18 to 34. PopSugar covers topics such as fitness, food, fashion, beauty, entertainment and parenting.
For Macerich, PopSugar will be providing custom videos, imagery and social posts. "PopSugar and Macerich will present timely stories, targeted around seasons, holidays and special life events that can be accentuated by the recommendations of PopSugar's editors and made achievable by visiting any Macerich shopping center," wrote Fred Yeries, vice president of digital marketing for Macerich, in an email.
"Macerich also created an identity or persona for the content being served to our shopper," he added. "We call her our 'Modern Muse.' She's a composite of our shopper: stylish but not stuffy, shops luxury and discount, mixes and matches. We want to capture her unique style."
Another tactic being employed by shopping centers is serving up the latest hot brands by setting up branded pop-up stores that attract millennial customers. Surveys show that millennial customers still like to touch and feel clothing before buying it, especially fashionable offerings.Caruso Affiliated, which owns The Grove and The Americana at Brand, has rolled out a number of pop-up stores this year.
"The Grove and The Americana at Brand have built an incredible pop-up-shop roster over the past year, bringing millennials the newest offerings," wrote Ingrid Thorlaksson, a Caruso Affiliated public-relations representative. Those pop-ups included Jessica Alba's Honest Beauty, Nicole Richie's House of Harlow 1960 and Revolve. Opening on Nov. 18 is a pop-up-store for Chiara Ferragni, the collection from Blonde Salad blogger Chiara Ferragni.
Events are another traffic innovator, which has been used by commercial centers for years. But now they are being fine-tuned for millennials.
For a while, The Americana at Brand had free yoga classes on the green twice a week, an activity organized by Lululemon Athletica. Recently that has been switched out to a boot camp–style workout once a week at the shopping center's Lululemon store.
Both Caruso shopping destinations have "Monday Morning Mommy Movies" in conjunction with Pacific Theatres. People can bring their babies, diaper bags and strollers and enjoy a film at 11 a.m. and not feel embarrassed if their children start to cry.
South Coast Plaza in Costa Mesa, Calif., one of the older shopping centers, will be 50 years old next year and has been adding popular millennial destinations such as COS and & Other Stories, joining other millennial favorites such as J. Crew and Madewell. "Millennials appreciate the idea of curation, and with that in mind we opened the first West Coast location of The Webster recently," wrote Debra Gunn Downing, executive director of marketing for the large Orange County shopping center.
The shopping center is on Instagram and Snapchat as well as Weibo and WeChat because they are the preferred social media for millennials in the United States and overseas. "These are where conversations take place and where we gather insights from them," Downing noted.
Social influencers are also a big draw. For the recent opening of the Cole Haan boutique at South Coast Plaza, a social influencer was invited to experience the store and present her viewpoint within the South Coast Plaza environment.
Other stores at South Coast Plaza are creating celebrity events to attract millennials. Earlier this year, the Coach boutique had model Chrissy Teigen make a special appearance, and in December the Fossil store is hosting a visit by actress Jamie Chung.
Creating that kind of personal connection is vital, said Fromm. "If the mall is not good at creating personal connections then you just struck out," he said. "And when you strike out, there are plenty of alternatives. You are not only competing against other malls but also against other direct and indirect alternatives."