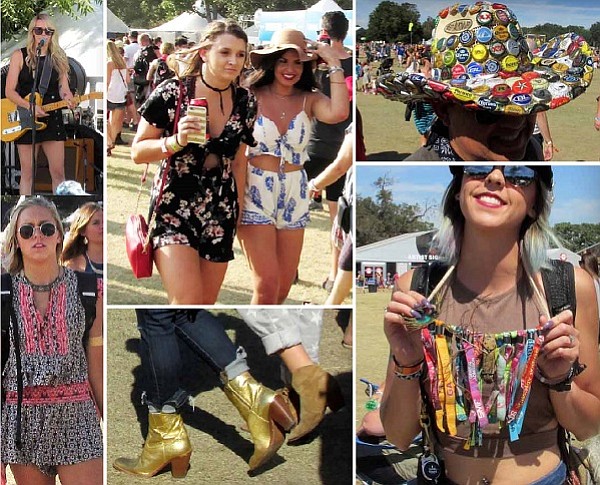 Festival Chic in 21 Trends
Austin City Limits Music festival seems to get better and better each year—from the amazing music to the fashionable crowd. Music genres seemed to inspire the looks spotted throughout the three-day festival. From the country sounds of Asleep at The Wheel and Margo Price to hip hop's Kendrick Lamar and Anderson Paak. Or rock-influenced Awolnation and the Foals to dance music's Saint Motel and Jack Garratt. Even some of the classic performers like Willie Nelson and LL Cool J seemed to bring out the retro feel of fashion from decades past. The big acts like LCD Soundsystem, Mumford & Sons and Radiohead brought out the eclectic, hipster side of the audience.
From festival favorites to Southwestern staples, here are 21 trends spotted at the event:
LONG, INK-BLACK DRESSES: Day time dressing got formal with long dresses in flowy, knit fabrics featuring sexy necklines and interesting strap details.
THE LITTLE BACK FESTIVAL DRESS: Cool, mini dresses worn with sandals or boots. Belted or layered with mesh, the little black festival dress is an easy piece to wear throughout the day.
FLOWER POWER: A variety of garden flowers from ditsy prints to bold blooms, spaced out or in clusters. Reminiscent of the 50s mixed with a 70s vibe, flowers showed up on glasses, hats, jewelry and head bands.
LEATHER AND SUEDE HOT PANTS: Beat the heat with natural and high-waist hot pants in variety of leather and suedes with black the dominant color of choice. The "chic" alternative to the denim Daisy Dukes seen everywhere throughout the festival.
BARBARELLA TOPS: One of the coolest tops was sexy little black top with an array of neck treatments and fabrics. Naturally, the Barbarella top was paired predominantly with not pants.
MOROCCAN MAIDENS: North African–inspired patterns turned up on dresses, genie pants and jumpsuits as both an allover print or trim detail.
OFF THE SHOULDER: Shoulder-baring looks in gypsy tops or mini dresses is a great way to show off beautiful necklaces and earrings.
TAKING THE TUBE: The 80s-inspired, Madonna-era skirt and dress is back. The stretch-knit tube skirt features a fitted silhouette and a high slit.
HUMAN NATURE: Cool, natural fabrics and colors in shades of khaki and army or white and creams give clothing a lived-in, worn-in look to help cool the body in the Austin heat.
OUR TRIBE: Bohemian chic never seems to go out of style. Always a staple in the music festival world, the tribal look is reminiscent of 60s and 70s cross-culture fashions.
TANKS-A-LOT: Novelty tanks are always an easy, comfortable way to enjoy days of music, from allover graphic prints to statement messages and color trimming.
MAGNUN P.I. : 80- inspired, Tom Selleck–style cotton shirts in Hawaiian tropics or conversational prints were worn open with a great necklace or closed for a more safari approach.
THE KITCHEN SINK: Mix & match patterns make it an individual statement and a fun way to mix something new with something old, something skater with something fitness. It's okay to break the rules.
AUSTIN RODEO; All-American looks, updated with shorts and new patterns. You can go all the way in red, white and blue.
MEN'S HEADGEAR: To finish off a look with a personal statement, festival goers opted for homemade, ethnic, retro-hippie headgear.
LADIES ACCESSORIES: For women, the finishing touches were homemade, individual and unique items that creates a total look.
BOOTS: Austin, Texas, is the home of amazing boots. Dressed up or down, cowgirl or urban dancer, boots were an amazing way to complete a festival outfit.
FANNY PACKS: That 80s/90s staple is back in familiar colors and new combinations, including leather for a home-crafted look.
BACKPACKING: The backpack is always a necessary item for any festival. I spotted leather and sueded versions, both dressed up or down, as well as traditional styles for real camping.
COSTUME PARTY: Can't find something to wear? Put on your favorite costume. Super heroes, retro icons like Frida Kahlo or Tonto, favorite food like a taco or banana or even modern-day Big Bird. There are no rules here, so express your freedom.
LAZY LOUNGERS: This festival must-have showed up everywhere in many colors and patterns. So easy to inflate, just hold up to the wind and let it fill up, twist and lock. It's the portable bean bag of the 21st century