MANUFACTURING
Thursday Finest: Tapping Into 3D for Made-in-America Fashions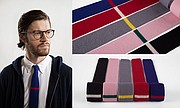 A Brooklyn, N.Y.–based husband-and-wife team is seeking to disrupt the traditional business model for textile and apparel manufacturing with a startup company that produces neckties, socks and scarves on a custom-order basis using the latest 3-D knitting technology.
Thursday Finest launched last December, focusing initially on accessories such as neckties and scarves. Cotton socks were added to the repertoire in July. All production is in response to custom orders and is produced on a Shima Seiki 3-D knitting machine.
Michael Carlson and Veronika Harbick conceived Thursday Finest. They operate a micro factory that can deliver a made-to-order product to customers within three to seven days. It's a streamlined process, currently employing just two production staff.
The pair came to textiles and apparel from technology marketing backgrounds. Carlson previously led technology teams at web and iPhone development companies in the New York area. His teams built products and applications that have been featured at Apple's WorldWide Developer's Conference. Harbick is an entrepreneur, brand strategist and now knitwear engineer. She has moved from content creation to social media to 3-D knitting. She began her career at NBC, producing content for digital platforms. More recently, she has spoken at conferences on the future of manufacturing.
The couple were introduced to Shima Seiki while researching machinery for a friend in the U.K. who had a small knitting business and was looking for ways to create custom products for small-batch orders. They met with several companies and were "blown away" by what could be created with the Shima machine.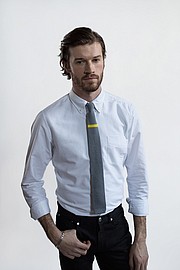 "It sort of ran from there and did more and more due diligence and ended up with this lovely partnership we have had with them [Shima Seiki] for the past year," said Carlson, who has been a featured speaker at Shima Seiki 3-D knitting seminars.
"We focus on customers who care about design," Harbick said. "Our products are thoughtfully designed for someone who cares about fit. We are reaching out to young men in their late 20s to early 40s who are excited about new technologies, excited about how they look and excited about how they express themselves."
The customized e-commerce aspect is also attractive to women who shop for these men, Harbick said, noting that customized products are great products for gift giving because the recipient knows the product has been made just for him.
While Thursday Finest is primarily an online retailer, it occasionally branches out. To bring this experience closer to potential customers, the company often deploys pop-up stores around New York for periods of two weeks or shorter. As the company evolves, look for other pop-ups in Chicago, Dallas, California and Southern cities, depending on how the customer base develops.
Thursday Finest's Brooklyn micro factory is close to Shima Seiki's New York office as well as to yarn suppliers in New Jersey. Bringing manufacturing back to the U.S. is an important facet of the company.
"Some of our customers really care about that," she said. "They want to shop brands that are made in the U.S. For other customers, it's more of a connection and having a transparency about the product. We tell our customers where the yarn comes from and how it is made. We tell them when it is knitted and shipped. We have a connection with our customers and try to make the process as transparent as we can."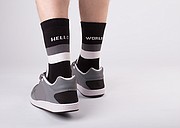 Thursday Finest sources its cotton yarn from Supreme Corp., a spinner of high-performance and specialty yarns in Hickory, N.C. Ties and scarves are made from Merino wool sourced from Italy. Sustainability is increasingly important to customers and suppliers. Thursday Finest's manufacturing process reduce typical apparel manufacturing waste. The company also doesn't carry inventory.
"The really exciting part is that we can make full-fashion products seamlessly," Harbick said. Orders are fed into our e-commerce knitting queue and then get put into our machine for manufacturing. It's an automated process."
The addition of socks to the company's product line has met with great success. A few weeks after their introduction, about a third of its customers were requesting socks.
Socks can be customized with the text of an individual's choosing knitted on the rear of the sock.
"We are excited about customizing socks," Carlson said. "We can monogram initials and we have had some occasional bad language that gets written on them. About two-thirds of our customers are being cheeky and having fun with it. Some write funny messages or things about their kids."
What's next in the way of products? Carlson and Harbick are being coy but say that new products will be rolled out in the near future.
"We see the excitement from our customer, and that's the most important thing," Harbick said. "They are interested in what we are doing, the sustainability aspect of it, and the reimagining of manufacturing and design. We are able to serve many different types of customers with the design and color combinations we have available. We will grow our offering to serve them."