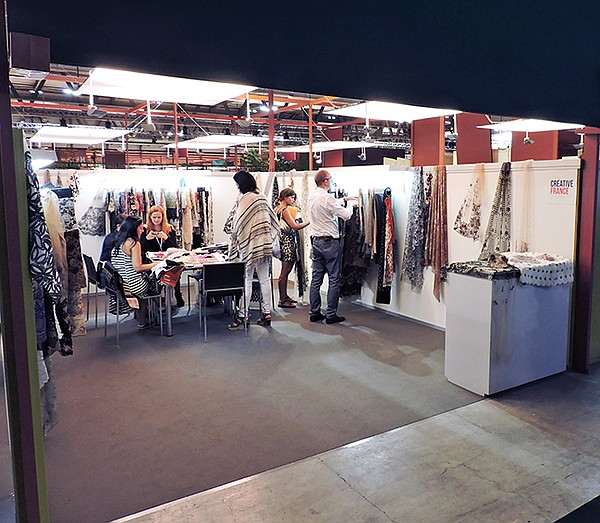 MILANO UNICA
Milano Unica Bows in New Location, Eyes Possible Date Change in 2017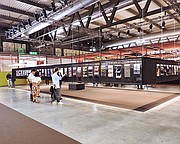 MILAN, ITALY—Exhibitors and attendees at the Sept. 6–8 run of Italian textile trade show Milano Unica were pleased with the show's new location at Fiera Milano Rho, the massive convention-center complex located on the outskirts of Milan.
The location marks a return, of sorts, for Milano Unica, which bowed at the centrally located Fieramilano­city convention center, then moved to Rho in 2006 for one season before returning to Fieramilanocity until last February, when the show outgrew the smaller convention-center space.
On opening day, as attendees made their way through the registration process, exhibitors were optimistic about the move to the new space.
"This is something we really needed a few seasons ago," said Marco Taiana, marketing manager of Como, Italy–based Taiana, between appointments on opening day. "I'm positive about it." Bergamo, Italy–based Gruppo Albini had two booths at the show, one showing the company's shirting collections Albini 1876, David & John Anderson and Thomas Mason and the other showing its denim-friendly Albiate 1830 collection.
"It's been very busy," said Tejaswita Sawant, Albini marketing and communications representative, on the last day of the show. "The first day, when we opened in 20 minutes, the stand was full."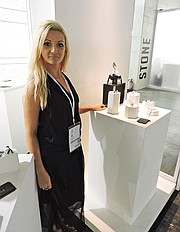 Milano Unica was founded in 2005 when several longstanding Italian trade shows joined forces to show in a central location. The show comprises several sections: Moda In and Moda In Accessories for men's and women's fabrics and trim; Shirt Avenue for shirting resources for men and women; and IdeaBiella for upscale menswear mills from the area around Biella, a city in Italy's Piedmont region.
The show also features two international pavilions, the Japan Observatory section and the Korea Observatory section. This season, Milano Unica partnered with Fiera di Vicenza to bring Origin Passion and Beliefs, a three-day event featuring international designers and Italian manufacturing.
In addition to Italian fabric and trim resources, Milano Unica also includes other upscale European mills, such as French couture fabrics maker Goutarel, where company representatives Pierre Scanzi and Nady Despinasse were meeting with international buyers. "We export everywhere—90 to 95 percent," Scanzi said.
It was busy at the Albert Guegain SA booth, where Eric Guegain was meeting with drop-in visitors. "We never give appointments because everyone wants to come at the same time," he said on the second day of the show. "Yesterday was not too bad. It started a little late, but it's a new place. I think it's good for us and good for the customers." Guegain said he shows at Milano Unica to work primarily with Italian companies but also sees other European companies as well as "some Asia and the Middle East." "For us, Japan is one of our biggest markets—and the Middle East and Russia and Europe." But with lower oil prices depressing the economies in Russia and the Middle East, Guegain said he is concentrating more efforts on European customers. "Spain is a growing market for us," he said.
This was the first time C. Pauli showed at Milano Unica. The German company sources eco-friendly fabrics from Turkey and India. "It's a good location and well organized," said assistant manager and sales representative Olga Riedel. The company, which has clients all over the world, sells organic cotton and silk fabrics.
Adding made-in-Italy manufacturing to the mix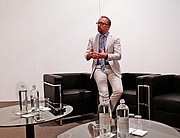 At the Origin Passion and Beliefs section of Milano Unica, Italian manufacturers and international designers showed side by side in a pavilion designed to encourage collaboration.
Los Angeles–based jewelry designer Antoanetta Ivanova was showing her Antoanetta fine jewelry at Origin. This was Ivanova's first time at Milano Unica but her second at Origin, which was previously held in Vicenza.
"It's a great chance for me to meet Italian manufacturers," Ivanova said. In Vicenza there are big Italian factories. I've met interesting people."
Ivanova comes from a family of jewelers. Her fine-jewelry collection is currently produced in Los Angeles and sold on her website. For the Milan show, Ivanova introduced a new, all-black collection called "Black Siberia," which features fashion-driven pieces in bold, geometric shapes.
Ivanova was one of 50 designers showing in Origin and the only one from California. All the designers, which included apparel and accessories makers, were selected by Not Just a Label, an online platform for independent designers. Not Just a Label currently features 23,000 designers from all around the world, said Robert Cavell-Clark, who was representing the organization at Milano Unica. On the Not Just a Label site, designers are given a digital showroom where buyers and press can view the collection and contact the designers, Cavell-Clark said.
"This is our fourth year with Origin," he said. "It's hard to get them to connect designer to manufacturer. We literally lock them in the same space for a few days so they collaborate. There are 50 designers from different countries and 40 manufacturers. They all want to start producing in Italy and find manufacturers that are appropriate for them."
Founded eight years ago in London, Not Just a Label will relocate to Los Angeles later this month, Cavell-Clark said.
September vs. July
Since launching in Milan 11 years ago, Milano Unica has expanded to include editions in Shanghai and New York as well as a precollection show, called Prima MU, which has been held for the last two years in July in Milan.
Many exhibitors were pleased with the turnout at the most recent run of Prima MU.
Italian mill Seterie Argenti was among the exhibitors at Prima MU.
"Between July and now we have a much larger offering," said owner Michel Vigano.
"We have enough product to show [in July] and have material to ship to the customer, which is the most important thing."
Taiana's Marco Taiana also showed at the July show and said some Taiana customers opted to attend in July instead of the September show.
"July was quite good for us—better than September," he said, adding that it drew focused buyers. "Some Italian, French and British customers are asking to see the collection earlier."
Show organizers are currently determining whether to permanently move the main Milano Unica show from September to July.
"For us, the main problem is the decision to stay in September and try to be more close to [Milan] Fashion Week," said Ercole Botta Paola, president of Milano Unica and chief executive officer of the Biella-based mill Successori Reda S.p.A.
If the show moves to July, Paola added, it could run concurrently with other Italian trade shows, such as the leather sourcing show Lineapelle and yarn sourcing show Pitti Filati.
"Every decision we make, we [would] like to be together as much as possible as an Italian system," Paola said. "We are Italian, so 50 percent like September and 50 percent like July. But 100 percent only want one show in Milan."
Seterie Argenti's Vigano was among the exhibitors who would prefer to shift the show to July rather than remain in September, when the show falls a week before the big Première Vision and Texworld fabric shows in Paris.
"For me, it's would be a good idea to have one show in July to be completely separate from Première Vision," Vigano said. "There is a big trend to [show early to] follow the customer. We have to follow their needs."
If show organizers decide to move the Milan show to July, the New York show may shift its dates as well, Paola said.
"The American market is strategic for us," he said. "[But] we need to protect our decision in Milan. If we move to July, we must believe in July."
Regardless of whether the show moves to July or remains in September, Paolo said the focus will continue to be on high-end textiles and trim.
"It's not a show where we're looking for 1,000 exhibitors and 100,000 visitors," he said. "We look for companies that have excellence of product to complete the selection. At Première Vision and Texworld, you can find fabrics of all the world. Here we have the fabrics of excellence. This is not the show where we're looking for profit. We're looking to promote excellence."