FASHION
CCA Names John Bauernfeind Chair of the Fashion Design Program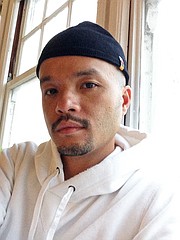 John Bauernfeind has joined the California College of the Arts as the chair of the Bay Area college's Fashion Design Program.
Bauernfeind was formerly graduate director of the School of Fashion at the Academy of Art University, also in San Francisco.
A graduate of St. Martins College of Art and Design and Parsons School of Design, Bauernfeind's career in the fashion industry has spanned three continents and nearly 17 years, working in trend forecasting, illustration, creative direction and product development for companies such as CK Jeans Calvin Klein, London Fog Industries, BCBG, Vanderbilt by Murjani and Knitcraft St. Croix.
"I feel that bringing art and design to complex global issues is critical and engaging," said Bauernfeind in a CCA statement. "How we construct narratives through various clothing compositions produces a non-spoken yet powerful form of communication of who we are or fabricate ourselves to be. Fashion can empower and uplift and is in a constant state of flux, which I find poetic and enriching to the soul. My goal is to position CCA's Fashion [Design Program] as a competitive voice in progressive fashion education by proposing new systems of dressing that bridge craft with technology for innovative future clothing."
The California College of the Arts was founded in 1906 and currently offers 22 undergraduate and 13 graduate programs in the areas of fine arts, architecture, design and writing at its two Bay Area campuses in San Francisco and Oakland. CCA's Fashion Design Program was founded in 1996 to be an "idea-driven, craft-based course of undergraduate study that emphasizes design concepts and skill development. The goal is to produce designers of daring originality who are willing to explore across disciplines and contribute to fashion as an aspect of modern art and culture," according to the college.
In addition to coursework in pattern making, sewing, draping and fashion illustration, students are tasked with finding "creative solutions to the challenges of sustainability by designing fashions that respect the environment and preserve native cultures." CCA Fashion Design alumni have gone on to work with companies such as John Varvatos, Abercrombie & Fitch, Gap Inc., Gymboree, J. Crew, Madewell, Levi Strauss & Co., TIBI, Ralph Lauren, Narciso Rodriguez, Athleta, Badgley Mischka and Thom Browne or have launched their own businesses and brands.
RELATED STORIES