TECHNOLOGY
TukaTech Takes CAD to the Cloud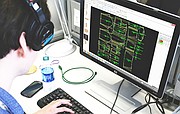 Los Angeles–based equipment and software solutions provider Tukatech has introduced Tukacad Professional Edition on the Cloud, a computer-aided pattern making, grading and marker software solution that allows users to begin working with the program as soon as they subscribe.
"It's the same award-winning software with all the same great features, including the help videos. Now we've made it accessible to anyone at any time. No more waiting to connect with a live person to place an order and then wait for a key to arrive," said Sonia Chhabra, Tukatech's director.
Tukatech released the Tukacad Learning Edition on the Cloud version for students earlier this year.
"There are hundreds of schools teaching Tukacad and thousands of students needing access to Tukacad for homework and projects," said Ram Sareen, Tukatech chief executive officer. "Seeing the success of the Learning Edition on Cloud, and knowing these young users are the future, was a big motivator to put the professional suite on Cloud."
The Professional Edition and the Learning Edition are available at www.tukaweb.com at a monthly cost of $200 per month for the Professional Edition and $25 (with valid student credentials) for the Learning Edition. Tukatech also still offers the Tukacad subscriptions with a USB key and, for a limited time, current and past Tukacad subscribers that use the USB key can return their key to receive 50 percent off their first month of subscription to the Cloud version.
Tukatech also operates Tukacenters in garment manufacturing and design hubs around the world. The Tukacenters offer access to Tukatech's 2-D and 3-D CAD and CAM software systems as well as Web-based product-development services and training for all levels of pattern design, grading and marker making. To find a Tukacenter, visit www.tukatech.com.