MANUFACTURING
American Apparel and Los Angeles Apparel: A Tale of Two Labels Starting From Ground Zero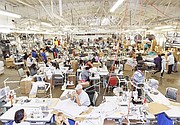 On one side, you have American Apparel, the decades-old label produced in Los Angeles that went bankrupt twice and is now owned by a Canadian T-shirt company that is starting production with a new business model.
On the other side, you have Los Angeles Apparel, the new label started by American Apparel founder Dov Charney, who is starting all over by building a new clothing company from the ground up—much the same way he did with American Apparel until he was pushed out in 2014 as the company's chief executive officer.
Charney has set up shop in South Central Los Angeles, where he is manufacturing basic T-shirts and sweatshirts with 200 workers who are churning out about 250,000 units a month, Charney said.
As part of his apparel comeback, Charney recently signed an exclusive partnership with TSC Apparel in Cincinnati, Ohio, to distribute his Los Angeles Apparel collection to screen printers and embroiderers in need of well-made blanks.
For Bob Winget, president of TSC Apparel, it is like déjà vu. He was one of the first companies to distribute American Apparel when it was a new line known for being completely manufactured in Los Angeles at a time when T-shirt makers were going to China and other Asian countries to make goods at rock-bottom prices.
"We were one of the original distributors of American Apparel," Winget said. "We dealt with that company for 20 years, and we had a lot of success with them."
When Los Angeles Apparel was launched early this year, TSC Apparel didn't hesitate to be part of the new enterprise. "It was a good fit for us," Winget said. "Dov was always a good partner to us."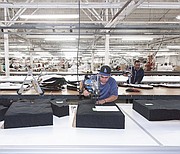 At the same time, TSC Apparel is distributing what is left of the old American Apparel merchandise acquired by Gildan Activewear when it bought American Apparel in February for $88 million.
TSC Apparel distributes several other T-shirt lines—some made in the USA and some outside the U.S. They include US Blanks, Bella + Canvas, Izod, Sierra Pacific and Van Heusen as well as Gildan Activewear's other labels such as Anvil and Gildan.
"There is a pretty good market out there for people who want a 'Made in USA' product," Winget said.
While Los Angeles Apparel is being produced in Los Angeles, the new owners of American Apparel are breaking with the past and planning to produce some of the label's T-shirts in Gildan's factories in Honduras and Nicaragua instead of in the now-shuttered American Apparel factory near downtown Los Angeles, which employed thousands of workers for years.
"In mid-summer, we are introducing a collection of price-centric American Apparel products that will be focused on style, fabric and a tighter price point," said Garry Bell, vice president of corporate marketing and communications at Gildan Activewear, based in Montreal. "There is a lot of competition in the soft-fashion basic."
The collection, which will be made of yarns spun in Gildan's mills in North Carolina and Georgia, will focus for the time on the screen-printer business and blank-T-shirt market, wholesaling for around $4 a T-shirt.
The company is also making the main key styles of its American Apparel printwear T-shirt product line at four factories in the Los Angeles area for the quick-supply needs of companies. "We continue to evaluate what the bigger picture and longer-term manufacturing supply chain will be," Bell said.
To that end, Gildan is setting up a marketing and merchandising office in Los Angeles to help retain that stylistic and merchandising design side that made American Apparel a strong brand. "We are going slowly with the consumer-side strategy to sell American Apparel," Bell explained.
For decades, American Apparel has been a strong brand name in the garment industry. In 1997, Dov Charney moved his T-shirt production from South Carolina to Los Angeles and started working in a modest office near downtown Los Angeles.
Three years later, he moved into an enormous seven-story factory on Alameda Street that at one time employed as many as 4,500 workers, making it the largest clothing factory in the United States. By 2003, Charney launched his own retail chain, which grew to 200 stores worldwide.
American Apparel in 2006 became a publicly traded company on the American Stock Exchange that at its height had $633 million in revenues. But by 2009, the garment company stopped making a profit. Five years later, the board of directors ousted Charney as the chief executive officer. He was replaced by Paula Schneider.
By that time, the company had some big loans to pay off and in late 2015 American Apparel declared Chapter 11 bankruptcy protection to regroup, close some stores and try to come back as a viable enterprise.
That only lasted a year. American Apparel again declared Chapter 11 bankruptcy protection, opting to sell its brand name and inventory in an auction where Gildan Activewear was the winner.
The previous owners shuttered the large American Apparel factory in downtown Los Angeles, where 3,500 workers were laid off. Instead, Gildan is manufacturing American Apparel in Central America, where it has its own large concentration of fabric and sewing plants, which also manufacture the Canadian company's other brands.
While Gildan is going outside of the United States to manufacture much of its clothing, Dov Charney is dedicated to keeping production domestic and employing garment workers in Los Angeles.
"We are very interested in supporting the workers that lost their jobs," Charney said. "We plan to scale up to 1,000 people as soon as we can."
Photos by Houston Roderick.