RETAIL
Bachrach Men's Stores to Exit Bankruptcy Soon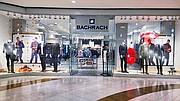 Only four months after filing for Chapter 11 bankruptcy protection, Bachrach men's stores is expected to emerge from bankruptcy by the end of August with 15 stores intact.
The Los Angeles–based retail chain, established some 140 years ago, is shedding nine unprofitable stores and hoping to go forward with its more-profitable outposts.
"Everybody has been extremely cooperative and accommodating to keep this brand alive," said Brian Lipman, Bach­rach's president and chief operating officer.
Bachrach parent company B&B Bachrach LLC filed for bankruptcy protection in U.S. Bankruptcy Court in Los Angeles on April 28 and is expected to emerge from bankruptcy on Aug. 31. The bankruptcy judge heard the reorganization plan on Aug. 8.
The company—which sells suits, dress shirts, tops, pants, shoes and accessories—said in court papers that the business was profitable until 2016, when its consumers started gravitating more toward online shopping. Even though Bach­rach's e-commerce sales grew from $1 million in 2015 to $1.2 million in 2016, that was far from enough to make up for a number of less-profitable stores based primarily in shopping malls.
From 2010 to 2015, the company was in the black, with gross sales growing from $11 million in 2010 to their peak of $18.8 million in 2014. Along with that revenue boost came 17 new stores in 2012, according to court documents.
This store-expansion plan was part of a package deal with mall owner Simon Properties Group, court papers said, which required that Bachrach lease certain retail space at Simon's less-desirable Class C malls in order to get into better locations at some of Simon's topnotch malls. Initially, this expansion plan worked well but eventually started to drag on revenues when the stores at Class C properties started underperforming.
In the bankruptcy, the company listed $11.3 million in assets and $12.4 million in liabilities. Bachrach's biggest creditor is Israel Discount Bank of New York, which is owed $10.57 million.
Brian Davidoff, the bankruptcy attorney at Greenberg Glusker Fields Claman & Machtinger representing Bach­rach, said Israel Discount Bank of New York is taking a $2 million discount off its loan, and vendors will be receiving under 10 cents a dollar on money owed them.
Also, landlords were willing to restructure leases with Bachrach so it could keep its profitable locations. "With the landlords, remarkably, even though we couldn't reach accommodations with them before the bankruptcy, for the most part the landlords were cooperative and we were able to work out arrangements for the leases going forward," Davidoff said.
Lipman said it was critical to get in and out of bankruptcy quickly in order to stay alive because legal fees and a lack of capital can be deadly. The company was able to get some cash infusion from clearance sales at the stores that closed in areas such as Atlanta; Chicago; Memphis, Tenn.; Long Island, N.Y.; and Springfield, Ill.
Stores that remain open include locations in Detroit; Houston; Dallas; Chicago; Washington, D.C.; Nashville, Tenn.; Kansas City, Mo.; and Indianapolis, Ind.
The Midwest has always been the strongest territory for the menswear clothing stores, Lipman said.
The downhill slope for revenues at Bachrach's stores started last summer. By the end of 2016, Bachrach's locations were seeing an across-the-board 10 percent dip in sales. With sales tanking, Bachrach closed four stores in Illinois, New Jersey and New York. But that still left nine stores that weren't making the grade but were difficult to close outside of bankruptcy. Bankruptcies allow retailers to break store leases without paying a penalty.
Bachrach, besides keeping its profitable stores, wants to beef up its e-commerce site, which currently employs seven people. The e-commerce site is supplied by a Los Angeles warehouse. "Our online presence has become 12 percent of our business, and we are putting a tremendous effort into growing that part of the business," Lipman said. "But running away from bricks and mortar is the wrong route and putting it 100 percent into e-commerce also isn't the way to go. It is not all or nothing. I think there is still value in the better bricks-and-mortar stores."
This is not the first bankruptcy for Bachrach. In 2005, the retail chain was acquired by Sun Capital Partners when the company had 79 stores throughout the United States—mostly in the Midwest. But many stores were located in underperforming markets, putting a drag on revenue.
By 2006, Sun Capital partners had filed for bankruptcy, selling the business to Bachrach Acquisition, whose owners include Brian Lipman, the current president.
Bachrach, founded in 1877 in Decatur, Ill., joins a growing rank of troubled retailers seeing increasing competition from online shopping sites. In the first four months of this year, 14 chains announced they will seek court protection, according to an analysis by S&P Global Market Intelligence, almost surpassing all of 2016.
Those who have filed for bankruptcy this year include The Wet Seal, Limited Stores, Eastern Outfitters, Gander Mountain and Gordmans discount department store.
Bebe, based in the San Francisco area, closed all its 168 stores and liquidated its inventory. The label still is being manufactured through Bluestar Alliance, which entered into a joint-venture partnership with Bebe for $35 million.