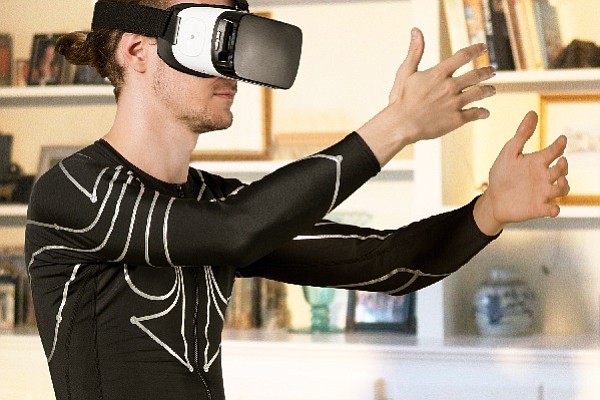 Get Your Game Shirt On
A Tokyo and Worcester, Mass.–based company has designed a sensor-enabled shirt to optimize your time spent in the virtual world—and the real one.
Xenoma has launched a Kickstarter campaign for its e-skin apparel. The clothing incorporates stretchable sensors and electronics that can track the wearer's movement. The sensors transmit information via Bluetooth to a smartphone, tablet or computer. The shirt is charged through a micro USB port. The idea is to provide an "intuitive and immersive input for interacting with virtual reality content and games." Plus, the machine-washable shirts can analyze exercise and athletic activity.
The Kickstarter project will fund an open-source platform that will allow others "to create and share user experiences."

"Our e-skin is quite useful and insightful for recognizing what kinds of activities the wearer is doing without being constrained by a camera," said Ichiro Amimori, Co-Founder & CEO. "We believe there are a variety of needs where e-skin can provide a solution to satisfy and help people."
Xenoma hopes to raise $50,000 between now and Sept.6. The first 100 people to sign up at the $479 backing level will receive e-skin's pre-consumer version of the shirt. There's also special-edition "cybernetic design" available as a Kickstarter exclusive.
Xenoma was founded in 2015 after being affiliated with the University of Tokyo. The company develops smart apparel in collaboration with Japanese apparel companies. T Xenoma has offices in Tokyo and Worcester.