MANUFACTURING
New BCBG Owners Outline Their Plans for Moving the Brands Forward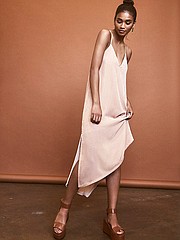 When Michael DeVirgilio and Cory Baker were figuring out whether they wanted to acquire the BCBGMaxAzria label and its sister brands, they quizzed retailers about whether they were still willing to carry the decades-old brands in their stores. They were happy to find that the labels weren't on life support yet.
Polling shoppers, they found that customers were still loyal to the sophisticated collections that until last year were consistently seen on the runways of New York Fashion Week. "What was wrong with them was what was under the hood, not what was in the eyes of the customer," said Baker, the chief operating officer at Marquee Brands, the New York–brand management group that acquired the intellectual-property rights out of bankruptcy court for BCBGMaxAzria, BCBGeneration and Hervé Leger. "The BCBG customer is loyal and has not stopped shopping BCBG."
Marquee Brands, with DeVirgilio as its president, was the top bidder for the three labels, paying $108 million for the Los Angeles contemporary group that for years struggled under a mountain of debt that at one time totaled some $685 million—owed mostly to Guggenheim Partners Investment Management and its affiliates. Global Brands Group paid $23 million to be the licensee for Marquee Brands and keep between 40 and 50 BCBG stores open and stock the in-store shops at several department stores.
BCBGMaxAzria, which was launched in 1989, started losing some of its mojo under increasingly vexing financial difficulties. Last year, founder Max Azria was pushed out of the company and replaced with interim chief executive officer Marty Staff while Azria's wife, Lubov, was dismissed in March as the company's chief creative officer. This was weeks after the company filed for Chapter 11 bankruptcy protection on Feb. 28.
Marquee Brands and Global Brands officially took over operations when BCBGMaxAzria exited bankruptcy on July 31.
Now the new owners are about to unveil their new collections for Spring 2018, which will be revealed to retailers and consumers during the upcoming New York Fashion Week in early September. "The new designs are nothing short of incredible," said Baker, noting that previously the company had to cut financial corners, which hindered the design room.
The sweet spot for the BCBGMaxAzria client will be women in their mid-20s to mid-30s, DeVirgilio said. Retail price points will remain in the $100 to $400 range.
Global Brands Group, which is in charge of production and retail, will be using many of the same factories in Asia, Europe and elsewhere that were responsible for production under the previous owners, Baker said.
Marquee Brands will also be giving more attention to the Hervé Leger brand, a French label acquired by BCBGMaxAzria in 1999. The company sees an incredible opportunity for growth. "It is one of the most highly regarded, under-penetrated luxury brands in the world," DeVirgilio said. "We've gotten so much inbound interest from the international marketplace."
The new owners see Hervé Leger growing with more licenses for eyewear, footwear, luxury fragrances, handbags and lifestyle categories.
While BCBGMaxAzria will continue with dressier looks for special occasion, work and eveningwear, the BCBGeneration label will continue to tap into a younger consumer who enjoys a less complicated fit and wants fashion that is more colorful, vibrant and casual.
Marquee Brands is a relatively young brand-management company founded three years ago by Neuberger Berman, a decades-old private equity firm. Soon after its incorporation, Marquee Brands snapped up two well-known European labels—Bruno Magli and Ben Sherman. Last November, it acquired Body Glove, the surfwear brand that started in the 1950s in Redondo Beach, Calif.
Marquee didn't set out to buy old brands but brands that are meaningful and relevant. "We are not in the business of acquiring dead brands," Baker said.
Currently, Marquee has a Body Glove office in Redondo Beach, but with its newest acquisitions, it is looking for a bigger space in downtown Los Angeles, Culver City or Hollywood that can combine the Body Glove team with the staff of BCBGMaxAzria, BCBGeneration and Hervé Leger as well as the Global Brands Group.
Turning around a brand can be a daunting task if the right marketing and licensing deals aren't struck. Several old brands that used to shine in the California lineup of profitable labels went by the wayside before they were acquired. One was OP (Ocean Pacific), which is now sold at Walmart (a higher-end, contemporary OP capsule recently bowed at Urban Outfitters); another is Rock & Republic, which is now sold exclusively at Kohl's.
To bring a brand back to life, brand experts said, new owners need to take a number of calculated steps. Deborah MacInnis, a professor of marketing at the University of Southern California's Marshall School of Business, said new owners need to determine whether their strategy is to target new customers, which is very costly, or win back defectors, which is expensive but less costly due to the brand's equity with its original customer base.
"The brand needs to determine what its brand promise is to consumers and make sure that they deliver on this promise using every tool at their disposal," she wrote in an email. "They need to communicate why consumers should choose BCBG products over other fashion brands on the market."
She said some fashion brands are associated with a celebrity who is highly attractive to the target market. "Can that celebrity be leveraged (e.g., maybe a line of celebrity-endorsed products) to resonate with the target market and be emblematic of the brand promise?" MacInnis asked.
Adam Derry, who has a creative brand-development agency in Los Angeles and two clothing brands, said brands need to define who they are as a brand. "We live in an era where most brands are identifying themselves through their consumers. They are doing so much data research on the consumer, but they neglect to tell their own story," he said.
For brands to remain relevant, they need to either follow their initial demographic, moving with that original 25-year-old customer, who is now 40 years old, or keep their designs relevant for the next wave of 25-year-old customers. "I would say it is easier to put a brand on the marketplace, but it has never been harder to distinguish yourself in the market," he said.
Reinvigorating a new brand starts with hiring the right kind of players who represent your brand in all aspects and push you farther than you thought.
The Marquee Brands executives said their marketing strategy includes working with fashion influencers, getting the word out via social media and tapping into events. There will also be print media and traditional outdoor media campaigns as well as keep shoppers aware of new designs and styles.
"The company dialed back from some of those efforts before," Baker said. "The designs need to be updated."