TRADE SHOWS
WWIN: Retailers From Across the Country Crowd into the Show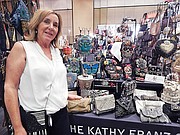 Visitors at the Women'sWear In Nevada Show at the Rio All-Suite Hotel & Casino were greeted by a long hallway lined with displays of women's fashions being represented at the biannual show.
It's an informal introduction to the many apparel lines that buyers could see at the huge show, which occupies two meeting rooms and six ballrooms that have Latin-influenced names such as Brasilia, Amazon and Miranda.
The show, which ran Aug. 14–17, usually opens a day before the other shows at the Las Vegas Convention Center and the Mandalay Bay. But this year, the event started the same day as most of the other UBM Fashion shows but closed a day later.
Attendance this August was on par with one year ago, said Suzanne Pruitt, a spokesperson for Urban Expositions, the trade-show company based in Georgia that acquired the event two years ago.
Many of the exhibitors have been participating in the show for decades. Robert Friedman, the West Coast representative for Frank Lyman Design, always takes a 60-foot-wide booth at the entrance of one ballroom so the Canadian label gets good exposure.
He said Monday was unusually busy even though it was opening day for more than a dozen other apparel and accessories show around the city. "Monday was a fabulous day. We didn't get out of here until 9 p.m. On Tuesday, it was active but not as busy," he said.
He said the trending item this year has been unusual tops. "Tops are driving the business. You can change your wardrobe with different tops," Friedman said, explaining the trend. "But you have to have different and original silhouettes. No one wants to buy the same silhouette in five different prints."
Many exhibitors at the show felt that retailers are starting to turn the corner and are opening up their budgets while being cautious. "We had some good-sized orders and there seems to be a positive vibe," said Kathy Franz, whose The Kathy Franz Collection, based in Greenbrae, Calif., represents several purse and accessories brands such as Mary Frances beaded purses, Sydney Love reversible faux-leather purses and Paisley Road scarves.
Franz said last year was one of her best overall years and this year is starting out on a positive vibe. "We had some good-sized orders," Franz said, "and retail customers are loosening up."
Still, some vendors thought retailers were in a guarded mood. "They are playing their cards close to the vest and not forecasting orders as much as they used to," said Terry Jeffreys, president and chief executive of Helen's Heart, a multi-line label out of Dallas. Many of the fashions are designed by Jeffreys' wife, Helen Zheng.
The Helen's Heart collection ranges from linen wear and rayon and bamboo pieces to pocketed jerseys and footwear.
One of its more popular items was a hand-beaded jacket that came in a full-length version or an abbreviated ¾-length style with matching beaded cowboy boots. "These jackets are making quite a splash," Jeffreys said.
RELATED STORIES