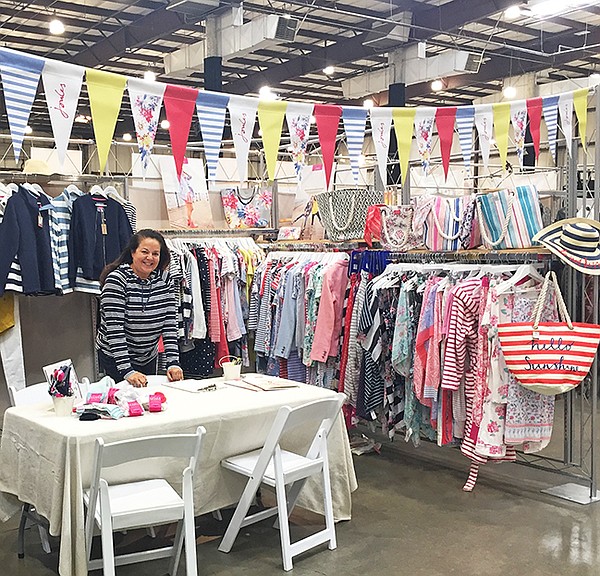 FMNC
Serious Retailers Turn Out to Write Orders at Fashion Market Northern California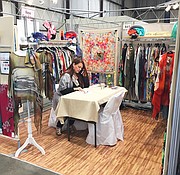 The August edition of the Fashion Market Northern California trade show is always the smallest of the event's five annual shows because it is held just days after the humongous apparel trade shows wrap up in Las Vegas.
So for the Aug. 20–22 run of FMNC, organizers decided to add a little something extra to the occasion for the people who do attend the three-day show at the San Mateo Event Center.
On the second day, a free barbecue dinner was served when the show remained open Monday evening for retailers to sip a glass of wine, dine outside and later stroll the aisles to check out new collections or vendors.
"It was a thank-you to the retailers and the exhibitors for being there," said Ute Wegmann, president of the FMNC executive committee and owner of the Ute Wegmann Showroom in Los Angeles. "The show is a little more casual than the other shows because the craziness of Las Vegas is behind us."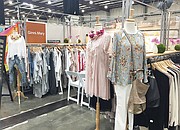 So a barbecue truck pulled up, picnic tables were set up outside and everyone spent more time at the show to explore new collections.
Retailers who attended the trade show weren't just checking out lines, they were very serious about writing orders and were on the prowl for Immediates and Spring merchandise, exhibitors said.
"We made appointments and had a really, really good show," said Mary Birnbaum, co-owner of Ginni.Mary Sales, a company in San Anselmo, Calif., that represents a number of womenswear brands such as Angela Mara, Renaur, Jana and Cativa. "We always have a good show in August."
That might seem counterintuitive because so many store owners head to Las Vegas in mid-August, when they maneuver their way through nearly 20 trade shows with thousands of booths displaying every kind of clothing and accessories categories you can imagine.
Several years ago, the organizers of Fashion Market Northern California didn't hold the August show because they felt it was too soon after the Las Vegas trade shows. But several retailers complained. Ever since then, the show organizers have been dedicated to making sure the August event happens and retailers have been committed to coming.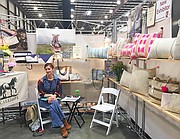 Jacqueline Stone, the Northern California rep for the Canadian line Sympli, said she traditionally does the Womens-Wear in Nevada show in Las Vegas and often sees the same retailers who later come to FMNC. "I had many customers who came to Las Vegas. They took notes and then they came to San Mateo and wrote orders," she said.
The San Mateo show is definitely an appointment-driven show. There are not many retailers who wander around without at least a few prearranged meetings.
Brian Lee, vice president of Sea & Anchor, a Los Angeles–based company that has been in his family for more than 30 years, said he recently started attending the San Mateo show this year. So he wasn't aware that appointments were so crucial. "It was a little slow for us," he said. "It is definitely appointment-driven."
Hannah Skooglund—who represents several lines including Lisette-L, Neon Buddha, Pure Handknit and Paula Carvalho—relies on appointments for her business. "I don't get a lot of walk-in traffic or lookie-loos," she said. "All the business was based on appointments. The people who were there were there to get business done."
For several years now, salespeople representing clothing collections have said that the perfect retail price for stores falls just below the $100 mark. And that was proving to be true at the San Mateo show, where exhibitors felt retailers were still cautious about their budgets. "Anything under $100 is the sweet spot," Birnbaum said.
To appeal to cautious retailers, Lisette-L, a Canadian brand based in Montreal, reduced its wholesale price points by $10 on essentials. That trimmed the wholesale cost from $50.75 to $40.75. "That way retailers can get a higher margin or move more of their merchandise," Skooglund said.
Stores were on the hunt for unique and different items that might lure shoppers to open their wallets. That is probably why new exhibitor Tina Gleave, owner of Silk Squirrel, did so well.
The Northern California artist sells scarves, wraps, shirts, vests and kimonos using her own artwork, which has been digitized and reproduced on silk fabric. Scarves retail for $60, wraps go for $90, and resort shirts sell for $120.
Even though people said show traffic was down a bit, Gleave had 25 stores place orders, and she nabbed two new sales representatives who wanted to carry her line. "I sell my items as wearable art, and stores were excited about the artsy look," she said. "It was a very strong show for me."