RETAIL
Who Will Be the Winners and Losers This Season in Holiday Shopping?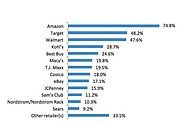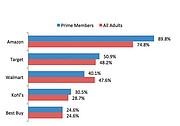 Back-to-School shopping is barely over, but retail gurus are already making predictions for the holiday shopping season.
Fung Global Retail & Technology recently conducted a survey and found that millennials this season will be shopping primarily at Amazon.com, Target and T.J. Maxx while older consumers will be circling the parking lots at stores such as Walmart, Kohl's and Costco.
But don't be deceived. Online shopping will win out over hitting the stores and rifling through those stacks of neatly folded sweaters in search of the perfect gift. The survey found that 82 percent of shoppers will let their fingers do the clicking on their computers to buy holiday gifts compared to 77 percent of shoppers who anticipate actually walking through a store door.
Some 75 percent of survey respondents expect to turn to Amazon.com for gifts this holiday season, especially if they are Amazon Prime members, which gets them free delivery on millions of goods.
The online/in-store gap is most pronounced among younger age groups. Some 85 percent of holiday shoppers between the ages of 30 to 44 expect to shop online, reflecting the fact that many are parents and have less time for shopping. The main reason shoppers are going online is to avoid the holiday crowds. Those who shop in a store prefer to touch, see or try on products in person.
Holiday sales should be up slightly this season. About 6.7 percent of U.S. shoppers said they will be spending much more and 16 percent indicated they will be a little more generous this year than last. Nearly 50 percent said their holiday budget will be on track with last year's.
That positive shopping vibe is countered by the 11.4 percent who said they would trim their budgets slightly this year and another nearly 10 percent who noted they will be spending much less.
Shoppers, it turns out, are lured by two things. They look for products that have good quality, but they are also on the hunt for lower prices. The convenience of in-stock products and stores that are nearby are other factors when figuring out where to shop.
Surprisingly, the option to buy online and pick up in a store wasn't that popular because most people don't want the hassle of dealing with holiday crowds and jam-packed parking lots.