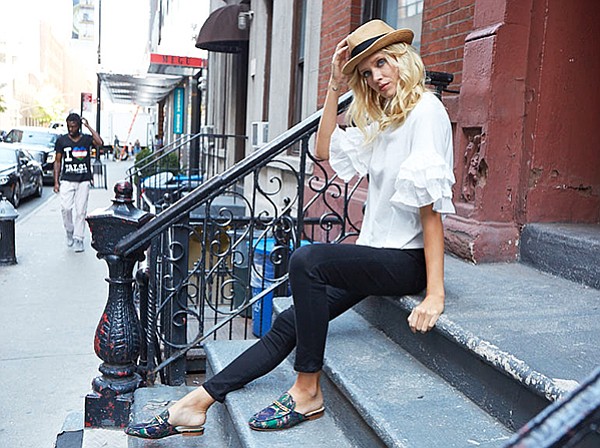 BLACK RECYCLED DENIM
Cone, Lenzing and Unifi Partner for Future Black + Denim With Recycled Materials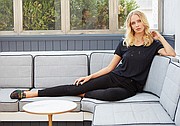 Fiber makers Lenzing and Unifi have teamed up with fabric mill Cone Denim to introduce Future Black+, a denim made with Unifi's recycled Repreve fibers and Lenzing Modal.
A pair of jeans made from Forever Black+ contains up to 17 recycled plastic bottles, according to the companies. The colorfast, fade-resistant fabric is a mix of Repreve recycled fibers with the soft hand of Lenzing Modal fibers.
Future Black+ denim is made by dope dyeing the fiber. Introducing color during the fiber-production process saves energy and creates more-permanent colorfastness because the dye permeates the entire fiber rather than just the surface. According to company tests, denim made from Future Black+ retained its color even after more than 20 washes.
"Lenzing has always been committed to sustainability and making our manufacturing process as eco-friendly as possible," said Tricia Carey, director of global business development for denim at Lenzing, the Austrian maker of Lenzing Modal. "By partnering with Cone Denim and Unifi, we were able to work with like-minded companies to create an advanced product that saves resources throughout the manufacturing process."
Cone introduced the fabric at the recent Kingpins trade shows in Amsterdam and New York. Future Black+ joins Cone's TruTone fabrics line. Kara Nicholas, vice president of product design and marketing for Greensboro, N.C.–based Cone Denim, said the collaboration between Cone, Lenzing and Unifi furthers Cone's commitment to be "a sustainability leader and denim innovator."
"Color retention in black denim is an increasingly important trend for consumers and a perfect fit with our TruTone fabric story, focused around black and indigo-like navy fabrics that offer supreme color retention plus all of the added benefits of the environmental story," she said.
In addition to Repreve's recycled content, Lenzing Modal has a significantly lower environmental impact than conventional dyed fabric, according to the company. Lenzing Modal is made using a manufacturing process that uses fewer chemicals, less energy and 64 percent less water during the dye process, the company said.
"By combining Lenzing Modal fiber with Repreve, we are able to satisfy some of the biggest consumer demands for the marketplace," said Jay Hertwig, Unifi's vice president of global brand sales and premium value-added sales.
10 billion bottles

Based in Greensboro, N.C., Unifi recently recycled its 10 billionth plastic bottle. The company plans to recycle 20 billion bottles by 2020 and 30 billion bottles by 2022.
Unifi will launch the Repreve Champions of Sustainability Awards to recognize companies "committed to manufacturing sustainable products with Repreve performance fibers."
"Unifi could not have reached the 10 billion-bottle milestone without the commitment from our customers to provide earth-friendly products, and the Repreve Champions of Sustainability Awards give us the opportunity to thank our partners who helped make it possible," said Unifi Chief Executive Officer Kevin Hall. "A vast difference can be made if more companies recognize the impact they have on our planet and take steps to reduce it. The Repreve Champions of Sustainability Awards are meant to honor and inspire companies to source responsibly and take sustainability strategies to the next level."
The winners of the award will be announced at the Outdoor Retailer trade show in January.
Next-gen Tencel
Lenzing recently introduced another sustainable fiber to its offerings. Refibra joins Lenzing's other brands, including Lenzing Modal and Tencel. All are man-made cellulosic fibers made using a closed-loop process.
Dubbed the "new generation of Tencel," Refibra is made from wood pulp that includes cotton scraps from cutting operations. Using recycled man-made cellulosic material reduces the need to extract additional raw materials and lowers the impact on natural resources.
"Denim apparel has a high impact on the environment, and consumers are seeking alternatives with the environment in mind. Lenzing is offering a viable solution with Refibra-branded lyocell fibers to provide innovation with reduced environmental impact," said Lenzing's Carey.
DL1961
is among the first companies to use Lenzing's Refibra fibers in its Pre-Fall 2018 collection. Although DL1961 has been using Lenzing's Tencel fibers in its denim since 2012, Refibra is new for the New York–based brand.
"It is our responsibility as a company and as leaders in the denim industry to make sure we are always in pursuit of better processes and materials that reduce our environmental footprint all while providing our customer with newer, more technologically advanced denim season after season," said Maliha Ahmed, chief executive officer of DL1961.