MANUFACTURING
2017 Retrospective: Higher Minimum Wages Contribute to Loss in Apparel-Factory Employment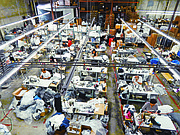 The beginning of the year started on a down note as some 3,500 workers at the American Apparel factory in Los Angeles got pink slips after the company sold its brand name and shuttered its vast factory.
St. John Knits diverted some of its jobs from its high-end knit factories in Irvine, Calif., to its factory in Tijuana, Mexico, laying off 130 workers at the label founded in 1962 by Marie and Bob Gray.
Just recently, United Denim Inc., a blue-jeans factory, announced it was downsizing its staff and laying off 164 of its approximately 200 workers as Los Angeles blue-jeans companies shifted much of their production to Mexico or Vietnam. And, at the end of last year, American Garment Sewing, another blue-jeans maker, shuttered its factory in Vernon, Calif., laying off 200 workers.
Los Angeles and San Francisco are having a hard time keeping their apparel factories busy because of higher minimum wages, which make clothing manufacturers think twice about committing to domestic production. In Los Angeles, the minimum wage is $12 an hour for larger companies, and in San Francisco it is $14 an hour.
The number of Californians working in the apparel and textile industry has declined by about 6.7 percent this year over last year. According to statistics from the state Employment Development Department, some 58,200 people were employed in textile mills, cut-and-sew factories and apparel knitting mills at the end of October. That is down from 62,400 for the same period in 2016.
While these are the basic numbers collected by the state, there are many jobs not counted as apparel-industry jobs, which are directly associated with this economic sector. These include designers, warehouse workers, freelance graphic designers and showroom owners.
According to a 2016 Los Angeles–area fashion-industry profile released by CIT Commercial Services and the California Fashion Association, there are 4,130 fashion designers working in Los Angeles County and another 520 who work in Orange County.
The CIT/CFA industry profile lists Southern California's industry employment—including direct and indirect employment—at more than 200,000 jobs.