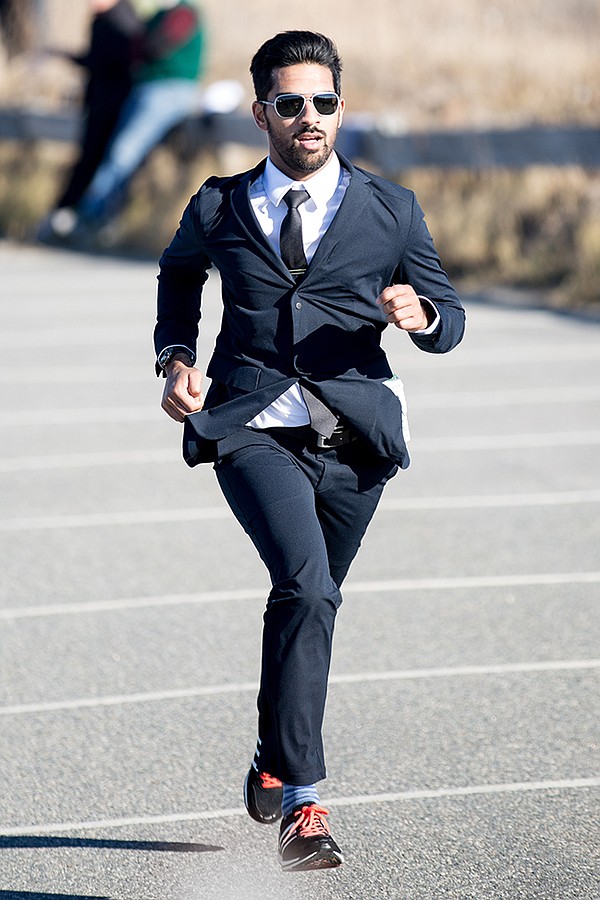 VELOCITY SUITING
Taking a Cue from James Bond to Design Performance Wear for Professionals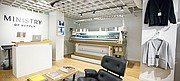 Will 3-D knitting become the wave of the future in apparel manufacturing? A 5-year-old firm in Boston believes so. Since March, the company has been using a Shima Seiki machine positioned at its Boston flagship store to produce custom-knitted blazers.
Ministry of Supply was formed in 2012 by four former MIT (Massachusetts Institute of Technology) students. As Gihan Amarasiriwardena, the company's cofounder, chairman and chief design officer, says, the idea was to create a new apparel category of performance wear for professionals.
"We wanted to include moisture management, stretch, machine washability and combine all of that with a sharp aesthetic. We wanted something you could wear not only from 9 to 5 but all the way from morning coffee to drinks after work. We started with dress shirts, then launched pants and, more recently, expanded into womenswear."
There's also a story behind the company's interesting name. Amarasiriwardena said it comes from the British government department formed in 1939 to supply equipment to armed forces during World War II.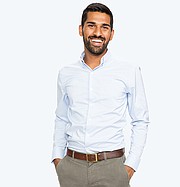 "We're creating gear for a mission," he said. "The character of 'Q' in the James Bond movies is based on a real person who designed gadgetry for special operations. The cover was the British Ministry of Supply. We like to think of ourselves as Q's lab, creating gear for people on a mission."
In December, MOS released Velocity Suiting, a machine-washable suit. Amarasiriwardena said it offers performance in addition to the hand of a more formal wool suit.
"The development process for Velocity Suiting was extensive to say the least: three years of R&D, tons of field testing and seven fabric types," he said. "We actually ended up scrapping the original fabric four months before production—which is unheard of in apparel manufacturing —in favor of a better polyester-rayon blend. We're really proud of the end product: a suit that is wrinkle-free, machine washable and really sharp."
MOS currently operates nine boutiques. In addition to the Boston flagship store, there are locations in Atlanta; Chicago; New York City; San Francisco; Washington, D.C.; Bethesda, Md.; Santa Monica, Calif.; and Walnut Creek, Calif.
MOS debuted its printed blazer about one year ago. The garment comes out of the Shima Seiki machine in one piece. All that remains to do is to sew on buttons. As Amarasiriwardena described it, "It's our vision of how the manufacturing of blazers could happen in the future."
The process works like this: Customers come into the store in Boston, where the MACH2XS machine is installed. They choose the fabric, the cuff color, the body color and the button color and then can be part of the design process. It all takes about 90 minutes. The finished garment will be ready in three to five days.
At the moment, MOS is only producing blazers with the machine, but Amarasiriwardena sees production moving far beyond that with sweaters and dresses.
"Retail is changing now, and one of the promises of the industry is the experiential component of it. You can do this anywhere. In the era of farm-to-table restaurants, this is very much like that but for clothing. One of the great things about this is that compared to traditional cut-and-sew techniques, which have a limited number of styles, with this process you can have a manufacturing batch of one."
So, what is the cost for a custom blazer? Right now, it is $345 per garment. Stores also have some pre-made products, which sell for $285.
The MOS process does not currently include custom sizing, and Amarasiriwardena notes that the company is creating a knit product that has stretch in it. So far, most customers are not looking for a custom fit.
However, he sees custom fitting becoming an option down the road. He also predicts that a quarter to a third of MOS products will eventually be made using the Shima Seiki technique.
In the beginning
Amarasiriwardena says the partnership with Shima Seiki began when the machinery company made a visit to the MOS flagship location on Newberry Street in Boston.
Upon seeing the MOS product line, Shima Seiki believed there was a good alignment with its vision and mission. After a year of research and development on a preprinted blazer, a small batch was manufactured at the machinery company's facility in New Jersey.
Amarasiriwardena believes the customization process is the wave of the future in apparel manufacturing and selling. He notes that the industry is in a period of time where a lot of brands are closing their doors. The challenge, he said, is to make the retail experience something that makes sense.
"We are being bullish in translating the retail experience from buying off the racks to a place where customers will be part of the design process," he said. "Our challenge is to approach this in a new way."
Certainly, MOS has plans for more machines at its other stores around the U.S., but it may be a year or more before that happens. The in-store concept is only a few months old, Amarasiriwardena noted, and the company wants to see how it develops.