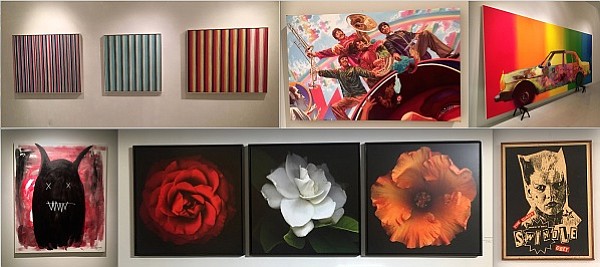 designLAb: Where Art Meets Design
designLAb, located on the 2nd floor of the Big Blue Building of the Pacific Design Center in West Hollywood, showcases a variety of different galleries It recently celebrated the new year with a public reception for new galleries with art and design exhibits. Opening night was Friday evening, Jan. 27 with exhibits on the 2nd floor and lobby.
There was a special performance on the Melrose front entrance from graffiti artist Kelly "Risk" Graval. This performance was presented live for the Sur le Mur Gallery opening curated by Megan Philips. Risk spray painted graffiti art on a colorful vinyl wrapped four-door vintage Rolls Royce. The Silver Shadow vintage Rolls was donated by Agapiou LTD of West Hollywood. Megan Philips of Sur le Mur and Agapiou LTD sponsored the Rolls Royce presentation.
The current variety of artists participating in the designLAb Opening show will have their works exhibited now until various closing dates, most until mid-March. Check with the Pacific Design Center for more information to each individual gallery! Enjoy the art and the scene!