TRADE SHOWS
Fashion Market Northern California Buzzes With Activity
Buyers attending Fashion Market Northern California were lined up one hour before the doors opened at the San Mateo County Event Center on the first day of the show, exhibitors said.
Normally the busiest shows in the five-times-a-year event are in April and October. But business was brisk for the Jan. 29–31 event, which sold out its exhibition space, said Suzanne De Groot, the executive director of Fashion Market Northern California. "The show was well attended, especially on Sunday," she said, noting that every inch of the 40,000-square-foot exhibition hall was taken up with open-booth space.
Fashion Market Northern California attracts vendors from all over the state, selling mostly women's clothes, jewelry, shoes and other accessories to specialty stores, primarily in Northern California, whose owners find the San Mateo County Event Center a convenient location near a major freeway and just south of the San Francisco International Airport.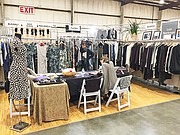 At the most recent show, there were retailers from as far away as Alaska and Virginia but also store owners from Colorado, Nevada, Oregon and Washington.
"One buyer said she didn't want to go to Las Vegas [to the mammoth apparel trade shows there in February], and another buyer said she was incentivized to come down with a free hotel room," said Shannon Norris, a Napa, Calif.–based saleswoman who represents the brands Neon Buddha, Nomadic Traders, Lisette-L, Ryan Michael, Friday's Project and Paula Carvalho jewelry.
Store buyers were in a positive mood now that the presidential election was wrapped up. Many reported that November and December had not been as lucrative as they had anticipated. "I feel that buyers were cautiously optimistic coming out of an election year," Norris said. "The consensus was that the last quarter, [business] was down 2 or 3 percent and now people feel like spending. This was an unusual election and the fallout seems to be quite prevalent. I think people want to be hopeful."
Retailers were booking orders mostly for Spring and Summer even though some vendors brought part of their pre-Fall collections with them. "Buyers have been placing solid orders for Summer and going forward," said Linda French, a clothing saleswoman from Redding, Calif., who represents the lines Chalet, Click, Color Me Cotton, Effie's Heart, Sleevey Wonders and Stop Staring! She thought this January had been an amazing market with a lot of good energy.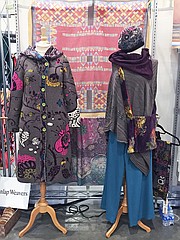 Michael Farrell, a road rep who travels far and wide through Northern California and the Northwest, consistently shows his various lines at Fashion Market Northern California. "The show was good. I worked with 16 accounts on Sunday. I worked with 15 accounts on Monday, and on Tuesday, when I usually have zero accounts, I had seven."
He estimates he placed between $50,000 and $60,000 in orders for his lines, which include Island Tribe Knits, Necessitees, Linnea and his own Michael Farrell collection. Styles selling well included peasant blouses, anything with plaid and summer dresses with crochet.
Don Reichman—whose Reichman Associates represents lines such as Jane & John, Karissa & Me , Katherine Barclay and Lu Lu Love—said retailers were strong on booking Summer but tentative about their budgets. "They were telling me they had more inventory than they should at this time of the year," he said, noting that retailers said their November and December sales had been slower than expected. "Therefore, they were shopping and looking for some newness to add to their mix rather than buying a major season."
While orders were not as deep as he had hoped, at least people were putting pen to paper. His Karissa & Me line of knits that, on average, wholesales for $28 was selling well because the $79 suggested retail price was giving store owners a nice margin.