TRADE SHOWS
Surf Industry—and More—Turn Out for Surf Expo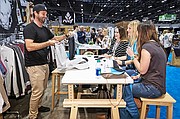 Exhibitors were "stoked" and buyers were busy at the Jan. 26–28 run of Surf Expo at the Orange County Convention Center in Orlando, Fla.
The surf-industry trade show drew a mix of core surf and swim stores from across the country, including California retailers Jack's Surfboards, Surf Diva, Sun Diego and Hansen's; East Coast retailers Ron Jon, Curl, Cinnamon Rainbows, Warm Winds and Brave New World; and Hawaiian retailers Hi Tech and Déjà Vu.
An international crowd turned out, according to exhibitors, who said they saw buyers from across the Caribbean and South America as well as a handful from Europe and Japan.
The show also drew resort and ready-to-wear buyers from Caesars Entertainment, Harding Brothers Retail Ltd., the Marshall Retail Group, The Paradies Shops, Starboard Cruise Service, Target and Zappos, said Roy Turner, Surf Expo's senior vice president and show director.
"The core surf market seems strong," Turner said. "We've seen a renaissance of new brands entering the surf marketplace—brands driven by a collaborative spirit, a sense of travel and adventure. Buyers at the show responded very well to these new brands. Also, new technology in hard goods and accessories are providing excitement at retail."
Bob Abdel, Jack's Surfboards co-owner and buyer, was at the show to buy everything from swimwear to surfboards.
"We do all of our buying for surf [at Surf Expo]," Abdel said. "We were busy the whole time."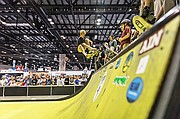 In addition to placing orders with existing accounts, Abdel said he found several potential new resources as well.
This season, several of the larger surf brands, such as Quiksilver and Billabong, skipped Surf Expo. But that left more opportunities for buyers to shop for new brands, exhibitors said.
Patricia Thornton, executive vice president of sales at Maui & Sons in Pacific Palisades, Calif., said she picked up a handful of new accounts at Surf Expo.
"We made a lot of appointments before we went, which is something we generally do," Thornton said. "But we also had a lot of walk-ups and walk-ins. For us, Surf Expo is more about independent retailers on the East Coast. But we had a lot of international as well."
Buyers from Cuba, Puerto Rico and the Dominican Republic stopped by the Maui & Sons booth as did "a couple of Japanese buyers," Thorton said.
"It was an amazing show," she said. "We walked away from the show with P.O.s for Summer and Immediate deliveries. For us to come away from the show opening up new accounts, we were really excited."
Core surf shops attend Surf Expo because they know they can find all the core surf brands, Thorton said.
"If you're in the market, that's exactly where you want to be," she said.
But boutiques and "non-surf shops" also dropped by the booth, Thorton said.
"Surf Expo does a lot of resort business as well, but we had higher-end boutiques coming in to look for surf brands that they could bring into their shops," she said.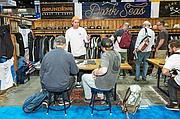 For Irvine, Calif.–based Tavik, show traffic was consistently busy with an unexpected rush at the end of the last day of the show, said Jillian Leeman, vice president of sales.
This was Tavik's second time at the show after several seasons away. Leeman said she saw added interest in Tavik's men's collection as well as the company's women's apparel for Fall.
"Normally, women's is the forefront of the show for us," Leeman said, adding that this time about 40 percent of the buyers were looking at Tavik's menswear.
For Fall, Tavik was showing a small capsule swim collection for women as well as a larger apparel line.
"We're known for swim on the women's side, and Fall was the first time doing apparel," Leeman said. "It was really great because the [buyers] want to buy women's apparel on top of the swim."
Buyers were on the hunt for newness, Leeman said, adding that she saw stores from up and down the Eastern seaboard as well as international buyers from South America and across the Caribbean. In addition to existing accounts and scheduled appointments, retailers the company has been hoping to meet with stopped by as well, Leeman said.
"It took them a little time to understand Tavik and where we're coming from and to see our point of difference," she said.
Men's brand Katin has been exhibiting at Surf Expo for about a decade, said Katin President Mac Beu. "Over the last three years the show has been really good for us," he said. "Surf Expo feels different from any other show. It's definitely a unique show."
This season, Beu said the company came to the show with a full schedule of appointments but also saw another 20 percent of traffic from "walk-ins and walk-bys."
The company is known for its 60-year history making boardshorts in Southern California as well as its apparel collection, which takes inspiration from the California lifestyle.
"Our brand has got momentum," Beu said. "We just came off our best year and we've already surpassed bookings for Spring/Summer. The retailers we work with are very optimistic. They've found ways to diversify and found ways to create a unique experience for their customers."