TEXTILES
Texollini's Latest $2 Million Investment Includes New Knitting, Dyeing and Finishing Machines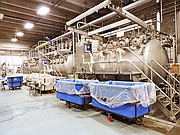 There are five reasons for a textile mill to invest in new technology, according to Amit Bracha, president and chief operating officer with the Long Beach, Calif.–based vertical textile mill Texollini.
"The first reason is the environment," Bracha said. Whether to meet stringent regulations or to save water, an investment in new technology will yield an environmental benefit, Bracha said.
"Once you save water, you've also saving energy and you're saving chemicals," he said.
Sometimes a company invests in new machinery simply to replace existing worn-out machinery. Or the company is looking to realize a boost in efficiency at the mill.
"Some machines last for 20 years with good maintenance," Bracha said. But a 20-year-old machine is not capable of producing as quickly and efficiently as new machines.
Technological developments can also spur investment.
"You buy new machines you didn't have before," Bracha said.
And the fifth reason is to improve the quality of the fabric produced, he said.
"The new machines are more diversified," he said. "Because of improvements in design, the machines are capable of producing a wide range of fabrics."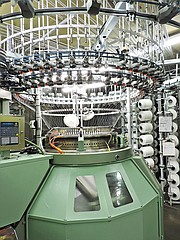 Texollini has been in an ongoing investment phase that included spending $2 million on new equipment over the last year. The 27-year-old vertical mill recently installed new circular knitting machines, new dyeing machines and new finishing machines in the company's 250,000-square-foot factory in Long Beach. The knitting machines are installed in climate-controlled clean-room environments to ensure the fabric is free from foreign fly lint.
Two years ago, Texollini purchased a winding machine that allows the mill to calculate the exact amount of yarn needed for each production run. By using just the amount needed, Texollini ensures that the remaining yarn is free from contaminants.
Research and investment are ongoing efforts for the mill. Lab dips are done using a robotic machine that determines the precise formula needed, which is sent to the dyeing machines. Dye and chemicals are automatically fed into the dyeing machines. The mill also has several small sample machines for small runs as well as a "super-dip machine" for prototypes or small orders for photo shoots.
Texollini is a vertical operation that knits, dyes, prints and finishes its textiles.
"Everything is completely made in the USA, completely under one roof," Bracha said.
The mill supplies fabrics for the activewear, swim, ready-to-wear and lingerie markets. Texollini also produces technical fabrics for the military as well as medical, safety and other industrial applications. Yarns are sourced from all over the world—including the U.S., Europe and Asia—depending on the customer's needs and requirements.
"We have total control over all the raw materials," Bracha said.
In the Texollini warehouse, each box of yarn is given a unique barcode, which allows the company to track the yarn through the production process. If there's a problem at any stage, Texollini can use the barcode to trace it back to the exact shipment.
When Daniel Kadisha, Texollini's chief executive officer, opened the company in 1989, much of the mill's fabrics were cotton and cotton blends. As the company grew into a vertical operation in 1993, its offerings diversified. Today, Texollini offers more than 5,000 fabrics and new styles are introduced monthly, according to Sherry Wood, the company's director of merchandising.
"Sometimes designers will come in and they are overwhelmed with options," she said.
To help designers and manufacturers develop fabrics, Texollini has created a menu of options that includes all the fibers offered—including Tencel, DuPont Sorona, Repreve, Protura, Dri-Release, Coolmax, Emana and Celliant—as well as special finishes such as anti-static, anti-microbial, enzyme, silicone, brushing and sueding, nano-silver applications and UV protection.
"Whenever there's a new fiber they come to us," Wood said. "People are looking at us as a leader in this area."
There is a menu detailing Texollini's print capabilities as well, including pigment, resist, disperse, puff, glitter, metallic, and burn-out and block-out printing. The company also offers fluorescent and glow-in-the-dark printing.
Fabrics can be pigment printed in-house. Texollini customers can bring their own print or search through the mill's print library. For digital and sublimation printing, the company sends the fabric to a third party. For companies looking to source and produce locally, Texollini provides referrals to factories in the area.
"It's full service," Bracha said. "We are happy to put customers in touch with contractors here in Southern California. You can call it one-stop shopping."
In the quality-control department, technicians perform the standard industry tests for shrinkage, crocking, pilling, stretch and recovery. Fabrics can also be sent to a third-party lab for certified testing.
"We provide full testing results with every production lot whether it's 100 yards or 50 yards," Bracha said.
To keep customers—and potential customers—apprised on the latest developments at the mill, Texollini sends out a monthly newsletter outlining new qualities, added capacity, testing methods and trends.
Texollini shows at the Los Angeles International Textile Show, Texworld USA in New York and Outdoor Retailer in Salt Lake City.
Bracha said the company is getting "bombarded" with new customer inquiries from all over the United States—including from small and growing companies.
"People think we only deal with big accounts. This is not the situation anymore," Bracha said. "As a company, we are very oriented to small accounts."
If a new company shows potential, Bracha said, Texollini will work with the brand to develop a new fabric.
"It's a new way of doing business," Wood said.