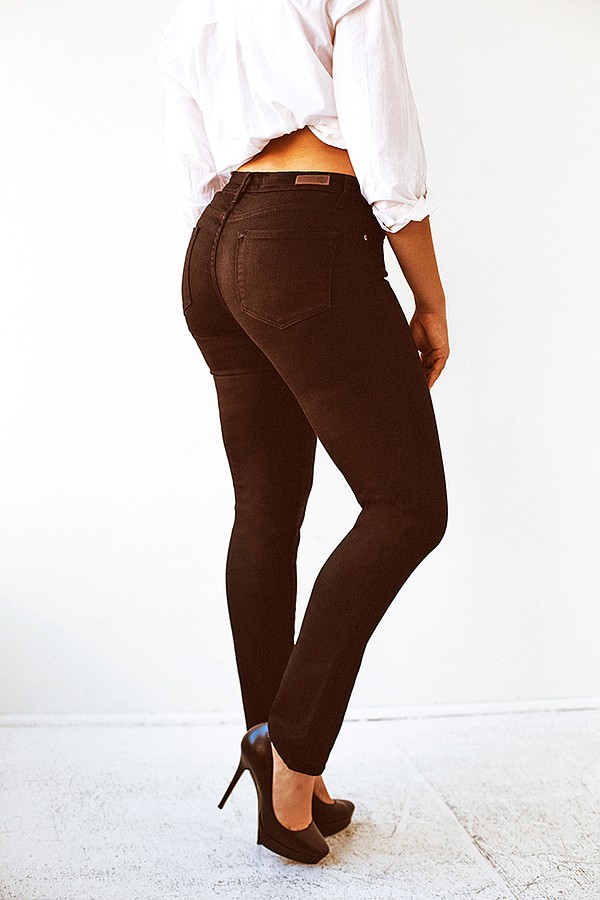 COCO COOPER
Coco Cooper: Taking a New Look at Size and Fit in Premium Denim
Jillian Nelson's career as a model and fit model—in Hong Kong, at the Columbus, Ohio–headquartered Limited Inc., and in New York—has made her a fit expert.
Last year, Nelson combined her years of experience with a love of premium denim to launch Coco Cooper, a designer denim collection for women size 6 and up.
"I've worked for many of the large U.S. retail companies and I realized that premium designer denim companies were not catering to a curvier customer," Nelson said.
Coco Cooper launched in June 2016 in sizes 6 to 14, and for Spring 2017 she has expanded the size range up to size 20.
The Australian-born, now New York–based Nelson decided to focus on size 6 and higher because, as she says, most "premium denim brands have 0 to 6 covered."
Nelson also wanted to establish her fit based on curvier sizes.
"Most premium denim jeans are patterned for and fit on a straight shape, smaller-size fit model—usually 2 or 4," she said. "Even though they grade up, it doesn't grade the same way. We didn't go below size 6 because if you start with a size 8 or 10 pattern it grades very differently than if you start with a straight shape type. Size 0 will not grade with curves—it's just not in the pattern."
The Coco Cooper collection includes skinny, boot-cut, flare and straight-leg silhouettes. There are cropped styles and a high-rise. For Summer, Nelson is adding a short, and for Fall she hopes to introduce some wear-to-work pant styles.
"Because I'm the bottoms expert, customers have been asking us is for great-fitting pants," she said. "We'll become ultimately a bottoms destination."
Coco Cooper is produced and finished in Los Angeles using four-way-stretch denim. Nelson has included flattering fit details to the styles, which she says will consistently fit across all silhouettes and seasons.
The jeans have a "booty-boosting" design and a "no-gap waistband." The four-way stretch fabric brings the comfort of a yoga pant in a jean style.
"You buy a pair of jeans one season you can come back the next season and they'll fit," Nelson said. "If she buys the flare, she knows she's going to get the same fit if she buys the skinny. She can have confidence to buy across all styles."
The average retail price point is $189. Currently, Coco Cooper is sold on the company's website (www.cococooper.com), but Nelson is hoping to raise seed capital to take the collection to the Las Vegas trade shows in August to introduce the line to retailers.
"Customers are finding us and buying our jeans and then coming back and becoming a repeat customer. That was our goal in the beginning: to build a community of women that will trust us and stay with us and build that brand following though social media. Once she's tried Coco Cooper and she's bought the jeans, we're finding she's becoming a loyal customer. Our return rates are exceptionally low."
Nelson said Coco Cooper was created to serve a customer that had been ignored in the premium-denim market. To showcase the dedication to that audience, Nelson used size 10 and size 12 models in the current campaign. Future campaigns will use plus-size models as well.
"A great pair of jeans is such an important staple of any woman's wardrobe," she said. "Just because you're a size 16 doesn't mean you don't want a beautiful pair of jeans."