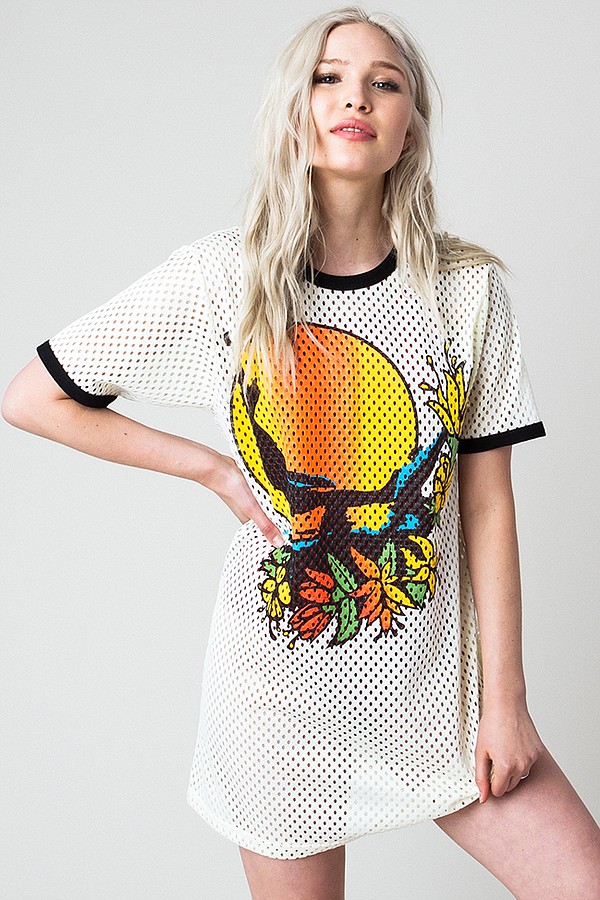 ICONS OF CULTURE
Z Supply's First Icons of Culture Collections Includes Ocean Pacific and Gotcha
For the launch of Z Supply's new Icons of Culture brand, Greg Garrett went back to his roots. The Z Supply president has long ties to the surf industry. Early in his career he served as the surf-shop sales representative for Ocean Pacific and later as executive vice president for Gotcha. So it is fitting that the first collections under the Icons of Culture brand tap into the look of vintage Op and Gotcha fashion.
Icons of Culture: Ocean Pacific will launch in May, followed by Icons of Culture: Gotcha, which bows in June. Both collections will be carried exclusively by Urban Outfitters' 200 stores nationwide as well as in its European locations. The line will also be carried at Jack's Surfboards stores across Southern California.
The new collections take inspiration from original Op and Gotcha designs, Garrett said.
"The only thing we changed was the fit," he said. "You can't get more authentic than this."
That commitment to authenticity includes the revival of classic Ocean Pacific styles, such as the J-pocket corduroy shorts, and vintage Gotcha graphics such as the "No Brains, No Headaches" tee, which features a row of surfers with pineapples for heads.
"Urban wanted to keep it authentic, vintage," said Corin Lopez, Z Supply chief merchandising officer. Lopez has her own tie to the surf industry, having worked for a Gotcha licensee early in her career.
The Ocean Pacific launch collection has several classic men's styles recut for women. There are boxy, classic hard-carded tees cropped short for a modern fit. There are cropped versions of men's tanks with deep armholes. Other styles include a windbreaker, a terry-cloth romper and the original rainbow triangle bikini.
There are also accessories, including an Op Pro towel based on the original Garrett still had at home. ("I can't wait to update my towel," he said. "The whole family likes it.")
Garrett and Lopez are already making plans for the Fall collection, which will include new takes on vintage Op puffer vests and ski sweaters.
For Gotcha, the launch includes T-shirts with vintage-style graphics such as one that bears the words "Make Waves Not War." There's a French-cut one-piece swimsuit with graffiti-style graphics. An oversize mock turtleneck has been shortened for a modern fit. There's a classic windbreaker, shorts in a Guatemalan striped fabric and a fanny pack.
Both collections will be retail priced from $29 to $99.
"This is California lifestyle and a whole youth-culture movement of the '70s and '80s," Garrett said. "I love this because I'm part of that culture."
Keeping it authentic
Garrett and Lopez said they're pleased that Urban Outfitters will be giving the collections a showcase—as well as an opportunity to introduce a new audience to the Op and Gotcha brands. In addition to the collections, Z Supply is working with the owners of the Op and Gotcha brands—Iconix Brand Group and Perry Ellis International Inc. (PEI)—to develop new websites that explore the history of the two brands.
"Op was so cutting edge at the time and Gotcha was ahead of its time," Garret said.
Under the Icons of Culture umbrella, the Op and Gotcha collections will showcase many of the original graphics and styles. Pieces will feature the original logos and hangtags.
To research the new collections, Z Supply scored vintage stores and online sellers and went back to the ultimate sources: the Jenks family, who founded Ocean Pacific, and Gotcha's Michael Tomson.
"Michael has the ultimate treasure chest," Garrett said. "And it keeps coming in," Lopez added.
"They're so excited about it," Garrett said. "This is their baby."
Op: Surf's first wave
Founded in 1972 by Jim Jenks, Ocean Pacific was created in the heart of San Diego's surf community as a clothing line for and by surfers. Over the years, the company grew and the brand changed hands, landing at Warnaco in 2003 and then at Iconix in 2006.
Jim Jenks and his son, Jim "Jr." Jenks, said the Icons of Culture collection is a great opportunity to reach a new generation.
"I love the idea of a contemporary version with the history of Op," said Jr. Jenks. "For kids who are shopping at Urban Outfitters, it's a heritage brand. We've seen it our whole life, but for them it's a new discovery."
The Jenkses provided archival pieces to Z Supply, including artwork of the original hangtag—which featured a surfer riding a wave backwards.
"This was a brand that was designed to work for surfers, for our whole lifestyle," Jim Jenks said. "It was, in its day, the most technical thing out there."
The original swim trunks were designed to work in the water and out of the water—and served as a way to identify fellow surfers.
"When you had it on, someone would look at you and say, 'That guy surfs, he's a surfer,'" Jim Jenks said. "That's what we brought to the table—a lifestyle look that was born out of surfing. And it was all real. Everybody surfed. We closed down at 3 o'clock every day to go surfing across the street. It was that way forever."
Jr. Jenks said he hopes new consumers will take a look at the history of Ocean Pacific and recognize its role as a pioneering surf brand.
"I've always said Op was the one to pave the road for a lot of people to drive on," he said.
Carolyn D'Angelo, Iconix executive vice president of brand management, said the company is very excited to introduce Op's heritage and "rich archive" to a new generation of consumers.
"Urban Outfitters has a large global footprint, and, through Icons of Culture: Ocean Pacific, Op will be able to reach new consumers at both a domestic and international level who are looking for new lifestyle brands to authentically adopt and incorporate into their everyday wardrobes," she said.
Op represents "laid-back, California cool," D'Angelo said.
"The brand has been a supporter of surf culture and that lifestyle for more than four decades, with a history of providing experiences that match up with our fans' interests, including numerous surf competitions and events," she said. "Our original consumer has grown up, so this is a chance for Ocean Pacific to share its unique story with a new generation while also honoring the heritage of the product and the heart of where Op started."
D'Angelo also praised Z Supply's attention to detail in developing the new collection.
"Authenticity is integral to everything that we do, and Greg Garett, whoworked with the original owners of the brand in the 1970s, has collaborated with us to ensure that the end consumer receives product that is organic to the original DNA of the brand," she said. "Everything in the collection is a replica of the original Op pieces, even down to the hangtags."
Gotcha: the original irreverent brand
Gotcha was founded in Laguna Beach, Calif., by Tomson in 1978. The company grew from a surf-trunks line to a full lifestyle collection that drew inspiration from the Southern California surf scene in the 1980s. PEI acquired the brand, and its sister line Girlstar, in 2005.
Gotcha's Tomson said this is a perfect opportunity for new consumers to revisit the brand.
"This is a great opportunity. The market is starved for something strikingly different," he said. Gotcha's edginess was what originally set it apart.
"I knew at the time what I was doing was very directional," Tomson said. "It's who I am. Anything in today's world has to have the ring of authenticity."
Pamela Fields, vice president of international development and licensing at PEI, said Gotcha is more than just a brand—"it's a way of looking at the world."
"It's really intended to be a line that breaks rules, breaks ground," Fields said. "Z Supply did a great job. They had the vision, and when they approached me I think it took me about 2.2 nanoseconds to say, 'Let's do this.'"
Under Perry Ellis' ownership, Gotcha is sold around the world. Fields said the company is working with Tomson to develop a new Gotcha website, which will go live at the end of March. The new site will showcase archival images, original graphics and vintage ad campaigns.
"It will be a very immersive and fun experience for the consumers," she said. "Having the chance to show this brand to a whole new generation of consumers is a win-win. They're seeing it with fresh eyes. That's what the consumer should see when they look at the product. Gotcha was one of the original completely irreverent lines."
Jack's to carry first men's lines
For now, the Icons of Culture launch collections at Urban Outfitters will include only women's apparel, although men's styles are planned for future collections.
Jack's Surfboards will carry both the Op and the Gotcha collections, including styles for women and men.
It was important to involve Bob Abdel, co-owner and buyer for Jack's, in the launch of the collections, Garrett said.
"He was part of it since inception," he said.
Jack's has been central to Southern California's surf culture since the shop first opened in 1957. Today, the company runs a fleet of 10 stores across Southern California.
"This is the most exciting thing I've seen in many, many years," Abdel said, adding that he thinks the new collection will bring "back the memory
of all those brands for a completely new generation."
Jack's will create a special area in the main store in Huntington Beach, Calif., to showcase the Icons collections.
"I worked very hard with Greg," Abdel said. "He remembers all those days when we worked together in the '70s and '80s with these brands. I've seen what a good job he did. I cannot wait until he adds more brands I've been pushing for."
And more for boutique retailers
The relaunched Op and Gotcha collections are just part of Z Supply's plan for the Icons of Culture label. The company is working on adding more classic surf brands in the future.
Licensing deals with musicians and artists have already been struck to form the basis of the Icons of Culture Graphics collection, a line of women's T-shirts created for boutique retailers that will bow in stores this summer and fall.
The collection will feature musicians such as Steppenwolf, Janis Joplin, Frank Sinatra, Miles Davis, John Coltrane, John Lee Hooker, Thelonious Monk and Ray Charles. Deals have also been struck with the license holders for "The Rocky Horror Picture Show," "Lost in Space" and "Voyage to the Bottom of the Sea."
A partnership with the Santa Cruz Surfing Club Preservation Society will include classic women's tees modeled after original Santa Cruz Surfing Club styles.
The Van Hamersveld collection includes women's screen-printed tees featuring original artwork by John Van Hamersveld, who designed the iconic poster for the classic surf film "Endless Summer" as well as the album covers for The Beatles' "Magical Mystery Tour," The Rolling Stones' "Exile on Main Street" and The Grateful Dead's "Skeletons From the Closet."
Z Supply is also working with Tom Gundlefinger O'Neal, the legendary rock photographer who turned a stint shooting the 1967 Monterey Pop Festival into a career photographing rock stars including Crosby, Stills, Nash and Young, Joni Mitchell, Janis Joplin, Jefferson Airplane, The Rolling Stones and Jimi Hendrix.
Retail prices for Icons of Culture Graphics tees will range from $45 to $60.
The licensed music and artwork collection is being pitched exclusively for boutiques, said Heidi Muther, Z Supply's chief operating officer.
To help build the Icons of Culture business, Z Supply brought in Kristine Van Galder as director of sales and merchandising. Van Galder was previously director of retail sales at US Blanks and has held executive positions at Live Nation Merchandise/Trunk Ltd. and Chaser.
Icons of Culture is the sixth collection under the Z Supply umbrella. The company, founded in 2011, also produces collections under the Black Swan, White Crow, Others Follow, Rag Poets and Z Supply labels.