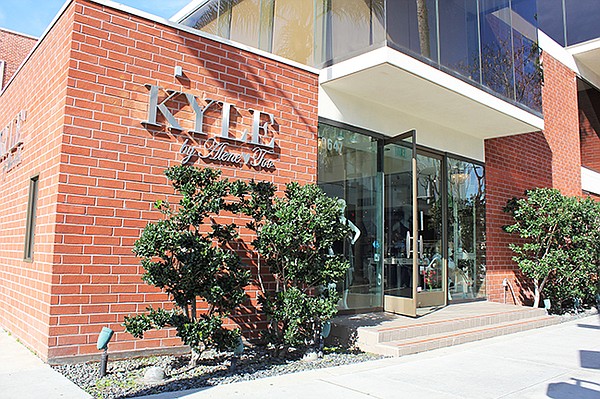 WHAT'S CHECKING
What's Checking: Beverly Hills Boutiques Thriving
Peppered around the corporate juggernauts on Rodeo Drive and department stores lining Wilshire, the boutiques of Beverly Hills take advantage of their intimate settings to thrive. While heavy tourist foot traffic lends a helping hand to discovery, it is word of mouth and exquisite customer service that keep bringing loyal local customers back on a regular basis.
Gratus
427 N. Canon Drive, Suite 114
Gratus opened three and a half years ago on the second floor of the same building where the store currently resides (now on street level). "The store has grown organically from day one, strictly by word of mouth," said founder Meredith Kaplan. She attributes the boutique's success to cultivating close personal relationships.
The atmosphere of the boutique is like walking into your best friend's closet, where a tightly curated mixture of designer and contemporary labels line the racks. The staff is welcoming and offers equal parts personal styling and hospitality. While the boutique does offer a core group of designers each season—such as No. 21, Libertine, Peter Cohen, Nina Ricci, Marni, Rochas, Rosetta, Alexander Wang denim and Leur Logette—it also makes a point to introduce new designers every season.
Kyle by Alene Too
9647 Brighton Way
Now boasting six locations after five years of business, Kyle by Alene Too's original Beverly Hills location is still its strongest, thanks in part to cofounder Kyle Richards of Bravo's "The Real Housewives of Beverly Hills" reality show. "This store has become a destination for many tourists wanting to steal Kyle's style and hopefully catch a glance of her at the store," said Cassie Cook, assistant general manager. "If we carry something Kyle wears on the show, it tends to sell out quick."
Beyond the hype the reality show gives, the store is constantly hosting pop-up shops internally for mainly local designers, which have been a hit among locals. Currently, pop-up-shop brands include Chaser and Ramy Brook—both of which have dedicated, branded corners of the store with their most recent styles. To introduce new pop-ups, Kyle by Alene Too has a marketing team and hosts in-store events to welcome the new pop-ups.
Some of the popular labels currently carried in the store include Saylor, Michael Lauren, Happiness, ALC, Generation Love, State of Grace, L'agence, Alexis and LoveShackFancy.
Avant Garde
9612 Brighton Way
www.avantgardebeverlyhills.com
Having been in business for 30 years now, Avant Garde has loyal customers who are both local and international. "Given the climate, we tend to carry more-lightweight pieces," said founder and owner Nader Manesh. "Customers today are seeking out more sporty and lifestyle pieces and styles that travel easy." The boutique has a luxurious Beverly Hills feel with fresh flowers and high-end finishes, which makes its customers feel at home in an intimate setting. Designers at Avant Garde are mainly international and reflect the store's name, with European labels such as Cividini, Plein Sud, Avant Toi, Ilaria Nistri and Fagassant from Japan.
SelFish
442 N. Canon Drive
With many stores in Beverly Hills catering to the wealthy, SelFish has carved out a niche for itself over the past seven years, offering stylish pieces that are more attainable to a wider customer base. The boutique carries mainly local and Parisian labels—such as Lisette, Bailey44, Velvet, Bella Dahl, Eva Varro, Hanky Panky, and AG and Hudson denim—and has a loyal customer base that includes locals and international visitors. While the boutique carries looks for both day and night, owner Shosh Levy says lately her customers are looking for more-casual styles all around.
The Beverly Hills Bikini Shop
245 S. Beverly Drive
www.thebeverlyhillsbikinishop.com
The Beverly Hills Bikini Shop has been a landmark boutique of Beverly Hills since 1968 and keeps its edge to stay competitive by offering a large selection of designers it knows its customers love, the utmost level of customer service (such as a jar of quarters near the checkout counter for the meters outside) and monthly in-store events. It also always makes a point to stay current with social media, which helps reach the younger generations.
"We have many loyal customers who have been shopping in our store for almost 50 years who are now bringing in their daughters and granddaughters. We help women of all ages and body types," said owner Patricia Illing. "Our buying strategy is preparing for each busy travel season: winter break, spring break and summer.
We attend many trade shows each season, and we look at as many different lines as we can, so we know what is being offered. Each season we bring in our core brands, but we are always on the lookout for newness. We pay close attention to the trends we see while traveling, at our local beaches and on social media. We also find it really important to take note of what our customers are requesting."
Illing went on to say, "We have definitely seen an increase in one-piece sales recently, and we are also currently selling a lot of '80s-inspired swimwear." Top-selling brands include L*Space, Vitamin A, Luli Fama, Blue Life and Karla Colletto.