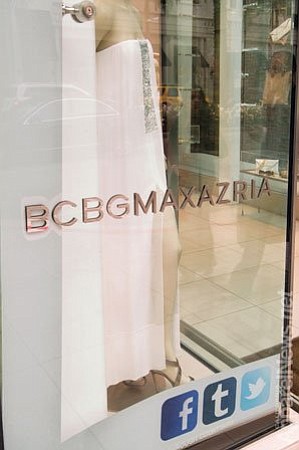 MANUFACTURING
BCBGMaxAzria Files for Chapter 11 Bankruptcy Protection
BCBGMaxAzriaGroup, the decades-old Los Angeles apparel company that was one of the first on the contemporary fashion scene, filed for Chapter 11 bankruptcy protection in papers submitted Feb. 28 to the U.S. Bankruptcy Court for the Southern District of New York.
The company's Canadian affiliate is beginning a separate filing for voluntary reorganization proceedings under Canada's Bankruptcy and Insolvency Act. Steps are being taken to close its freestanding stores in Canada and consolidate its operations in Europe and Japan.
The apparel venture, founded in 1989 by Max Azria, has been navigating through some tough financial waters in the past few years. New executives have been unable to turn the company around fast enough and now hope to finish the bankruptcy process in six months.
In a press release issued on March 1, BCBGMaxAzria said it has a $45 million commitment in new financing to keep the company running. "The steps we are taking now, to address the shift in customer shopping patterns and the growth of online shopping, will allow us to focus on our partner relationships," said Marty Staff, the interim chief executive for BCBGMaxAzria.
The company, whose name stands for the French phrase "Bon Chic, Bon Genre" (or "Good Style, Good Attitude"), is looking at several options to go forward. There could be a sale or merger of the company and its assets, including its brand name, or a standalone restructuring.
The most optimistic way to exit bankruptcy, BCBGMaxAzria believes, is to focus on partner relationships, expand digital and e-commerce, keep selected retail locations, and establish more wholesale and licensing agreements.
One of the clothing company's main problems has been too many clothing stores, which have been draining company finances at a time when many shoppers have switched to online purchases.
Reuters reported that in a January conference call BCBGMaxAzria executives said their store business had plummeted 20 percent in three years. The company's retail chain accounted for 71 percent of revenues, estimated at $600 million last year.
Before the bankruptcy filing, BCBGMaxAzria executives said they were focusing on a future that envisioned more e-commerce and closing nearly 400 stores in its retail chain of 570 outposts.
But exiting leases before contracts expired has been difficult, and bankruptcy was the only way to get out of unprofitable store locations at big malls.
Originally the idea was to keep 50 of the 170 stores in the United States open and another 128 stores of the approximately 400 outside of the United States up and running.
But apparel-industry executives close to the company said that it was inevitable that BCBGMaxAzria would be headed to bankruptcy court because of the store-lease problem and mounting debt.
Prior to deciding to close its unprofitable stores, BCBGMaxAzria laid off 123 people effective Nov. 1, 2016. The BCBGMaxAzria layoffs came months after Marty Staff came on board in April to help turn the company around. Company founder Max Azria was put on paid leave while his wife, Lubov Azria, remained on board as chief creative director.
Debt to the company's 50 largest unsecured creditors totals more than $56 million. The top 10 unsecured creditors are located in Hong Kong and handle sourcing and trade deals. Silvereed Limited, a trading company in Hong Kong, is owed $6.4 million, and Mega Link International Holdings Limited, another Hong Kong trading venture, is owed $5.35 million. Aptos Inc., a retail management company in New York, has an outstanding bill for $2 million, and mall operator Simon Property Group has unpaid contracts for nearly $1.4 million.
BCBGMaxAzria is following in the path of other clothing concerns that ramped up their retail footprint over the years but were unable to close stores fast enough to accommodate the shift of shoppers moving to online clothing sites for their fashion needs.
For years, BCBGMaxAzria borrowed heavily to finance its operations. By 2013, Guggenheim Partners LLC held about $475 million of the company's $685 million debt. Two years later, Guggenheim Partners converted its debt into equity in the company and BCBGMaxAzria got an infusion of $135 million from a group of investors that included Guggenheim Partners and its affiliates.
Other longtime clothing companies with retail stores have been tumbling quickly. American Apparel, which filed for Chapter 11 bankruptcy protection in 2015 and then again in 2016 while maintaining 110 stores in the United States, didn't make it. The Los Angeles company, founded by Dov Charney in 1997, was acquired recently by Canadian T-shirt maker Gildan Activewear, which bought the brand name for $88 million but shunned taking on any stores. Some 3,500 American Apparel employees were laid off.
In January, The Limited shuttered all its stores and e-commerce site to declare Chapter 11 bankruptcy. In February, The Limited's brand name was acquired by Sycamore Partners—which owns Belk, Talbots, Hot Topic and Coldwater Creek—for $26.75 million.
And The Wet Seal, a retail chain in Irvine, Calif., is auctioning off its intellectual-property assets after filing for bankruptcy protection on Feb. 2.