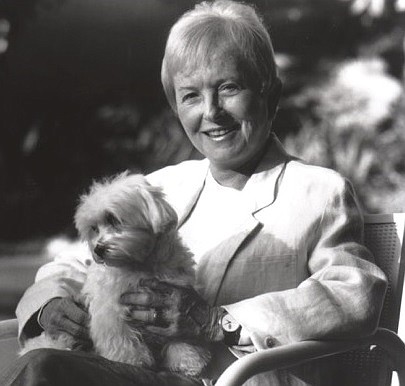 SWIM/SURF
Obituary: Anne Cole, Swimwear Designer, 90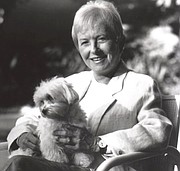 Anne Cole, the iconic Los Angeles swimwear maker who introduced the tankini to the American swim scene, died on Jan. 10 in Beverly Hills, Calif. after a short illness. She was 90.
Cole, whose famous father, Fred Cole, founded Cole of California, was for decades a well-known fixture in the Los Angeles swimwear industry – first working for her father and then branching out in 1982 to establish her own self-named label. She guided and worked with many young swimwear designers who went on to start their own brands.
Anne Cole was a fourth-generation Californian who was born into a family that manufactured apparel, including drop-seat underwear.
In 1925, her father, a silent-film star, founded Cole of California, which started out as a swimwear division of the family's West Coast Manchester Knitting Mills, which made men's long knit underwear.
Anne did not immediately go into the family business. After graduating from college, she dabbled in theater, working with actor Gregory Peck during the start of the La Jolla Playhouse.
But her father lured her back to Los Angeles in the 1950s where she learned the swimwear business, from top to bottom. Around that same time, the company hired Esther Williams, the actress famous for her swimming pool scenes, to wear the label's suits and be a spokesperson for the brand. It was not unusual for Anne to show up at the back door of a studio lot to deliver bathing suits to the movie actress.
She eventually became the company's top salesperson, handling key accounts such as Saks Fifth Avenue, Marshall Field's, Bloomingdale's and Macy's.
Cole of California was sold in 1960 to Kayser-Roth and then went through a number of owners until it was acquired by Authentic Fitness Corp. in 1990 when Cole of California was merged with Catalina to form Catalina Cole.
All this time, Anne stuck with the label and in 1982 decided to form the Anne Cole Collection, which in 2008 was sold to the In Mocean Group for $26 million. From the beginning, she became the division's guiding force and quadrupled volume within its first five years. One of the first designers for the Anne Cole Collection was Randolph Duke.
Three years after starting her collection, Cole was voted into the prestigious Council of Fashion Designers of America in 1985.
In 1998, Cole introduced the tankini suit to her collection after seeing all these young women in Los Angeles wearing spaghetti-strap T-shirts with their shorts. The tankini is still a popular silhouette and is a common fixture in the collection of many swimwear labels.
Lynne Koplin, who worked with Cole for 14 years at Cole of California and later at the Anne Cole Collection, said the swimwear maven was very much on the cutting edge of the swimwear industry. "She stood for paired-down, simple sophisticated suits," Koplin said, who recently became chief executive of Reyn Spooner, a company in Hawaii that makes vintage-like Hawaiian shirts. "She believed the woman should wear the suit and not the other way around."
Cole was a big believer in astrology, Koplin said, so the pair worked well together with Cole being a Virgo and Koplin a Taurus. "We were like the Smothers Brothers," Koplin recalled. "I was the serious, factual follow-up technical person and she was the showman. She really taught me how to sell and how to romance the sale."
Cole may have had a privileged upbringing but she had a colorful past. Koplin remembered that the swimwear designer had gone to Beverly Hills High School with Elizabeth Taylor but got kicked out of school and sent to a Catholic school in northern California. "The nuns were the only ones that could handle her. She was just a rebel," Koplin said.
Swimwear designer Rod Beattie, who has his own swimwear label, Bleu/Rod Beattie, that he designs out of his studio in South Pasadena, Calif., worked with Cole for five years in the late 1990s at Authentic Fitness and Anne Cole Collection. They remained friends after he left to work for Apparel Ventures. "It is the end of an era," he said. "She grew up in the business. It was her life and she had a passion for it. She created something different and was doing what no one else wanted to do."
He remembered her for her dry sense of humor that kept everyone laughing. He recalls they once did a whole collection of mesh suits and she wanted to call it "Women in a Mesh," but the company's executives nixed that idea.
"She loved color," Beattie said. "We would spend hours putting the palette together." She was bold enough to endorse lime green when it was still a daring color.
But she was also known for her subtle hues and chic silhouettes. "Anne was the poster child for sophisticated swimwear," said Rosemary Brantley, the founding chair of the fashion design department at the Otis College of Art and Design, where Cole was a mentor for many years to students studying swimwear design. "I remember the first year we worked with her, she wanted all of the suits to be in brown, which was a color nobody made in swimwear. That was about 17 years ago."
The students were always in awe of this famous swimwear designer, Brantley said, but Cole immediately put them at ease with her wise-cracking ways and youthful spirit.
The fitting theater at the design department's former headquarters at the California Market Center had huge photos of Anne Cole's swimsuits on either end of the walls. Around the corner was an enormous picture of an Anne Cole Collection ad campaign. "She gave us all her stuff," Brantley said.
Cole loved to surround herself with young people who inspired her and kept her up to date on trends. "She was the most famous swimwear designer ever in California," Brantley said.
Cole was twice presented with the college's Otis Creative Vision Awards for her contributions to fashion design.
Cole is survived by her brothers Jeffrey Cole and Maj. Gen. Thomas Cole; her sister Penny Cole; and her godson, Frederick Flora. She was preceded in death by her long-time companion and business partner, Susan Flora.
In lieu of flowers, memorial donations can be made to the Otis College Fashion Design Scholarship Fund, c/o Otis College of Art and Design in Los Angeles.