Gildan Activewear Gets Final Approval to Acquire American Apparel With Retail Stores Closing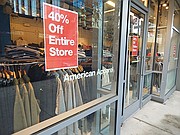 A U.S. Bankruptcy Court judge on Jan. 12 gave Gildan Activewear the go-ahead to purchase the American Apparel name and some of the brand's equipment as well as its wholesale merchandise following the Los Angeles clothing manufacturer's bankruptcy filing in November.
American Apparel's retail store chain with about 100 outposts across the country will be shuttered by the end of April. However, bids were placed to take over the leases of two store locations—one in Chicago at 39 S. State St. and the other in Nashville, Tenn., at 320 Broadway.
In the bankruptcy court, it was revealed that American Apparel has lined up a potential buyer for its knitting and dyeing facility in Garden Grove, Calif., where about 330 people have been employed.
The potential buyer, Bronc's Inc., which does business as Wescoast Textile in Compton, Calif., is offering between $200,000 and $250,000.
Gildan's $88 million acquisition of just the American Apparel name and some merchandise means that T-shirt and clothing production at the humongous American Apparel factory near downtown Los Angeles and another facility in South Gate is shutting down.
Gildan Activewear—which makes T-shirts, fleece clothing, sportswear and socks—has purchased some of American Apparel's sewing machines, textile equipment, knitting machines as well as some dyeing and finishing machines but has not determined where it will be doing its manufacturing with the equipment or when production will start. "We are not sure where we will be doing production. We are evaluating that," said Garry Bell, vice president of corporate marketing and communications for Gildan Activewear, based in Montreal.
He said production could be done in Los Angeles, California or somewhere else in the United States. "As we develop our go-forward plans, we are looking at a lot of things, such as labor costs and energy costs," Bell said.
The same day that the bankruptcy court in Wilmington, Del., approved Gildan's purchase, American Apparel's 3,500 workers had not been told when their last day would be.
Several days before the announcement, employees said American Apparel invited several employment agencies to come in and have workers fill out forms to help the agencies find them jobs.
The shuttering of American Apparel operations is a blow to the local apparel manufacturing industry, which by the end of 2016 employed 38,900 people in Los Angeles County.
It was particularly bitter for Dov Charney, who founded American Apparel in Los Angeles in the 1990s and prided himself on being able to produce clothing in the United States by paying his workers a living wage.
But he was fired by the board of directors in late 2014 and his job as chief executive officer was turned over to Paula Schneider.
"To see it go is a heart breaker," Charney said. "I think this was a great company. We had 25 years of straight sales growth. We had $634 million in sales in 2013. After I left, sales halved. … I believe American Apparel could have survived 50 more years."
Charney said he created an entire community of apparel workers who had their own medical center, received minimum wage and developed friendships and romances. "We counted 100 children who came from employee relationships," he said.
Charney has started a new apparel venture that is doing some production of T-shirts and sweatshirts in south Los Angeles. Charney said he wanted to hire as many former American Apparel workers as he can, with the goal of 1,000 employees in the next 2½ years.
Second bankruptcy
Gildan was the first company to bid for certain American Apparel assets the first day American Apparel filed for bankruptcy protection on Nov. 14, 2016. This was American Apparel's second bankruptcy filing in a little more than one year.
Gildan's initial offer was $66 million, which made it the stalking-horse bidder. That opened up an auction for other companies to come in and make bids. Reports had Amazon.com, Forever 21, Authentic Brands and Next Level Apparel taking a look at the company. But Gildan got busy and upped its ultimate bid by 33 percent.
"We are excited to be moving forward with this acquisition. The American Apparel brand will be a strong complementary addition to our growing brand portfolio. We see strong potential to grow American Apparel sales by leveraging our extensive print-wear distribution networks in North America and internationally to drive further market share penetration in the fashion basics segment of these markets," said Glenn Chamandy, president and chief executive of Gildan, whose other brands include Alstyle Apparel, Anvil, Golden Toe and Peds.
Gildan sells a large quantity of its products to Target, Wal-mart, JC Penney and Kohl's.
Most of its cut-and-sew operations are done in Honduras, Nicaragua, the Dominican Republic and Mexico. The Canadian company employs 25,000 people in Honduras, which make up more than half of the 48,000 Gildan employees.
Gildan also has four yarn-spinning facilities in North Carolina and a fifth yarn-spinning facility in Georgia. "We are the largest consumer of U.S. cotton," Bell said, noting that the vertically integrated company makes about 90 percent of its products in its own facilities.
"There is a natural fit here for American Apparel with Gildan," Bell said. "We sell to 52 countries around the world, and we can take American Apparel to many more markets."