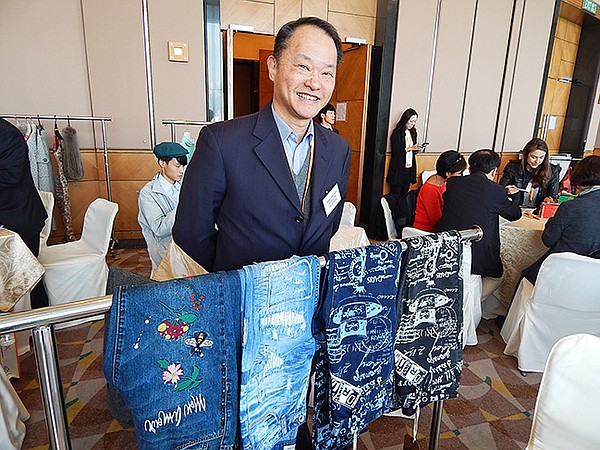 HK FASHION WEEK
Chinese Clothing Makers See Good and Bad News With Trump at HK Fashion Week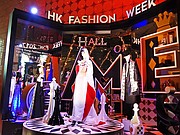 HONG KONG—Inside the halls that house Hong Kong Fashion Week, many of the exhibitors were rejoicing that President Donald Trump had put the kibosh on the free-trade agreement known as the Trans-Pacific Partnership.
The accord, which included the United States and 11 other Pacific Rim countries, excluded China and was seen as a way to put a damper on China's economic dominance around the world.
"The TPP threatened China's production because it was not included in the free-trade pact," said Laurence Leung, chairman of the Hong Kong Trade Development Council Garment Advisory Committee and a longtime knitwear manufacturer with a factory in China. "But even before TPP was concluded, some of China's clothing production and bulk of volume production had moved to Southeast Asia and Vietnam."
The world economy and the Trump administration were foremost on many people's minds at the Jan. 16–19 show at the Hong Kong Convention & Exhibition Centre, where some 1,500 exhibitors from 21 countries set up booths that ranged from small, modest spaces to over-the-top spots that showcased elaborate evening gowns. About 15,000 visitors from 77 countries attended the show for the Fall/Winter 2017 season. Last year, 17,769 people perused the fair. Organizers believed attendance was down because the show was a little more than one week before Chinese New Year.
At Hong Kong Fashion Week, which filled two huge halls at the convention center, companies exhibited everything from novelty knit hats, cashmere scarves, childrenswear, crinkled dresses and denim jackets to mannequins, buttons, zippers and fabrics.
Benjamin Chau, deputy executive director of the Hong Kong Trade Development Council, which organized the 48th edition of the biannual show, said the fashion industry is facing immense challenges with economic and political uncertainties and lackluster retail sales. "In spite of that, Hong Kong companies are versatile. With e-commerce developing steadily, companies can capture the opportunities to turn the situation around," he said.
Some manufacturers were worried that Trump would move forward with his declaration to impose a 45 percent tariff on Chinese-made goods, even though many doubted he would stick to this idea. "We will have to wait and see," Leung said. "I think anybody trying to wage a trade war is only the enemy of the world. I don't think China is a country that the U.S. wants to offend."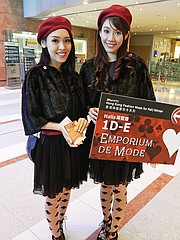 Many of the Chinese exhibitors hadn't heard about the potential U.S. tariff increase and really didn't believe it would happen. "We will have to wait and see," said Rita Dong, a salesperson at the Hangzhou Light Industrial Products Arts & Crafts Textiles, which makes sweaters and other goods in a factory in Hangzhou. "We hope things are not that bad."
Still, many U.S. clothing importers are thinking they will just pass the added tariff on to consumers. "That is something that will be baked into the price," said Charlie Burgwyn, the founder and chief executive of Stitch Golf, based in Raleigh, N.C., who was walking the halls to check out the show for the first time.
Until recently, Stitch Golf made all its golf accessories in the United States, but the company is expanding after a partnership with men's sportswear company Peter Millar, which is prompting expansion in the company's apparel category.
Burgwyn had been visiting Chinese factories in Shenzhen and Shanghai and decided to check out the four-day Hong Kong trade show. "It is hard to get the skill set and the right equipment to make clothing in the United States," he said. "It is hard to get enough people who know how to sew."
Another buyer not deterred by a tariff threat was New York designer Juan Carlos Martinez. He and his business manager, Carlos Diaz, were launching a contemporary wool coat and dress line called Marte LLC and checking out the show for sourcing factories.
Martinez already had a positive experience with Chinese factories that made his samples. Originally, he had tried to make samples in New York, but the cost was mounting to $20,000 for 20 garments.
Then Mercedes Gonzalez, who runs Global Purchasing Group in New York, directed him to a Chinese factory that did his samples for $4,000 in three weeks.
"I would love to make everything in the United States, but the cost is prohibitive and the Chinese factories have the know-how," he said. "The process in China was faster and the cost was a lot less. That made all the difference."
After Hong Kong Fashion Week, Martinez and his business partner were planning to tour a Chinese factory in Shanghai to inspect the operations.
New fashion direction
Changes in the retail industry are keeping clothing manufacturers guessing about the state of the apparel economy. But in Asia, the world of casual fashion and sportswear is taking over and creating new demands. That is why new exhibition spaces were added to house these styles at Hong Kong Fashion Week.
In years past, it used to be common to see Hong Kong professionals suited up in dress-for-success attire. But more and more, the casual vibe that started in California has sailed across the ocean to permeate the region.
Many see this trend traveling to China, where a 1.3 billion population makes for a profitable clothing category. "The casualwear market in mainland China was a $25.3 billion industry in 2015, and it is expected to grow to $43.1 billion by 2020," said Leung of the Hong Kong Trade Development Council Garment Advisory Committee, citing figures published by Euromonitor.
Many Chinese manufacturers increasingly are looking toward producing for China, which has a growing middle class eager for all kinds of trendy clothing. Also, many Chinese companies are putting their emphasis on exports to Europe as many U.S. companies move production to Southeast Asia.
Victor Leung, owner of Evergreen Couture, which has been making evening gowns and bridal dresses for 26 years in a factory with 230 workers in Zhongshan, sells about 80 percent of his merchandise to Spain, where people are willing to spend more money on wedding attire.
But Leung said it is harder and harder to compete with countries such as India and Vietnam that make apparel for less. "Ten years ago, I had 700 workers in my factory. This is the smallest it has been in my life," he said. He would like to get out of the business, but the cost of laying off workers in China is very expensive.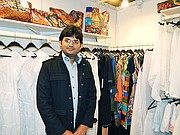 He notes that a 45 percent tariff on Chinese goods would make it impossible to produce clothing if the United States were his main market.
For some time, Russia has become the main market for Hong Kong–based Easey Garment Factory Ltd., with the Middle East coming in second. "It is very price competitive in the United States," said Paul Chau, the director of sales and marketing.
The company manufactures mostly blue jeans in its Chinese factory, relying on design innovations such as patches, embroidery and screen printing to elevate its style and make its products trendier.
Hohhot Pashm Cashmere Products Co., from Inner Mongolia, China, has concentrated on Japan for most of its sales of cashmere scarves with South Korea being the company's second-largest market.
Chau of the Hong Kong Trade Development Council noted that buyers from emerging market countries were demonstrating a more positive sourcing sentiment during the fair. He said that Imperial Clothing FZE of the United Arab Emirates had identified 15 potential suppliers from Hong Kong, China, Vietnam and Pakistan and that Israeli buyer Moshe Silverstain was planning to visit factories in Nanjing, China, and was hoping to place orders for 12,000 raincoats and 20,000 blue jeans.
First-time exhibitor Ayan Sadh from New Delhi, India, was seeing mostly buyers from emerging market countries such as Morocco, Argentina and Australia who were shopping for the cotton tops, dresses and handbags his company, Ayan Collection, manufactures.
Sadh had received several inquiries for his goods, which wholesale for $7 to $10, but he hadn't gotten any confirmed orders yet.