MANUFACTURING
Fashion Business Inc. Shutters After Nearly 20 Years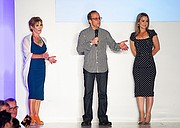 After helping start-up and growing apparel companies for nearly two decades, Fashion Business Inc. will shutter operations at the end of August.
The news came as a shock to many in the apparel industry, who heard about the closure shortly after founder Frances Harder informed the non-profit organization's board of directors on July 2.
Harder started the organization in 1999 after a career spent teaching fashion design at the Fashion Institute of Design & Merchandising, California Design College and Otis College of Art & Design, as well as creating her own designs for the likes of Priscilla Presley and the Sultan of Brunei.
After running into stumbling blocks with her own designs, Harder said she realized that there was a need for business education for fashion industry professionals.
"I realized there's so much more to this than design," she said.
She taught continuing education courses and wrote a book, "Fashion For Profit," but then teamed up with a partner who had connections with the city of Los Angeles. The first FBI office opened at The New Mart. After holding its first fashion show at the Los Angeles Athletic Club, FBI landed a $250,000 grant from the Los Angeles Department of Water and Power.
Over the years, FBI received other government grants, but Harder said it's been challenging to get financial support from the city.
"It's a changing and challenging time," she said. "The unfortunate thing is, the city doesn't embrace an industry, which is the largest employment sector in the world."
In addition to its business-to-business seminars—and later B2B webinars, the FBI also hosted runway shows and other networking events, including its annual All Aboard Fashion Fundraiser at Union Station in downtown Los Angeles.
Apparel industry consultant Rob Greenspan has been a supporter and advisor for FBI and its members since the beginning.
"Over the past 19 years it has been my pleasure to support, help, and advise FBI and its members," said Greenspan, who is the chief executive officer of Greenspan Consult Inc. "The FBI has been unique in that it provided consultation, services and education programs to help grow and support the apparel industry. From start-up companies, helping displaced workers in the industry, branded companies, and, of course, our famous fashion shows the FBI has been always there for its members. It has been a pleasure working with Frances Harder to support, develop and promote the FBI. The FBI helped out many people and companies in our industry."

Harder plans to continue to host B2B seminars at trade shows such as Sourcing at MAGIC and the Los Angeles International Textile Show. She will also continue to provide expert witness testimony for apparel-related lawsuits and will continue to act as an apparel-industry consultant for the United Nation and private clients.