TEXTILES
AAFOA Looking to Drive Innovation for Functional Fabrics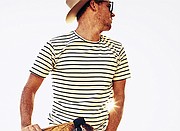 Advanced Functional Fabrics of America, commonly known as AFFOA, marked its one-year anniversary in April. The institute—which is based at MIT and has nearly 100 members from a diverse group of manufacturers, startups and institutes of higher learning—is leading a $317 million private-public effort to drive innovation in textile and fiber manufacturing.
AFFOA members say the institute has already produced a major benefit in helping to bridge the information gap between universities and manufacturers. New networking opportunities have been created that have potential to drive innovation.
Many AFFOA members have either submitted project proposals or are working on proposals based on current research that they hope will meet AFFOA's approval for funding. AFFOA opened a new headquarters facility on June 19 in Cambridge, Mass., near MIT. It includes a fabric discovery center that will provide a base for prototyping ranging from fiber design to new textile products. Other centers will open later this year in Georgia, North Carolina and Pennsylvania.
The Fabric Discovery Centers will serve as regional incubators and accelerators for start-up companies in advanced fabrics, provide rapid prototyping facilities and house training facilities for educational outreach and workforce development.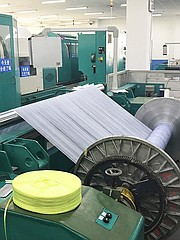 "Apparel will become the new platform from which the digital world will be operating," said Eric Spackey, AFFOA's chief marketing officer and the chief executive officer of Bluewater Defense, a Puerto Rico–based manufacturer of uniforms for the U.S. military. "Clothing will be able to interact with the outside world. It's an exciting time. We are about to create a new industry. This was a fantastic idea by the Obama Administration."
Spackey believes that a decade from now, AFFOA will have secured an important place in the history of textiles and apparel by rapidly deploying and funding existing research and turning it into innovation and jobs. It's all about taking the technology that's already in labs.
Following is a look at a few of the efforts to convert ongoing research into new products.
Brrr is an Atlanta-based startup apparel company that incorporated in 2014. Cofounder and CEO Mary-Cathryn Kolb said her company was asked to be a charter AFFOA member to provide an entrepreneurial voice. She says the projects that AFFOA will eventually bring to the market will have potential to bring manufacturing back stateside. Brrr's chemical-free technology is embedded into garments at the nanotech level.
Kolb, which is partnering with the University of Georgia, the University of Kentucky and MIT, has two patent-pending projects that it is working on with AFFOA.
PVH Corp., sometimes known as Phillips-Van Heusen, is one of the largest global apparel companies with more than $8 billion in annual revenues. It owns some of the world's best-known brands, including Calvin Klein, Tommy Hilfiger, Van Heusen, Izod, Speedo and Arrow.
In early 2016, PVH came to the conclusion that it needed to put more attention and resources into research and development. It was part of a realization that the apparel sector trails other industries in terms of investing in R&D. As a result, it created its Innovation Next division. Barry McGeough, group vice president, likens it to the Eureka Innovation Lab atLevi Strauss, Nike's Innovation Kitchen and Under Armour's Lighthouse, all created over the past few years.
"The apparel industry is new to the innovation game," McGeough said. "We realized we had to start investing in R&D."
So Innovation Next was created to see how PVH could do things better across all of its different brands and regions. This involved listening to brands to solicit ideas with the goal of developing a competitive edge.
"We took ideas from the defense industry and other industries, and we are looking everywhere and finding amazing stuff," explained McGeough. "Here's my thinking. Your car and everything in your world is smart and connected. What will your expectations be? Will you accept living in a smart world where everything is smart but your clothes? We know that people will expect their clothes to do something, and that's for brands to figure out."
Another apparel firm participating in AFFOA is Miami-headquartered Intradeco. The company operates a factory in El Salvador and sources products from other manufacturers. It is a major supplier to Walmart and also has licenses to manufacture products for such brands as Fruit of the Loom, Jockey, Russell and Geoffery Beene.
Eduardo Siman, Intradeco's IT director, said one of the key areas his company is interested in is physiological monitoring, which he says is important to the company and is also has military applications. Intradeco is partnering with universities and startups, acting in an advisory capacity on manufacturing and merchandising.
"We are big in the activewear space," he said. "Monitoring from a garment will help us to understand measurements of sweat, temperature and pressure. If it can be done from a garment, it's a lot more convenient."